The Mexican Drug War Is Not Sexy
Movies, TV shows, and songs have a warped way of portraying the violent conflict.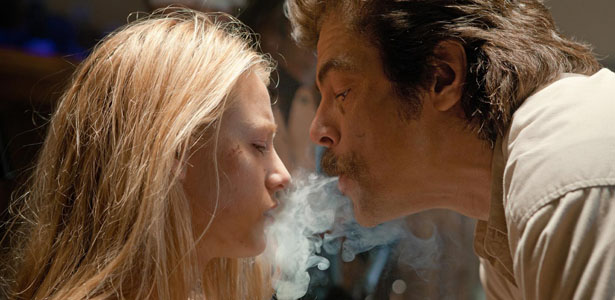 Relativity Media
At daybreak on June 3rd, border patrol agents in the Vekol Valley south of Phoenix followed a set of tire tracks that veered off Interstate 8 and into the rugged desert. A burnt sport-utility vehicle smoldered on the horizon. Inside they discovered five bodies charred so badly it was impossible to determine their age, gender, or ethnicity.
"It looks like a cartel hit," Pinal County Sheriff Paul Babeu told reporters shortly after, calling a drug connection "very likely" in this region known for trafficking. "It happens all the time in Mexico: Our fear and concern is that this violence is spilling deep into the heart of Arizona."
Media nationwide picked up the story, including CNN, Fox, and CBS, adding another grisly tableau to a border narrative that's turned increasingly violent since Mexican President Felipe Calderón escalated the drug war in 2006. Since then, narco violence in Mexico has become so pervasive that officials round estimates to the nearest ten thousand: more than 50,000 deaths in less than six years.
Yet according to a Pew study of international news coverage between January 2009 and September 2011, just 0.6 percent of U.S. news stories were about the drug war, placing it 12th against all international stories in that period. The debate over immigration got twice the attention. Meanwhile, cartel violence seems to be everywhere in pop culture. Mexican cartels feature prominently in network crime dramas like CSI and NCIS, cable hits like Weeds and Sons of Anarchy, and most notably, AMC's critically acclaimed Breaking Bad, which follows an Albuquerque high school chemistry teacher turned meth cook who outguns and outdeals cartel operators south of the border. Latin drug lords continue to make good popcorn fare, too. One of this summer's most hyped films is Oliver Stone's Savages, in which Taylor Kitsch (a.k.a. Tim Riggins) goes for revenge against a gang led by Salma Hayek, whose work in the cartel-shootout genre dates back to 1995's Desperado.
If U.S. audiences don't care for much border violence in the news, apparently they're glad to see it stylized on the screen, preferably with great-looking actors and a pop-Latin soundtrack. Portraying Mexico as a lawless Wild West is one of Hollywood's most reliable tropes, and the filthy rich, self-made Latino drug lord is such a marketable stereotype that it's inspired entire Grand Theft Auto franchises and a mobile Scarface game that allows players to relive Tony Montana's most violent scenes on the iPad.
For years now, audiences have been bombarded with cartel stereotypes, and let's not forget that those audiences include law enforcement, government officials, and the press. So can we blame Sheriff Barbeu for dreaming up scenarios that could link that burnt-out SUV to Mexican cartels? "This could have been a drug deal gone bad," he told reporters, "or done for revenge or retaliation."
MORE ON DRUGS IN POP CULTURE
Hold up there, Sheriff. Days after the car was discovered, police in Tempe connected the five bodies to the missing Butwin family of Tempe, AZ and began investigating the case as a murder-suicide. Investigators believe that the father, James Butwin, diagnosed with a brain tumor and facing financial difficulties, murdered his wife and three children in their home, drove them out into the desert, and torched the vehicle. What was once an ominous, anonymous sign of drug violence hitting too close to home was transformed overnight into a shocking family tragedy that left a community reeling.
The hasty conclusions in Arizona underscore how the spectacle of ultraviolence has the potential to obscure facts. The language in the headlines alone—"Mexican drug war," "Mexican cartels," "Border violence"—distort reality by emphasizing the bloodshed south of the border while downplaying the United States' role as the world's largest market for illicit drugs and source of the majority of firearms recovered from crime scenes in Mexico. Corruption among Mexican government and law enforcement is frequently cited as the top reason why cartels are able to move their product so freely, yet little attention is paid to the corrupt U.S. officials and border agents who have been investigated and arrested for assisting traffickers. The very origins of Los Zetas, the most notoriously brutal cartel operating in Mexico today, are rooted in the United States. Founding members of the organization were Mexican Army defectors who had received special forces training in the United States at the Western Hemisphere Institute for Security Cooperation, known formerly as the School of the Americas. The press is right to be reporting on the relentless loss of life and the threat to public safety on both sides of the border, yet the steady stream of uncontextualized bloodshed does little to help people understand the complexity of the situation.
The problems of portraying the drug war aren't unique to the United States. In Mexico, both journalists and entertainers have faced criticism for their coverage of drug violence. Government officials have accused reporters of glorifying kingpins and furthering their terror agenda by broadcasting the warning messages left behind at crime scenes. Cartels have killed dozens of journalists and threatened to silence others for spreading word of arrests and killings that make certain organizations look strong or weak. Last year, more than 700 of Mexico's news organizations agreed to a 10-point accord to protect their journalists and avoid glorifying crime bosses.
As in America, the Mexican media's relationship to the drug war extends into television and popular music. When the Televisa network aired a prime-time cop drama El Equipo ("The Team"), featuring four telegenic federal cops using real-life military hardware to hunt down crime bosses, critics accused the program of being a federally funded propaganda piece to fuel support for the war. When drug runners and hitmen increasingly began hiring songwriters to pen "narco corridos" about their latest criminal exploits, state governments asked radio stations to "voluntarily ban" the music. In 2008, a cartel druglord began a violent campaign in Juárez by hacking police radios to broadcast a song that glorified his organization. The authorities weren't humming along. Last year the governor of Sinaloa state issued a decree banning narco music from bars and nightclubs, although by now the love of narco corridos has bled over the porous border into United States.
In the U.S., coverage of the drug war is slowly finding more space in the news after years of being relegated to a regional curio or a sidebar of the larger immigration debate. Some of the nation's largest newspapers are leading the way with insightful reporting by journalists who are risking their lives to deliver these stories, often going beyond reporting body counts to surface the suffering—and in some cases the desensitization—that results from the violence. The New York Times has reported recently on post-traumatic stress suffered by residents in Juárez, and featured a photo essay about how the drug war is affecting the lives of women and children. The Los Angeles Times, positioned closer to the fray than any national newspaper, has provided expert analysis of the Sinaloa cartel and an in-depth investigation of the ATF's embarrassing "Fast and Furious" gunwalking scandal. The high-stakes, often visceral subject matter requires constant editorial judgment calls.
For Tracy Wilkinson, Mexico City Bureau Chief for the Los Angeles Times, that means putting stories into context to address the political and economic component. "You're always looking for a balance," she says, describing one common challenge as "conveying the horror without being sensationalist, or grisly for the sake of being grisly." As an example, Wilkinson points to a crime scene in Nuevo Laredo that appeared on the wire May 4th. The bodies of 5 men and 4 women were found hanging from a bridge near the U.S. border. The victims showed signs of torture and a cartel message was left at the scene. "There was a debate about whether to publish the picture, and I thought the picture was done relatively tastefully. You got a sense of what this was without every gory detail. Those are the kinds of debates that we're always having. You don't want to give them publicity, but you do want to show that Mexican society is being traumatized."
It can be difficult to decide what's over the top in Mexico, where daily news stories might include teenage assassins, chainsaw beheadings, or human remains found in acid vats and tiger pits. As violence escalates in advance of Mexico's presidential election July 1st, and evidence emerges that cartels have been using U.S. horse racing operations to launder money, more major news outlets are giving top billing to the drug war, which means editors are making these difficult decisions more and more often. Even a thoroughly researched investigative piece can raise tough questions about how cartel activities should be portrayed. Last Saturday's New York Times Magazine featured a cover story "Cocaine Incorporated" by Patrick Radden Keefe, a superbly written, panoramic view of the trafficking of billions of dollars of cocaine, heroin, and other illicit drugs - mostly through the United States. Rather than accompany the piece with photographs, editors chose to run a series of striking graphic illustrations by Steve McNiven and R. Kikuo Johnson, intended to give readers an immersive experience into a secret world they would otherwise never see. "We wanted to show the incredible, staggering sophistication of the cartels," says editor-in-chief Hugo Lindgren. "You don't really see that in the crime blotter pictures—you just don't get it." Lindgren says the magazine has a role to push into new forms a little faster than the newspaper. "We have to find those places where we can be more expressive," he says, likening the visuals to the work of graphic novelists like Chris Hedges and Joe Sacco, whose Days of Destruction, Days of Revolt merges reportage and illustration. Lindgren insists the images are not meant to be taken lightly. "They are meant to convey real, powerful things that are scary and important to know about. Our intention is to raise people's interest."
Gawker has taken another approach to "vivid" with this week's debut of "Mexican Drug Blood," a new, regular installment of updates from the border that aims to show readers that "many areas of Mexican life have become incredibly fucked." The section is a direct translation of the work of Miguel Angel Rodriguez Vazquez, who edits one of Mexico's most notorious and best-selling tabloids, El Nuevo Alarma!, famous for plastering photos of the most grotesque cartel killings across its weekly edition. Gawker editor A.J. Daulerio said he was fascinated by the brazenness of El Nuevo Alarma!. "I saw a lot of the criticisms - that in some ways it's a walking business card for these cartels, but at the same time, I couldn't forget it. Without those images I don't think I would have remembered it as much." Gawker may seem like an unlikely source for unfiltered gore from Mexico, but Daulerio says he doesn't worry how the material will fit in with the site's other content. "I've always been a 'publish first, ask questions later' type of person anyway, and I think this is kind of the best way to make it readable for people who wouldn't ordinarily read about this sort of thing," he says. "I know there's more substantive articles about it, and I have no problem reading those and digesting those, but the first thing is that we have to bring some attention to it."
That's a worthwhile goal. Earlier this year at the international bridge in Ciudad Juárez, President Calderón unveiled a billboard erected to face the U.S. side of the border. Forged from the remains of confiscated firearms, the sign read: "NO MORE WEAPONS!" A simple message that hardly made a blip on America's radar. If we want to understand what's happening in Mexico, and in our own country, we need our institutions and our storytellers to find the right balance between looking across the border and looking in the mirror.