The 'Hannah Montana' Effect: Why Are So Many Kids' TV Shows About Fame?
Children's cable was once dominated by stories about everyday kids. Now it's saturated with shows about wannabe celebrities.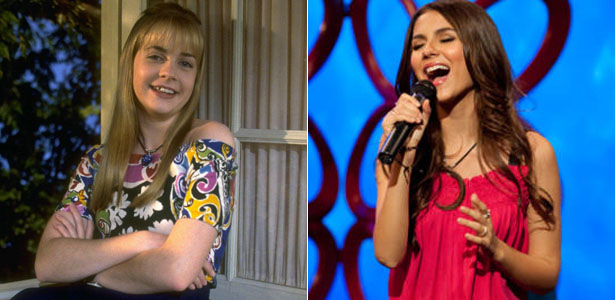 Nickelodeon
Clarissa Darling—in a scrunchied ponytail, dangling daisy earrings, and rolled-up, floral-print trousers—slinks through the bushes and across her front porch. She's ducking in front of the windows. She can't risk being seen. Her mother's inside, revving up a family meeting. Safely making it to the stoop, Clarissa plops down, looks at the camera, and addresses the audience: "Mom has declared no TV," she bristles. "For a week!" She vents to viewers, comparing the guilty pleasures of TV and potato chips, when her little brother, in a turtleneck, sticks his head out the door and spits, "If I've got to sit in there, so do you." "Don't worry pimple head," she snarls back. "I'll be there in a minute!" It's the cold open to a 1991 episode of Nickelodeon's live-action comedy Clarissa Explains It All, which featured a likable young teen sneaking out to Pearl Jam concerts, playing computer games, and wearing lots of Keith Haring T-shirts.
Tori Vega—wearing makeup and skinny jeans and carrying an oversized leather purse—strides to the lunch table to meet her friends. They're all students at Hollywood Arts High, a school for fledgling performers. Today, Tori and friends are discussing an ice cream sweepstakes that nabs one lucky winner a private concert with pop superstar Ke$ha. "So far this week, I've eaten 11 pints of ice cream," says one young man. He wants to collect all the letters in Ke$ha's name from different pint containers so he can be crowned the winner. Airing 20 years after Clarissa, this is the opening scene in a 2011 episode of Victorious, a live-action comedy currently airing on Nick. In this episode, the gang eventually wrangles all of the letters (they find the "$" last) and wins the contest. Mocktails in hand, the kids are seen club-dancing as Ke$ha sings, "This place about to blow," and shoots glitter bazookas in Tori's living room. The episode ends with Ke$ha asking Tori, "Are your cheekbones real?"
Both programs feature young adolescents. Both are aimed at the same children's demographic. But the heroes and heroines of Clarissa Explains It All and Victorious are quite different. In Clarissa, which is nearly always set in the title character's house, Clarissa's juggling part-time jobs, longing for a driver's license, or dealing with an annoying sibling, not to mention her mom's tofu-based health parfaits. In short, it's a show about a kid being a kid.
Two decades later, some of Nick's most popular shows paint their kid protagonists with a very different brush. On kid's cable in general, the children play characters who are famous, are seeking some level of fame, strive to be associated with famous people, or are dealing with the hassles of being famous. (Things get especially crazy when one child star starts dating another. See, awkward first loves! They're just regular kids, everyone, really!)
MORE ON TELEVISION
This fame fixation didn't exist back on '90s Nick. Salute Your Shorts followed a rag-tag group of pre-teens at sleepaway camp. Kenan & Kel focused on best friends who were always falling for girls or get-rich-quick schemes. And Hey Dude was about some high schoolers holding summer jobs as ranch hands. Animated series like Doug, Hey Arnold! and later As Told by Ginger were "day-in-the-life" vignettes of average everykids, navigating bullies and embarrassing family members while getting into misadventures with the neighborhood crew. Offbeat shows like The Adventures of Pete & Pete captured the wonder and weirdness of childhood. In one episode, younger Pete goes to the beach to beat up the ocean. It's his older brother Pete's way of knowing the summer's definitely over, and says Little Pete is "not crazy. Just angry—angry that the summer has to end."
The first shot of the opening credits in Victorious? A convertible, top down, cruising down the streets of L.A. The camera zooms in on Tori in the passenger seat (who's definitely ready for her close-up), earbuds in, looking around dreamily at the palm tree-lined landscape. It cuts to various windswept shots of her on stage or on a rooftop, singing into a mic, "You don't have to be afraid to put your dream in action / You're never gonna fade, you'll be the main attraction." A fairly accurate mantra for a good chunk of children's cable programming today. Just look at another of Nick's current hits, iCarly—one of Nickelodeon's flagship titles for the 2000s, entering season six. It's about a tween weblebrity and her insanely popular Internet show. There's also Big Time Rush, a comedy in which four teenage hockey players suddenly become the nation's hot new boy band. Its premiere in 2010 was Nick's highest-rated live-action debut ever. Last year, True Jackson, VP wrapped, in which a teen girl worked as vice president at an haute New York fashion house. Most recently, the new How to Rock sees shunned ex-mean girl Kacey join a rock band that rivals the in-crowd's own musical group. In one episode, Kacey's band attempts to achieve the same level of viral-video fame as the populars, who went on to launch a clothing line. High school—what a drag!
And it's not just Nickelodeon that spotlights famous fictional kids. Disney Channel also adheres to the formula: Anchor a show with some kind of young entertainer who leads an exceedingly unusual life. Cast a bunch of actors who were, are, or could easily be teenage models. Pepper dialogue with references to record labels or celebrities tweeting. In the past couple years, Disney Channel ventures have included: a good-looking singer/songwriter pair (Austin & Ally), two teens who become professional TV dancers (Shake It Up), a small-town girl who joins the cast of her favorite variety show (Sonny with a Chance), and three brothers in a famous band of heartthrob pop-rockers (Jonas L.A.).
But of the Big Three kids' cable networks, one doesn't seem keen on playing the fame game. Cartoon Network—which has seen double-digit growth in the last year and ranks no. 1 with boys age 6 to 11 on all of television—boasts lots of wacky animation and fantasy-rooted live-action shows. No secret stage identities or synth-heavy dance numbers here. Instead, you'll find a shape-shifting dog named Jake living in a post-apocalyptic world in the cartoon Adventure Time and a portal that sends videogame characters into reality in the live-action Level Up. Also: a Looney Toons reboot and the latest Pokémon series. There's also The Amazing World of Gumball, starring a mischievous cat and his pet goldfish, which grew legs after radiation exposure. Finally, The High Fructose Adventures of Annoying Orange, based on the Internet meme of an anthropomorphic citrus, debuted earlier this month, winning Cartoon Network the primetime 8:30 p.m. slot's highest ratings among all boys, plus all kids age 2 to 11, 6 to 11, and 9 to14.
It's a departure from the "famous kids" formula, which has its origins in the mid-2000s. The Disney Channel's Hannah Montana debuted in 2006, starring Miley Cyrus as a regular girl who secretly moonlights as a world-famous teen singing sensation. Hannah's bobbing about the stage to G-rated bubblegum pop in parent-friendly outfits of zebra print and jean jackets launched a craze among her young fans. The frenzy included, among other consumables, two motion pictures and nine full-length albums, plus backpacks, guitar-shaped lamps, and fuchsia bedspreads. The show also, of course, catapulted the daughter of a one-hit-wonder country singer to off-screen celebrity. Unfortunately for child star-eschewing Cartoon Network, it's the Disney Channel that's topping overall ratings. In May, Disney knocked Nickelodeon from its historic perch as top kids' network, a spot Nick's held since 1995.
It's also worth noting that Nick and the Disney Channel do have some shows that break from the fame formula. Among others: Disney's Good Luck Charlie, about a Denver family adjusting to a new child, and Nick's action-comedy Supah Ninjas, about a group of kids who become crime-fighting martial arts superheroes. In fact, one of Disney's most popular shows, Wizards of Waverly Place, had nothing to do with being famous. It still made an actress-singer-fashion designer out of lead Selena Gomez, though. She has 11 million Twitter followers, not to mention she's dating Justin Bieber—himself a teen who rose from regular kidhood to international renown. (Not unlike some of the characters on the TV shows kids are watching nowadays.)
Despite being famous, these characters face the same problems as any other kid. First crushes, zits, divorced parents, sibling rivalry, weird teachers, fitting in. But they're also chasing record deals and fielding autographs. Gone are the days of Clarissa goading her little brother at the dinner table, or older Pete waxing philosophical on the end of summer. As the boys in Big Time Rush sing in their theme song: "If you want it all, lay it on the line / It's the only life ya got, so ya gotta live it big time."For the kids at home, does this message encourage them to follow their dreams? Who knows. But they sure like watching the kids on TV do it.