The Gutsy Scribbling of R.O. Blechman
The influential cartoonist is finally getting his much-deserved due.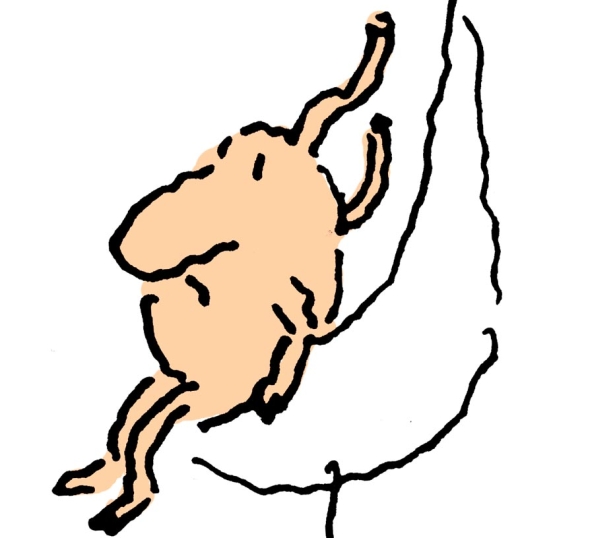 In 1967, a stomach was interviewed about its digestive woes in a TV commercial for Alka-Seltzer, the effervescent cure for indigestion. Who could predict that a talking organ would change television advertising? Its creator, the illustrator R.O. Blechman, had a hunch it would. The nervous stomach was an instant success, and viewers were charmed by its subtle hilarity, rendered with Blechman's signature, shaky, comic line.
Last Friday, Blechman, 81, was inducted into the Society of Illustrators Hall of Fame, which includes America's most illustrious practitioners from Norman Rockwell to Rube Goldberg, along with Edward Gorey, Ludwig Bemelmans, John Collier, and Nancy Stahl. That it took so long for him to be inducted is puzzling—but better late and during his still-productive lifetime than never.
You have all seen Blechman's work. Once ubiquitous in magazines, newspapers, and animated television commercials, he has minted his share of iconic images, not the least a New Yorker cover (turned into a poster) that celebrated the bright lights atop the city's great skyscrapers. His distinct, nervous line has been copied many times without capturing the true essence of his work, which lies in expressiveness of his characters.
Blechman's art foregoes slapstick. His work is genuinely humane. No one has ever duplicated the human qualities of his everyman (or everystomach). For his inventive animation, Blechman uses voices that give imbue his lines with multifaceted personalities. (I always associate Blechman's figures with Max von Sydow's dulcet voice. What other cartoonist can trigger such voices in the head?) This ability to invest emotion onto scratchy homunculi comes from his painstaking attention to gestured detail.
Blechman's every last pen stroke is deliberately composed. I've seen him draw dozens of tiny squiggly noses, for instance, on adhesive-backed paper until the right one materializes; then he meticulously cuts it out with an X-A cto knife and pastes it onto image. The final drawing is pieced together like a jigsaw puzzle. And as studied as this process is, the end product is the perfect marriage of comedy and emotion.
When Blechman's art was on the ascent during the late '50s and '60s, he rejected the typical gag cartoon. His abstract linear economy was innovative, and so were his themes. The 1953 adaptation of The Juggler of Our Lady, which prefigured today's graphic novels, was not the usual cartoon or comic fare. His 1977 No Room at the Inn, a retelling of the nativity myth, was surprisingly warm and curiously spiritual.
It is tempting to refer to Blechman's wit as deadpan, but that designation does not take into account the inherent joy that pervades even his most somber work. His 1966 "Christmas Message," broadcast for many years on CBS, was an ecumenical animated paean to the season. A lumberjack, standing before a tree, using his saw as a violin, plays a Christmas carol. In the tree are birds—and therein is the tension between holiday tradition, consumerism, and the human condition. In the hands of more slapstick cartoonists the humor might be there, but not the cathartic power.
Blechman's first feature film, an adaptation of Igor Stravinsky's heartbreaking The Soldier's Tale, was a display of intense energy. Adapting the tale of war and its ravages to the screen was no easy feat: To make the story compelling with nervously drawn characters took him years. But from the moment it premiered, viewers were pulled into Blechman's universe. It was not simply an animated rendition of a classic work. It was a total sensory experience that transcended the existing paradigms of animation and filmmaking. And yet it was a cartoon.
Over time, Blechman's characterizations have become less everyman and more journeyman—telling more biographical stories. To become one with his characters, in recent years he increasingly embraced color. He also alternates between pen and brush, and injects collage where appropriate. These may seem like incremental advances, but in the life of any artist, shifts in conceptual thinking and technical processes are building blocks. He does his share of building every day, and he is no longer the same artist who cuts out dozens of squiggly noses to find a Platonic ideal. Blechman projects more optimism than other world-weary cartoonists, and the work, no matter how caustic, never feels like that of an artist resigned to the fates.
The newspaper cartoonist J.N. Darling once said a cartoon is "a humor-coated capsule by means of which the sober judgments of editorial minds may be surreptitiously gotten down the throats of an apathetic public." Blechman's drawings are potent pills. His deceivingly simple graphic approach is wily camouflage for the social, cultural, and political satires that make up his oeuvre. His goal is to subvert the commonplace, disarms the viewer, and then, like a victorious general, occupy the senses—all with shaky line and steady wit.