The Greatest Men's Tennis Player of All Time Is at the French Open
But who is he?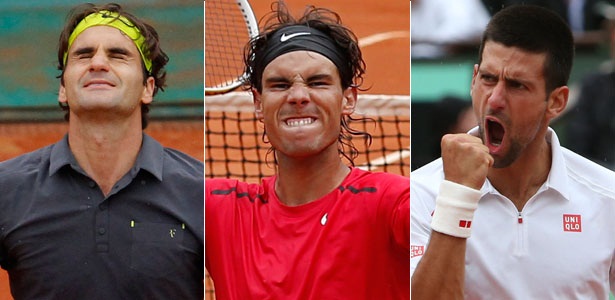 AP Images, Reuters
Friday at the French Open, the greatest men's tennis player of all time will be knocking the red brick dust out of his shoes with his racket and whacking balls in anger as he seeks to solidify his place in history.
The only question: Who is it?
In the first semifinal, Rafael Nadal can make a legitimate claim to all-time tennis supremacy. And on the other side of the draw, Roger Federer and Novak Djokovic can each make an equally powerful case for being the Greatest Of All Time—or GOAT for short.
The GOAT question is really the ultimate sports debate. Every game, every match, in every sport is an attempt to address this bedrock issue: Who's better? Seasons and careers are played to take that question to a higher level: Who's the best? The GOAT question takes this discussion to its natural conclusion.
But compelling though they may be, GOAT debates usually move in slow motion.
They almost always pit an active player near the end of his career with a legend who's retired. In basketball, for example, Kobe Bryant bumped up his GOAT credentials when he won his fifth NBA title in 2010, but after two early playoff exits in the years that followed, he's now less of a threat to Michael Jordan's pre-eminence.
The GOAT question has always been especially resonant in tennis, because there are no teams or teammates to confuse the issue. And unlike, say, baseball, where purists suggest that progress stopped with Babe Ruth, most tennis fans nod politely in the direction of legends like Don Budge and Bill Tilden and acknowledge that the best active players would clean the great Rod Laver's clock.
And as we speak, the GOAT question in men's tennis sits at a remarkable, possibly unprecedented juncture, with three active players wrestling over all-time supremacy like dogs over a juicy soup bone. Here are the three candidates and their respective claims to ultimate fame.
MORE ON TENNIS
Roger Federer: Federer is everything you'd want in a GOAT. His resume is nothing short of stellar. At age 30, he owns the career record for the most grand slam tournament wins with 16. And unlike the previous owner of that record, Pete Sampras, Federer also has a career grand slam, or in other words, he has won each of the majors at least once. Federer owns a wide variety of lesser records—like an all-time-best 237 consecutive weeks at number one on the ATP computer—and a few marks that seem utterly unbreakable, like a mind-boggling 23 grand slam semifinal appearances in a row.
In virtually any other era, this body of work would be more than enough to cement his place as the GOAT over Sampras and Rod Laver, who won the Grand Slam twice in 1962 and 1969 but lost the best years of his career to the schism between amateur and professional tennis. But there is one blemish on Federer's resume can be summed up in two words: Rafael Nadal.
Nadal owns an 18-10 career record against Federer. He's 8-2 in Grand Slams, including five wins in a row, on three different surfaces, dating back to 2007. And while Nadal is four years younger than Federer, this is not merely a question of Federer losing a step as he ages (as evidenced by recent bad losses to players like Tomas Berdych, Jo-Wilifred Tsonga, and Juan Martin del Potro). On the contrary, Nadal has had Federer's number from almost the very beginning of their respective careers.
Which raises a very real question: How can Federer be the greatest player of all time if he's not the greatest player of his day?
Rafael Nadal: On the surface, Nadal seems like the logical heir to the GOAT throne. He's got 10 slam wins—a total that might put Federer's record of 16 within reach. He too owns a career grand slam—and completed his sweep at a younger age than Federer.
A mere 18 months ago, Nadal's ascendency seemed almost inevitable. After a 2009 season in which he struggled with knee injuries—and Federer collected a couple of majors he might have won—Nadal came roaring back and won three consecutive grand slams in convincing style in 2010.. It seemed that Nadal was ready to own the game for at least the next couple of seasons, and the only thing that could stop him were his creaky knees.
No one counted on the unlikely rise of Novak Djokovic.
Novak Djokovic: At the 2010 U.S. Open, Djokovic was hanging his head, yelling at his racket, and seemed this close to an ugly first round loss against countryman Viktor Troicki. It seemed like the latest bittersweet chapter in the career of a player who would be best remembered for losing in the semis of majors and doing very funny impersonations of his fellow players.
Then something clicked. He fought off a couple of match points against Federer in the semi-finals, and found a bright spot in a largely lopsided loss in the finals to Nadal.
In 2010, Djokoic began the most remarkable mid-career turnaround in modern men's tennis. He won four of the next five majors, including Wimbledon, the U.S. Open, and two Australian Opens. Still, at age 25, Djokovic has won only five grand slams, less than a third of Federer's total, and half as many as Nadal. And given that tennis players' careers trail off rapidly as they approach 30, it would be virtually impossible for him to catch up.
What puts him in the GOAT conversation is the way he's dominated Federer, and especially Nadal. He's won five of his last six against Federer, including three out of four in majors. More important is Djokovic's newfound dominance over Nadal. After that U.S. Open loss, Djokovic beat Nadal seven times in a row with three of those wins coming in major finals. While Nadal still owns a 18-14 career edge, and did beat Djokovic on clay twice this spring, Djokovic 2.0 is not the same guy who lost his first five grand slam matches against the Spaniard.
Interestingly, the same head-to-head argument that supports ranking Nadal ahead of Federer is also the crux of the strong case for that can be made for Djokovic as the GOAT over Nadal.
So who's number one? It depends on how—and how heavily—you choose weight a career resume versus head-to-head records. And any conclusion you draw will only be temporary. These guys are far from done, so every slam for the next couple of years will tip the balance of this discussion. But what would winning the French this weekend mean for these three players vying to be remembered as the greatest of all time?
For Federer, a win at Roland Garros would bolster his best GOAT claim—that record slam total. But more importantly, a pair of huge wins over his two greatest rivals on his least favorite surface at age 30—that's ancient in tennis terms—would provide perhaps the greatest moment of a storied career. And huge, improbable wins are just as much a part of greatness as accumulating titles.
For Nadal, a win at the French Open has become almost routine. His record at Roland Garros is an almost otherworldly 50-1. But if Nadal's seventh French Open title comes at Djokovic's expense, the win gives him an important toe hold in this crucial--and likely decisive—rivalry.
Djokovic clearly has the most to gain by winning the French. If he can capture his first French Open title, he'll hold all four majors at once for a so-called "Nole Slam." Both Federer and Nadal got to three in row, but couldn't quite capture that elusive fourth major. Just as importantly, if he beats Federer and Nadal this weekend, Djokovic defeats the other two men who would be GOAT. And with only five slams to his credit--but four since the beginning of 2010—Djokovic will tell anyone who's listening that if you can beat the best, just maybe you can be the best too.