The End of Serena Williams
She just lost in the first round of the French Open. Is her career over? And if so, who will be the next dominant women's tennis player?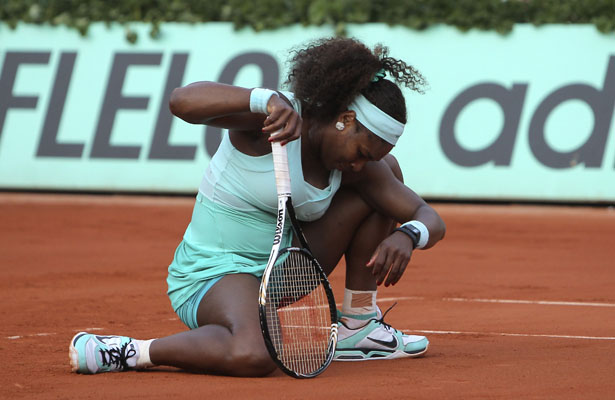 AP Images
Every week, our panel of sports fans discusses a topic of the moment. For today's conversation, Patrick Hruby (writer, ESPN and The Atlantic), Jake Simpson (writer, The Atlantic), and Hampton Stevens (writer, ESPN and The Atlantic), discuss Williams' future.
---
Everyone,
Serena Williams has never lost a first-round match at a Grand Slam tournament. Not on the tricky clay of Roland Garros. Not on the skittish grass of Wimbledon. Not in sunbaked Melbourne, where half the tour is still rounding into early-season form; not in pressure-packed New York, where even the greatest competitors sometimes melt down. Serena has been many things—swimsuit pinup; fashion designer; home shopping network pitchwoman; reality show star; maybe the best (and hardest-hitting) women's tennis player of all time—but she has never, ever been a major opening match loser.
Until now.
It was the result heard 'round the tennis world: down goes Serena. Down goes Serena. Three sets and out, a French Open loser to 111th-ranked Virginie Razzano. More perplexing still, Serena lost despite leading 5-1 in a second-set tiebreaker and coming within two points of victory nine times, both of which are the tennis equivalent of: a) blowing a 20-point fourth quarter lead in the NBA playoffs; b) staggering, but not KO'ing, your boxing opponent on nearly a dozen occasions, and then losing the fight on points.
The loss left Serena—who typically responds to clunkers with a signature mix of imperial confidence and blithe indifference—in tears. It also raised the question: Is the greatest player of last decade kaput as a dominant force, an oft-overwhelming favorite to win every tournament she enters?
Serena is 30, a generation removed from many of her peers. She has suffered a series of physical setbacks—including two foot operations and frightening blood clots—and the shocking, heartbreaking murder of her oldest sister. To this point in her (admittedly still incredible) career, she hasn't demonstrated the sort of all-consuming focus that helped Andre Agassi and Pete Sampras rage against the dying of the light. Meanwhile, the talent and depth on the WTA Tour gets better all the time.
All that said, I still think she's the player to beat.
Serena's power remains first class. She owns the top serve in women's tennis. Her opponents are hitting harder than ever; thing is, Serena likes pace. Her walkabouts from the week-in, week-out grind of the tournament calendar may provoke ire from fans and sponsors, but likely have saved her from permanent burnout. Above all, she remains a ferocious competitor, a player who really, really hates to lose.
As such, I don't see one Slam in Serena's future. I see many. Likely starting with Wimbledon.
Hampton, what's your take? Are you holding or shorting Serena stock?
–Patrick
Patrick,
You can call Serena "leaky boat," because it's time to start bailing.
Oh, you could chalk up Serena's meltdown to the presence of chair umpire Eva Asderaki—the same official who made the notorious call against Williams for screaming during last September's U.S. Open final. Don't. Did you mention the two foot surgeries and blood clots in her lungs? Yikes. The question is: Who will be next to dominate the game?
Serena's biggest rival, besides her sister, is Maria Sharapova. Unfairly written off as Kournikova-like, she's five years younger, a tad healthier, and has made great strides in her clay game.
The patriotic part of me hopes Melanie Oudin will be the next multiple Grand Slammer. Just 20 years old from Marietta, Georgia, she also got bounced from the French Open this week, but nevertheless looks like a rising American star. China's best player, Li Na, is fast and crazy agile, grinding opponents with precision backhands. But she doesn't look to have enough baseline power, or that oh-so-essential killer instinct. The people who run tennis magazines probably hope that the 2008 French Open champ, Serbian stunner Ana Ivanović, will go on a multi-year run of slam titles. (Okay...Sorry for being superficial, but I do, too.)
But let's go with Petra Kvitova, a fourth-seed in France. The six-foot Czech has a big, booming lefty serve, and can seemingly adapt that lanky frame to suit any surface. She took her first ever Grand Slam at Wimbledon last year, but hasn't won a thing in 2012. She will, though. Soon. And probably for many years to come
Jake, can Serena still will Grand Slams? And who's your pick for the next superstar in women's tennis?
–Hampton
Is Serena done, Hampton? That's like asking if water is wet, or if FOX's new show The Choice is a major step backward in human evolution. Serena's been done since she stepped on that broken glass at a Munich restaurant in July 2010, despite her 2011 U.S. Open finals appearance.
Since her freak foot injury and subsequent 11-month layoff from the game, Serena has not been the same player. Even when she was steamrolling to the finals in Flushing last year, Serena relied mainly on hyper-aggressiveness, brute power, and her aura to strike fear into the heart of her opponents. When Sam Stosur didn't back down in the final and matched Serena power for power, the younger Williams sister folded in a shockingly lopsided 6-2, 6-3 loss.
Now Serena has fallen in the first round of the Grand Slam, an even bigger deal than it appears. In order to string together seven straight victories and win a major title, tennis players have to be confident that they will show up with a killer instinct EVERY DAY, not just when Maria Sharapova or world No. 1 Victoria Azarenka is on the other side of the net. Serena is too powerful and too experienced to simply count out, but I'll be stunned if she wins another major.
As for her replacement, Kvitova is a good call, Hampton. But the fiery Czech woman has proven to be a mercurial force—here one match, gone the next. That leaves Azarenka as the heir apparent to the WTA publicity throne. The 22-year-old started 2012 on a tear, rolling to her first major title at the Australian Open and dropping just two sets in the process. She's young, she's talented, and she's cool under pressure. In the vacuum that is post-Serena women's tennis, that alone should be enough.
–Jake