Scratching 'I'll Have Another' From Belmont Was the Right Move
Yes, there won't be a Triple Crown-winner this year. But the decision shows how important it is to take injuries seriously.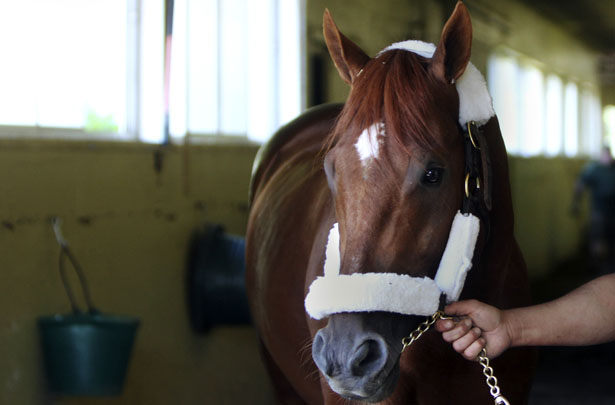 AP Images
They did right by the horse—and nothing else matters.
When owner Paul Reddam and trainer Doug O'Neill scratched I'll Have Another from tomorrow's Belmont Stakes, when they decided in that moment to give up on their dream of winning horse racing's Triple Crown, they transcended much of the controversy they have endured since the big colt won the Kentucky Derby five weeks ago. They did what good owners and trainers do in the face of an injury to the horse—they backed off the chase, backed off the race, and chose to, perhaps, fight another day.*
Although the real world will likely be disappointed that another year, at least, will go by without a Triple Crown winner, the citizens of the horse world understand that these injuries, especially on the eve of a big race, are part of the essence of horse racing. This sort of heartbreak—and let's be clear, it's got to be heartbreaking to have to scratch the Derby and Preakness winner as a prohibitive Belmont favorite—comes with the thrill of the sport. You can't have one without the other.
While this result won't likely make tomorrow's big race any more exciting to watch, it surely will make it easier to bear than Big Brown's effort in the 2008 Belmont with another Triple Crown on the line. Now, at least, we will always get to wonder what might have been had I'll Have Another squared off against his main rivals at Belmont's mile-and-a-half oval. There will always be a mystery around this horse. It's small solace when compared with a Triple Crown win. But it sure beats the alternative, which is, perhaps, another very visible tragedy, another broken-down horse.
But don't cry too hard for Reddam and company. A famously cheap buy, first at $11,000 and then at $35,000, I'll Have Another is worth a fortune today even if he never sets four feet on a track again. His two impressive classic victories—and his built-for-distance pedigree—mean that he has tremendous value as a potential sire. ("I'll Have Another, And Another, And Another" went the immortal headline in a Wall Street Journal piece about the horse's future as a stallion).
And don't cry too hard for horse racing, either. Yes, it's true, the subtraction of the star subtraction from the big race is another gloomy episode in an already dark year for the racing industry. But I see it differently. I see the scratching of this horse, by this trainer, on the eve of this race, as an encouraging sign. "We do right by our horses," which is what the connections are saying here, would make a marvelous marketing slogan for a sport that desperately needs to reassure its fans that the horses really do come first.
---
* UPDATE: At a news conference this afternoon, Reddam announced that I'll Have Another is retiring.