Novak Djokovic, King of the Tennis Comeback
No one in the game today does "match point down" better than the man they call Nole.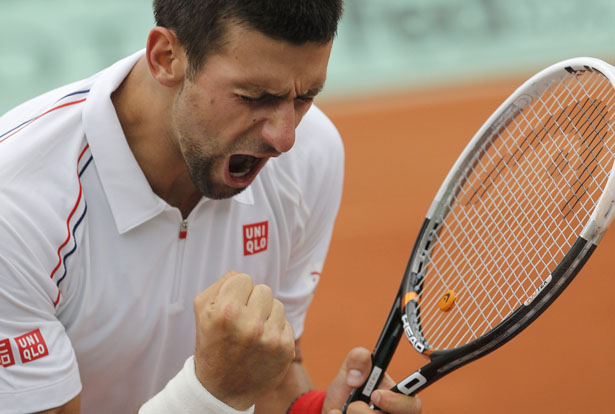 AP Images
Great individual athletes assert their dominance by not having to be great most of the time. Tiger Woods led going into the final round of all 14 of his major championship wins. Roger Federer has only been pushed to five sets twice in his 16 Grand Slam final victories. By the time the greats near the finish line, they've left everyone else in the dust.
The exception, at least recently, is Novak Djokovic. After another improbable comeback from the brink in a Grand Slam match, it's safe to say that no one does "match point down" better than the man they call Nole.
Djokovic was match point down four times in the fourth set of his French Open quarterfinal match against Frenchman Jo-Wilfried Tsonga on Tuesday. Four times, the Paris crowd stood and roared, exhorting Tsonga to the final step across the finish line. Four times, Djokovic rose up to win the point and stay alive.
Djokovic eventually won the set in a tiebreak and steamrolled past the deflated Tsonga in the fifth set. The 6-1, 5-7, 5-7, 7-6(8-6), 6-1 win was Djokovic's 26th straight Grand Slam victory, and he is now just two wins from becoming the first man to win four Grand Slams in a row since Rod Laver did it in 1969.
Like Tiger before him, Djokovic's feat would be over two years, including last year's Wimbledon and U.S. Open and January's Australian Open. But that does not make his accomplishments any less remarkable, especially after all the times that the streak appeared to be over, until it wasn't.
MORE ON TENNIS
Djokovic's first great escape was perhaps his most impressive, coming back from two sets down to beat Federer at the U.S. Open last September. The Serbian was down 5-3, 40-15 in the fifth set, and Federer had two match points on his serve. Fed hit a blistering first serve deep to Djokovic's forehand on the first match point, and Nole wound up and smashed a forehand crosscourt that traveled faster than 100 mph and kissed off the line. It was perhaps the best shot under pressure in U.S. Open history.
Djokovic went on to win the game, the match, and the tournament. In Australia, he faced back-to-back five set marathons against Andy Murray and Rafael Nadal. Djokovic found himself tied 5-5 in the final set of both matches, wearily racing towards the finish line against an equally exhausted opponent. Like a cornered animal, the world No. 1 refused to die, winning the last two games of both matches. The victory over Nadal in the final was particularly stunning—down a break in the fifth set, Djokovic won five of the last six games by breaking Nadal's serve twice in 25 minutes.
This year's French Open has been more of the same for Djokovic—watch an opponent take a big lead, then raise the level of tennis by two or three notches and roar back to victory. Nole spotted the first two sets of his fourth-round match to unheralded Italian Andreas Seppi on Sunday, then stormed back to win the final three sets and take the match.
That was just an appetizer to Tuesday's wild match against Tsonga in front of an uber-partisan French crowd that deliriously cheered their man as he took a two-sets-to-one lead on Djokovic. Serving at 4-5, 15-40 in the fourth set, Djokovic erased two match points with a perfectly placed volley and a booming first serve. At 5-6, Djokovic faced two more match points and beat back Tsonga both times, forcing a fourth-set tiebreak.
Again, Tsonga raced out to a lead in the tiebreak. Up 4-3 with two serves to come, he appeared to have finally outlasted Djokovic. What follows is my notes from the rest of the tiebreak (Djokovic-Tsonga):
3-4, Tsonga serving: Backhand war turned over by Novak with two wicked crosscourt forehands, Tsonga can't return the second.

4-4, Tsonga serving: Djokovic punishes a second serve with a backhand off the sideline, forcing Tsonga onto the defensive, eventually he nets a backhand.

5-4, Djokovic serving: First serve in, Tsonga forehand return goes long.

6-4, Djokovic serving: Tsonga smashes back a Djokovic first serve with pace, forces the issue with a chip and charge to the net, Djokovic's backhand passing shot goes wide.

6-5, Tsonga serving: Huge first serve by Tsonga into the Djokovic body, his slice forehand return attempt goes long.

(the players switch ends, 45 second break while the crowd roars)

6-6, Tsonga serving: Tsonga serves and volleys, but a strong high return off the first serve by Djokovic forces Tsonga into an approach shot forehand that goes long.

7-6, Djokovic serving: Djokovic hits a first serve in, brief rally, Tsonga nets a backhand, Djokovic strides back to his chair, pumps his fist and bellows. Two sets all.
The fifth set was a formality—Djokovic steamrolled a demoralized Tsonga, who at times appeared on the verge of tears. After the match was over, Djokovic pumped his fists in his trademark swashbuckling style while Tsonga covered his face with a towel and sobbed.
Djokovic still has two brutal tests between him and the "Nole Slam", including a potential final against Nadal, who is 50-1 all-time at the French Open. First comes a semifinal rematch with Federer, who beat him in the semis at last year's French Open. But Federer knows better than anyone that to beat Novak Djokovic, you have to win the last point of the match. And that has proven to be hard to do.