'Mad Men' Is Set in the '60s, So Why Does It Use Music From Today?
A look at the most compelling musical anachronisms on a show that's usually obsessed with historical accuracy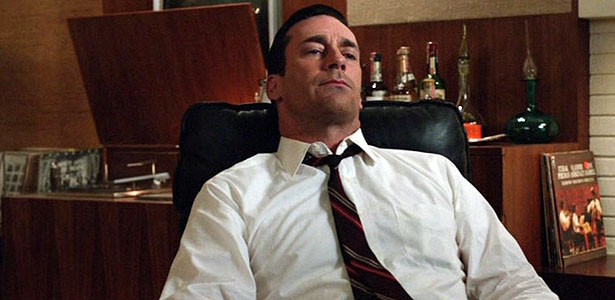 AMC
Woe betide Mad Men creator Matthew Weiner if this Sunday's season five finale includes anything teetering on historical inaccuracy. Audience obsession with history on Mad Men has ratcheted to new heights this season, beginning even before March's premiere when audience pressure compelled Weiner to switch out a Burt Bacharach song early viewers deemed historically mislaid. Only weeks later, a number of political historians entered perhaps the hippest discussion of their careers in debating whether New York City's then-Republican mayor would have actually called George Romney—Mitt Romney's father, then the governor of Michigan—"a clown," as happened on the show.
Counting others' mistakes, though, is but a cheap thrill. Real excitement comes from watching the producers of a television program so tightly beholden to stylistic parameters depart from those parameters on purpose. Although such instances on Mad Men are rare, it is though the show's occasionally anachronistic musical placement that the audience witnesses historical inaccuracies working in the show's favor.
With so many armchair historians in the audience, juxtaposing untimely music against a carefully painted 1960s backdrop is risky business. But it's also an incredibly effective way for Mad Men's writers to say that what's happening on screen is so important that they've got to risk everything expected of them to make a point. Here's a look at the most compelling musical anachronisms in the series so far and how the show used them to emphasize important moments:
"The Great Divide" by the Cardigans
Season 1, Episode 2: "Ladies Room"

The first time a musical anachronism disrupts the show's historically accurate rhythm comes at the end of the second episode in the first season. Don has just spoken with Betty's new psychiatrist, who helps the adman realize he's more emotionally disconnected from his wife than he thought. As Don closes the door of his study to speak further to the doctor, the Swedish alternative rock band's 1996 music box ballad creeps through the Drapers' seemingly perfect 1960's home. A white double oven comes into view before fading quickly.
The Cardigans' "The Great Divide" is, of course, about division, describing "a monster growing in our heads raised upon the wicked things we've said." The 1960s was full of ditties about breaking up and falling apart. That Mad Men bucks history and pulls from the repertoire of the 1990's strongly emphasizes how a seemingly perfect midcentury family will come to reckon with the divides of modernity. From this point forward, the expanding gap between Don and Betty will drive the plot forward and force the protagonist to pose a series deeply existential questions. Their answers will shape the course of his family and the other characters at the agency.
"The Infanta" by the Decemberists
Season 2, Episode 6: "Maidenform"

Hipsters loved this emphatic juxtaposition when it opened a mid-second-season episode on white-versus-black, Jackie-versus-Marilyn brassieres. The song underscores a three-way split scene in which Betty and Peggy dress in white bras while Joan wears a black one. The sequence opens an episode and divides a season in which all three women are forced to confront old notions of a woman's sexual role. Soon Betty will find she's pregnant with a third child, Joan will be raped by her fiancé, and Peggy will tell Pete she had his child.
By contrast, the Decemberists' modern "The Infanta" begins abruptly with the story of a woman in labor who's got quite an entourage: she enters the scene by "palanquin, on the back of an elephant, on a bed made of linen and sequins and silk, all astride on her father's line, with the king and his concubines, and her nurse with her pitchers of liquors and milk." The presentation of this contemporary tune with ancient-sounding lyrics against Betty, Peggy, and Joan getting dressed creates a situation as confusing as the 1960's must have been for women. It forces the audience to wonder if these characters will find solutions to their problems that are modern, like the Decemberists' sound, or if they will remain worshipped objects, as the lyrics suggest. At a pivotal moment in Mad Men's trajectory, this contrast hints at how, just as the producers replace a '60s song with a modern alternative, these women will defy their era's sexual norms to find modern alternatives themselves.
"Me Voy a Morir de Tanto Amor" by Alberto Iglesias
Season 3, Episode 5: "The Fog"

From Alberto Iglesias's score for the 2001 Spanish film Sex and Lucía, "Me Voy a Morir de Tanto Amor" ("I'm Going to Die From So Much Love") has enough of a '60s vibe that it might have gone unnoticed. But its modern instrumentation differentiates it just enough to add a flair of the bizarre to Betty's dream sequences throughout the episode. On the verge of giving birth to her third child, she dreams in near-Technicolor, floating around a hospital, the sidewalk, and her home, pulling tripped-out faces and lines like "I left my lunchpail on the bus, and I'm having a baby."
Surreal, colorful, and centered primarily on the female, Betty's strange dreams feel like an amplification of the dreamlike state in which she's lived her life up to this point. Her Iglesias-scored reveries and the child to whom she gives birth during them will help her wake from the supposedly perfect dream that has been her life with Don.
"Symphony No. 9 in D-Minor" by Ludwig van Beethoven
Season 5, Episode 5: "Signal 30"

Instead of using modern compositions to foreshadow a reckoning with the arrival of the modern era, this season's "Signal 30" contrasts the greatness of the classical past with the supposed mediocrity of Pete's suburban existence. The episode is replete with references to Beethoven: Ken Cosgrove's "Dave Algonquin" even pens a story in which "there were phrases of Beethoven's Ninth Symphony that still made" one of his fictional characters cry.
Certainly, people in the 1960s listened to classical music. Still, this song, which plays over the end credits, was Beethoven's final complete symphony and is regarded by many as one of the greatest pieces of music ever composed. It's tough to say anything like that about Pete Campbell. As such, this anachronistic reference brings to the fore an instance in which great music from a different era contrasts with 1960s mediocrity to heighten the tension felt by Pete and his peers.
"A Beautiful Mine" by RJD2 and MC Aceyalone
Opening Credits

And then, of course, there's the theme of the show itself. The song meant to represent Mad Men is, underneath '60s strings, so hip-hop it's hard to imagine the tune ever playing in the background of a Sterling Cooper Draper Price cocktail hour. From the beginning of almost every episode, that RJD2 and MC Aceyalone theme contrasts startlingly with the opening scene, expressing perhaps the writers' most important message of all: that the audience should suspend disbelief and occasionally allow modern and past to collide. If the theme had lyrics, they might be sung something like this, "Mad Men fans, these are not The Wonder Years so please take a deep sip of that Old Fashioned, pull up your waistline to a position Joan would approve of, and stop picking at our seams—for your own good."