Listen: Antibalas's Party-Starting Afrobeat Anthem 'Dirty Money'
An exclusive premiere of the first track off the acclaimed, Fela-Kuti-influenced band's new album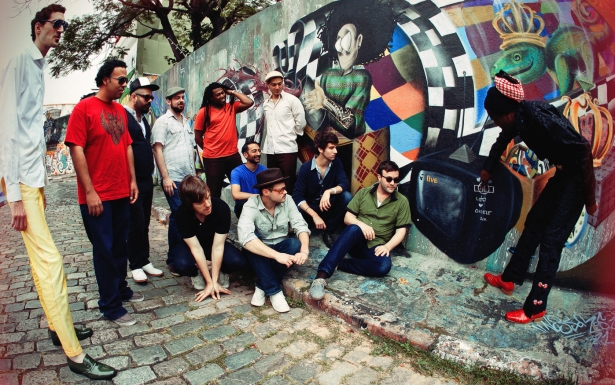 Marina Abadjieff
The fifth album from the 11-member New York City afrobeat collective Antibalas starts with the guitar skronk, a stuttered but swaggering beat, blazing horns, and a sad story:
A man go drowning in the river A parable for the problem with first-world aid in Africa? Could be—but it didn't start that way. "The idea," writes singer Amayo in an email, "was to come up with something hot." The track, premiering today exclusively at The Atlantic, opens Antibalas's forthcoming self-titled record, their first since 2007's acclaimed Security. Its lyrics, like the album's scorching, party-starting, Fela-Kuti-inspired vibe, came from the years of experience the band has had together as America's most in-demand updaters of Nigerian sounds.
"We've had so many collective money talks in Antibalas from day one," Amayo says. "The horn parts [to "Dirty Money"] were just so convincingly aggressive, persistent, and counter attacking, like a laid-off factory worker with nothing left to lose. The hooks sounded so dirty, it was on the money! So that was our inspiration. The lyrics I came up with are a manifestation of our collective talks, and the state of our economic times."
Antibalas, out August 7 through New York's influential Daptone Records, was produced by former Antibalas bandmate and Daptone co-founder Gabriel Roth. The group will be touring starting in August.
He called his brother, "Save me now,"
His brother showed up in the copter
He tossed him coin, well, not the float