LeBron James vs. Kevin Durant: Basketball's Next Great Rivalry?
The two stars could become today's Larry Bird and Magic Johnson.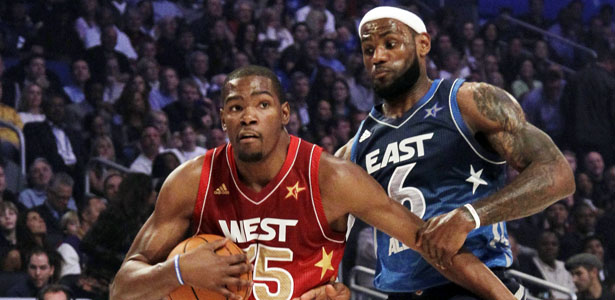 AP Images
More than any other team sport, basketball thrives on rivalries between individuals. Russell vs. Chamberlain, Bird vs. Magic, Jordan vs. the field, Kobe vs. his teammates are a few that have captivated fans over the previous decades. But even though the NBA features its best collection of talent in 20 years, the league currently lacks a compelling individual rivalry.
This is set to change on tonight when the Oklahoma City Thunder and Miami Heat square off in the NBA Finals. When the series begins, LeBron James and Kevin Durant will stop being supremely talented yet unconnected basketball gods and start directly challenging each other for the unofficial title of the NBA's top player.
If you had to write a play about a basketball prodigy's transition to the pros, it would be difficult to come up with a more compelling story than LeBron James's. Since gracing the cover of Sports Illustrated with the headline "The Chosen One" when he was a junior in high school, James has seemed preordained for astronomical success. It was almost too appropriate that the kid from Akron was drafted by the hometown Cleveland Cavaliers, giving a doomed sports town its hero. Upon entering the league in 2003, his career initially followed an arc similar to Michael Jordan's, the player whose number he wore during his first seven seasons. He put up mind-blowing stats, amassed individual accolades, and redefined what was achievable on a basketball court through his unique athletic gifts. Nike told us we were all witnesses, and for once an ad campaign seemed grounded in truth.
Related Story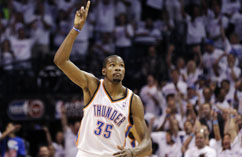 But unlike Jordan, James didn't make the transition from stat-stuffing superstar to centerpiece of a dynasty, and so he remains an individual basketball wunderkind seeking validation by championship. That failure to win the Finals—more than his move from Cleveland to Miami, more than the stunning display of bad public relations known as "The Decision"—has made James so fascinating to watch. Every truly transcendent player in NBA history—Mikan, Russell, Chamberlain, Robertson, Abdul-Jabbar, Magic, Bird, Jordan—won at least one championship. James has the talent to join that select list; the only thing standing in his way is the title that has eluded him thus far. In many ways, James's only rival has been himself. His inability to lead his team to a championship has caused his most outspoken critics to label him as soft , and "The Decision" showed he's equally adept at hurting his image off the basketball court.
In spite of the persistent criticism, there's always been a latent assumption that once James found his fifth gear, he would reel off repeat championships like Jordan did twice in the 1990s and Kobe and Shaq did in the early 2000s. The question was not if but when and how many. A once-in-several-generations talent like James doesn't go through a career without reaching the top of the mountain peak. Even after Dallas upset Miami in last year's final, Miami still entered this season as the favorite to win it all.
Enter Durant, a player whose talent level actually approaches James and, as the centerpiece of a young Oklahoma City team, is poised to take the unofficial title of world' best basketball player away from James. Oklahoma City, unlike last year's champion Mavericks, has the talent to not only win the title this year but contend for titles for years to come. For once, the biggest obstacle to James is no longer himself—his play against the Boston Celtics in the Eastern Conference Finals should finally dispel the notion that he can't deliver under pressure—but Durant and the Thunder. LeBron could play a fantastic final series, and the Heat could still lose because Oklahoma City is that talented.
Durant has never received the same level of hype that James has. He spent one year in college and put up impressive numbers while playing for Rick Barnes at Texas, but his accomplishments couldn't convince NBA general managers that he was the top prospect in the 2007 NBA draft. Durant was chosen second to Greg Oden, whose career has sputtered due to injuries, and even though he ended up winning Rookie of the Year honors, no one knew exactly what to expect of him. Over the past several seasons he's proven himself to be a unique talent, leading the league in scoring for the past three seasons and taking Oklahoma City deeper into the playoffs each year. These accomplishments show that we can no longer afford to ignore Durant's potential to dominate basketball for years to come.
One of the more compelling aspects of this potential rivalry is the contrasting styles of play of the two men. Durant is a classically skilled guard in a six-foot-nine player's body. He has one of the game's best jump shots, which is virtually un-blockable due to his height. He can also get to the rim on a consistent basis and is an underrated passer. And while Durant's spindly physique makes him a less-than-stellar individual defensive player, he's still an excellent rebounder and can harass offensive players with his length.
If Durant brings a certain grace and mastery of the fundamentals to basketball, then James instills the game with an element of violence. When watching him play one can't help but be amazed by the speed and precision with which he can move his massive frame. It gives him an advantage over every other player that walks onto the court. One commonly used metaphor to describe James is that watching him play is like watching a senior in high school scrimmage a group of seventh grade students. He's a physical mismatch for every defender in the league, and you cringe when he flies towards the basket for a powerful dunk, all the while hoping the opposing players get out of his way for their own sakes. He wreaks havoc on the defensive end by blocking opposing players' shots from behind and leaving them to ponder what just happened. On offense, James is threat to notch a triple double on any given night, and on defense, as ESPN writer Bill Simmons pointed out on a recent podcast, he's the only player in the league who can guard point guards, wing men, and power forwards.
Trying to paint James vs. Durant as a morality play in which the egotistical superstar faces a humble rival is pointless, because as others have pointed out it's impossible to accurately deduce what these men are like when they are not on a basketball court. There also seems to be no animosity between them. According to the New York Times, the two players worked out together this summer in preparation for the season, and it makes sense that James and Durant establish a working relationship, since they will be the two best players on the men's Olympic Basketball team this summer.
This rivalry will be all about basketball. It's about watching the player we all thought would be dominating the league by now get challenged a younger rival who up to this point has flown somewhat under the radar. During the Finals, James and Durant should be matched up on both sides of the ball for long stretches of the game, which will only add a sense of drama to the rivalry—one of the reasons Shaq vs. Tim Duncan never took off is the two players almost never guarded each other.
Sometimes sports gives fans what they want: the chance to watch the best players compete on the biggest stages. This is one of those times.