Justin Bieber Aside, It Isn't Easy to Leap From YouTube Star to Superstar
What happened to the other viral-video singers discovered by major labels last decade?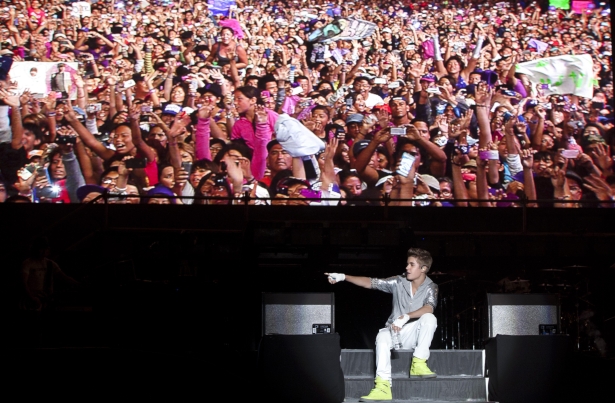 Browse through Justin Bieber's original YouTube page, and you'll come across a time capsule of a video showing how things have changed for Bieber—and for pop—in the last four years. In the clip, the even-scrawnier-than-he-is-now Canuck sings a Chris Brown song for a 20-something girl named Esmée Denters, who sits watching Bieber with what looks like a forced smile on her face, nods along politely, and rewards his performance with an incredulous, "Wow, that was awesome." Everything she does makes it seem as if when this was filmed, Denters was the more established star.
Which, of course, actually was the case in 2008 when the video was posted. Back then, Bieber was barely breaking, but the Dutch ingénue Denters had already amassed an international following of millions on YouTube by posting pixelated videos of herself singing late '90s R&B. She soon appeared on Oprah and was eventually signed by Justin Timberlake in a manner not unlike the eventual Bieber-Usher entente.
Today, of course, Bieber is everywhere. The 18-year-old released his third full-length album Tuesday, and in the span of an hour, managed to sell out every single seat of every single stop of his 45-show American tour earlier this month. By most reasonable measures, Denters, on the other hand, is nowhere. The record she released—with much help from Timberlake—failed to chart in the U.S. She's set to release a sophomore disc, but have you heard about it?
Even before Bieber's rise, the image of an amateur singer uploading a performance to YouTube in hopes of stardom was on its way to becoming as iconic as the one-way bus ticket to Hollywood (remember Time's year of "You"?). But the difference in the outcome between Bieber and Denters shows that the road to fame in the age of social media is as tough to traverse as ever—though perhaps for new reasons. The stories of YouTube failures, Bieber epigones, and online also-rans like Denters reveal the difficulties web-originated acts face at major labels and how the shape of Internet stardom can shift in a surprisingly short period of time.
"It was almost six years ago exactly," remembered Terra Naomi, one of YouTube's first musical sensations, referring to her debut web hit, "Say It's Possible." "I uploaded the video, it went onto the front page of YouTube, and got a lot of views. Suddenly people started covering it from all around the world, and before I knew it, I'd signed a deal with Universal."
But things didn't go smoothly from there. Naomi said she clashed with her one-man manager and producer, and that others at the label wanted her to ditch the millions of YouTube fans who had essentially brought her success in the first place.
"The record label didn't really understand the power of YouTube," Naomi said of her stint with Island Universal. "At the time I didn't really know what to do, and the label was like, 'You need to back off of your YouTube presence and be more of a major-label artist now.' So I just listened to them really because I felt they knew better than I did, which was probably a big mistake that a lot of artists make—you know, assuming that a record label knows more about their music."
It's a tale similar to that of Portuguese-English singer Mia Rose, who, after gathering millions of hits on YouTube, earning loads of industry buzz for her song "Let Go," and signing with NextSelection/Universal, failed to release a full album. Rose has returned to covering hits like "Call Me Maybe" on YouTube.
"You know, there's one thing to be a YouTube star and to be posting these videos in the comfort of your own home," said Micah Jesse, who worked as an assistant to Rose when she was on the label. "But it becomes a quite different scenario when you get into the recording studio and you get into the nitty gritty of becoming a star."
MORE ON MUSIC
Of course, newbie artists always faced the prospect of getting signed and then forgotten or mismanaged: Alicia Keys joined with Columbia prior to finding a home with Clive Davis at J Records, and long before Maroon 5 burst onto the charts with "Harder to Breathe," they'd struck a lousy deal with Reprise Records. But YouTube up-and-comers face the added challenge of having to maintain a demanding online following, which gives them less of a chance to privately find themselves over a number of years in the lower rungs of the industry.
"The fans require a lot more than they ever did before," Jesse said. "You have all these additional responsibilities: You have to be on Twitter, you have to be on Facebook, and you have to be posting everything. And the fans don't want to hear from the management, they want to hear from the stars themselves."
They also often don't want to hear anything too different from what they've grown to like on YouTube. That was a challenge Naomi faced when she released her first major-label album. It differed stylistically from her original YouTube hits, and fans in large part failed to embrace it. When Naomi stepped away from her deal, she said her online supporters were actually excited. "We hated that album," she remembered them saying after her departure.
Since then, Naomi has gone on to tour across Europe and fund subsequent records through Pledge Music, a direct-to-fan web site in which the audience contributes financially to the artist's project. In an ironic turn, Naomi, one of the first YouTube-to-major label stars, now represents a developing pathway into an alternate ecosystem that has arisen.
It's one in which artists build cult followings on YouTube and make money from the site's ad platform or other virtual means without ever really making much of a bid for the mainstream. Many in this developing circuit—Sam Tsui and Christina Grimmie, just to name a few—garner cults of followers millions-strong, but don't ever really make much of a bid for the mainstream.
But the power of a label is part of what's pushed Bieber from home-made YouTube covers to expensive videos with fancy cars and stuff. Yet as his clip with Denters chronicles, even a label can't serve as a guarantor of success in an industry where established fans can and will demand music like this instead of music like this. After all, Bieber's latest album is titled Believe—a nod to just how improbable his journey has been.