'Just Imperfect as Human Beings': How the NCAA Sees Itself and Its Future
Wally Renfro plays defense for the organization, and the system it represents, at the Aspen Ideas Festival.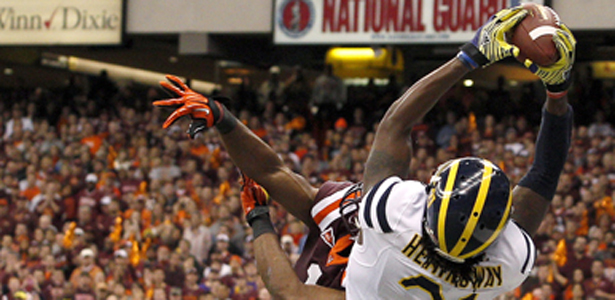 Reuters
It cannot be a uniformly happy task these days to represent the NCAA in public. In quavering voices, decades-long fans ask how the sports they've loved since childhood could have become so seamy; journalists press the case for systemic change. In the quest for a silver lining, the NCAA's president, Mark Emmert,
recently argued
that the fact that five high-profile coaches have been fired over the last 14 months -- in scandals ranging from child rape to academic fraud -- was actually a sign of returning health.
Notes from the Aspen Ideas Festival --
See full coverage
It fell today to Wally Renfro, the vice president and chief policy adviser to the NCAA, to defend his association, while seated on a stage at the Aspen Ideas Festival between what a defender of the status quo might regard as the Scylla and Charybdis of reform: On his right, Taylor Branch, the civil rights historian and author of an article in
The Atlantic
last fall decrying "
The Shame of College Sports
"; and on his left, Joe Nocera, who since Branch's article has used his
New York Times
column to conduct something of a crusade against the NCAA.
It did not much help Renfro that two seats away, to Branch's right, sat Craig Robinson, the men's basketball head coach at Oregon State University, who repeatedly testified to the moral confusion of the existing system. Robinson said that even if "100 percent of my guys" graduated, if the team performed badly, he would lose his job. "It doesn't matter who my sister is," he added. His sister is Michelle Obama.
Robinson said that his efforts to balance the "educational part" and the "entertainment part" of the "big business" of college sports made him unusual. "I'm sort of the exception to the rule," he said, explaining that some of his counterparts "are in this game solely for monetary gain."
While acknowledging flaws in the system, Renfro laid down three main lines of defense:
It was ever thus: "I've been with the NCAA 40 years, and this is the third or fourth cycle of crossroads I've been through," he observed at one point, and at another: "There have been scandals as long as I can remember.... We're just imperfect as human beings."
The colleges themselves are to blame for many of the problems, including low academic standards. "It's just patently wrong -- I wanted to use the word immoral -- to bring in people who can't be academically successful."
It is the informed choice of college athletes to accept the status of unpaid amateurs in order to participate in the NCAA system. This was the argument he returned to most insistently. "Those who choose to play understand that. They can go to Europe and play. They can go to the pros."
This last argument clearly exasperated Nocera, who repeatedly insisted that athletes dreaming of pro football careers, in particular, had no real choice but to pass through an exploitive college system. In baseball and hockey, he said, athletes did have a "legitimate choice" -- minor leagues, where players are paid -- that worked quite well. "You're running a business," Nocera finally snapped. "You have employees, you should pay them -- it's really that simple." Renfro did not respond.
Branch argued that the NCAA's regime stripped athletes of basic rights. "It's imposed on the athletes without their consent," he said. "The athletes are not members of the NCAA. They don't have a vote." Warming to his argument, he described a hypocritically paternalistic system that forced "the blessings of being an amateur" upon athletes who earned millions for their universities. "North Korea is the only country in the world that has this level of control over people," he said.
To the argument, offered by the moderator, that college scholarships represented compensation for athletes' work, Branch shot back: "It's like saying because your employer provides health care you don't need or deserve a salary."
Beyond asserting that athletes voluntarily enter the NCAA system, Renfro never directly addressed Branch's argument about rights, though he did seem to get tired of hearing it. At one point, he reached out and patted Branch's arm. "Man, I've got a lot of respect for you as a civil rights historian, and I'm so glad about that." The implication appeared to be that he didn't have an equal amount of respect for him as a critic of college sports.
Asked if the present system would exist in its current form would exist in ten years, only Renfro, of the four panelists, said that it would.
But Renfro was by no means indifferent to the scandals. Pressed about the "underground economy" fueled by poor kids' dreams of pro basketball careers, he said with unmistakeable sadness, "Basketball right now has probably the dirtiest underbelly of any collegiate sport."
He added, "I'm really sick of heart for that -- I don't know how to fix it."