Is It Time to Lose Faith in John Isner, America's Next Great Tennis Hope?
The 27-year-old would-be phenom lost in the first round of Wimbledon, crushing fans who are looking for the next Andre Agassi.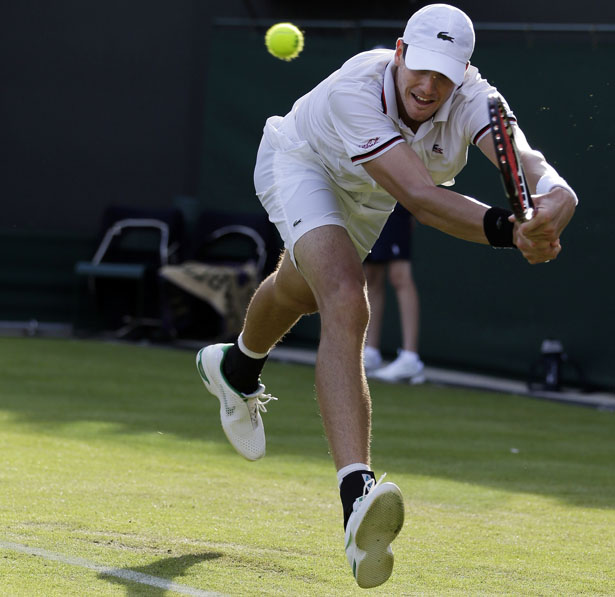 AP Images
As fans of American men's tennis know all too well, this country has lacked a homegrown champion to call our own since Andre Agassi retired from the ATP tour in 2006. For a fleeting moment in the first half of the 2000s it seemed like Andy Roddick was destined to become tennis' next great star. But he never developed an all-around game that could rival the complete skills of players like Roger Federer and Rafael Nadal, and as a result only held the No. 1 ranking for just under four months. There was also a period when James Blake looked primed to consistently compete with the best players from the rest of the world, but he ended up being better at writing a compelling memoir than winning tournaments. America's only other male player of consequence in recent years has been Mardy Fish, a chronic overachiever who always plays his heart out but is never a real contender at major. So while the Bryan brothers have spent the last decade becoming one of the greatest doubles teams in tennis history, and Venus and Serena Williams have established themselves as two of the greatest female players to ever pick up a racket, America has lacked a men's singles champion to stoke interest on the domestic front.
Earlier this year it looked like the plight of American men's tennis was about to change. John Isner seemed to have had the potential to morph from an oversized specter looming over American men's tennis into a force with the power to disrupt the sport's established hierarchy. American tennis fans looked like they would finally get someone they could root for.
During his first four years on the ATP tour, Isner was something of a novelty act. At six feet nine inches, he is atypically tall for a tennis player and can literally stand head and shoulders above the competition. The most comical image from a match between Isner and Roger Federer at this year's BNP Paribas Masters 1000 tournament in Indian Wells, Calif., occurred during the post-match handshake. Federer had to strain just to reach Isner's shoulders, and the pair looked like they could have been staging a promotional shot for a sequel to My Giant rather than enjoying a congenial postgame embrace. Isner's most notable contribution to tennis thus far was his role in the longest tennis match in history, a five-set Wimbledon marathon against Nicolas Mahut that occurred only because the proprietors of the All England Lawn Tennis and Croquet Club unfortunately believe that a 70-68 fifth set is more pragmatic than a match-ending tie break.
MORE ON TENNIS
But starting in February of this year, Isner showed that he may be capable of making more meaningful contributions to the sport. That month, he defeated Roger Federer in a Davis Cup match that was played on clay. It was his second solid showing on the slow red surface in 12 months—in the first round of the 2011 French Open, Isner had become the first player to push clay court maestro Rafael Nadal to five sets at Roland Garros. Isner's sudden prowess on clay, a slower surface that tends to favor mobile players over big hitters, seemed counterintuitive, but members of the media argued that those conditions actually suited his game. ESPN's Greg Garber wrote, "The ball typically bounces higher on clay than a hard court, which puts it right in Isner's strike zone" in an article titled "Slow conditions perfect for Big John Isner." The idea that Isner and clay were a match made in heaven was a bit hard to swallow, since Americans have historically struggled on the surface and Isner's game seems tailor-made for faster playing conditions. But he continued to play well on the surface and expressed an affinity for clay court tennis. Perhaps Big John could succeed where so many other Americans had failed.
A little over a month after his Davis Cup victory over Federer, Isner defeated world No. 1 Novak Djokovic in the semifinals of BNP Paribas Open—he would lose to Federer in the finals.. Against Djokovic, Isner not only served exceptionally well—something tennis fans are accustomed to watching him do—but held his own during the type of long rallies at which Djokovic typically excels. Isner's court coverage and defense seemed much improved, and he was regularly unleashing blistering forehands for which Djokovic had no answer. That victory put him into the top 10 for the first time, and heading into the European clay court season he became a trendy dark-horse pick at the tournaments leading up to the French Open.
Then, just as Isner seemed poised to become a consistent force on the ATP Tour, the wheels fell off the proverbial bus, and he returned to being a non-factor at major tournaments. He managed a single win at the Masters 1000 events in Madrid and Rome, and at the French Open, he lost a five-set marathon to Paul-Henri Mathieu in the second round of that tournament. So far the transition to grass, the surface on which Isner first made a name for himself in 2010, has not stanched the bleeding: On Monday, Isner made a quick exit at Wimbledon, losing in the first round to Colombia's Alejandro Falla.
Top 10 players don't make a habit of losing in the early rounds of grand slam events and Masters 1000 tournaments, and unless Isner can find a way to play better his ranking will plummet. It's hard to get a read on exactly what's ailing the 27-year old from North Carolina. He's second on the tour in aces this year even though he's only played 34 matches—Roger Federer has more than 100 fewer aces despite playing 45 matches. In the first half of the season, Isner displayed a much improved all-around game that included a dangerous forehand and solid defensive skills. But ever since his victory against Djokovic at Indian Wells, Isner has not been able to put it all together. He continues to lose to players that lack his talent, confounding the fans that saw so much potential in him earlier this year.
As disheartening as these past few months have been for Isner and the fans that have been waiting for the next great American tennis hope to become the next great American tennis reality, it's way too early to close the book on Big John. Earlier this year at the U.S. Men's Clay Court Championships in Houston, Texas, Isner told members of the media, "I still think my best tennis is two years ahead of me." The fact that he's taking the relative long view on his career suggests he won't get too discouraged by his recent results. If he can continue to improve his game, especially his mobility, there's no reason to believe he can't build upon his earlier successes and get back to playing top 10-caliber tennis.
Isner still has a long ways to travel before he can stake a claim as one of the game's best, and history is littered with players who flirted with greatness without ever achieving it. It's disappointing to watch Isner fail because America needs another great singles champion to reignite interest in the sport among young people. The Williams sisters have admirably carried the torch for quite some time; now they need help from one of their male counterparts. I'd be happy to wait two years to watch Isner play his best tennis, but the sooner he can get there, the better. Tournaments are reportedly leaving the United States for other countries, and the sport will continue to have a lackluster domestic profile unless an American player can start regularly contending at major tournaments. Isner is in the best position to do this. In spite of his recent failures, he still may have the chops to become America's next great tennis champion. Until then, he'll always be entertaining to watch--it's not every day you get to watch a six-foot-nine American compete on the ATP tour.