I Babysat the 'Moonrise Kingdom' Kid
Hovering adults, bug repellent, canoeing lessons: For Jared Gilman, starring in Wes Anderson's acclaimed new film about summer camp was kind of like, well, being at summer camp.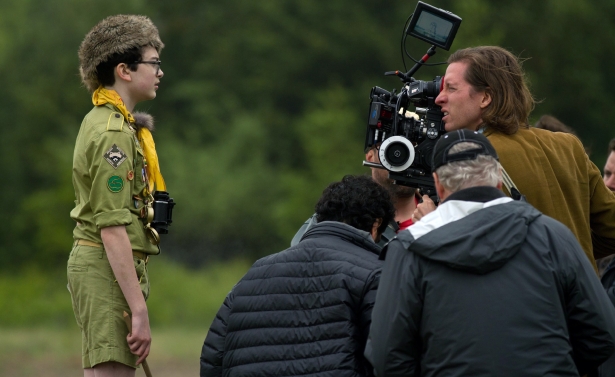 Focus Features
Thursday, June 14, Maplewood, New Jersey. Tomorrow, Moonrise Kingdom, Wes Anderson's tale of star-crossed, runaway love, will begin its run, but tonight dozens are gathered outside the Maplewood Movie Theater with cell-phone cameras ready for the arrival of the film's star, 14-year old Jared Gilman, for a special screening. Jared grew up in Maplewood's sister town of South Orange, and his mother is a close friend of the theater's manager, Susan Rinaldi.
Zach Braff, Frank Langella, Kevin Spacey (who moved away when he was Jared's age), Anne Hathaway, and Kirsten Dunst, to name just a few, grew up in the area, and Andre Braugher, Christine Ebersole, James Rebhorn, and Tony-winner Norbert Leo Butz live within a short distance. But, as Rinaldi puts it, "This is different. This is the first time I've seen anyone on the screen who calls me Aunt Susan."
I know how she feels. A few years ago, I was Jared's babysitter. He talked me into watching Be Kind, Rewind with Jack Black as a video store clerk; Jared was right, it was good. He loved Ripley's Believe It or Not and provided commentary on each episode. The Jared I knew had thick curly dark hair and wore goggle-like glasses that wrapped around his head. I was amused to hear he wore similar glasses when he auditioned for Wes Anderson and that they helped catch the director's attention.
Moonrise Kingdom is the story of two preteens, played by Jared and 13-year-old Kara Hayward, who live in a remote New England coastal town. They fall in love and run away to be together. Bruce Willis, Edward Norton, Bill Murray, Frances McDormand, Tilda Swinton, Harvey Keitel, and Jason Schwartzman play the police, parents, guardians, and "Khaki Scouts" who search for them. However the film does at the box office ($7.5 million so far), it's already a critical hit. Here at The Atlantic, reviewer Chris Orr called it "touching, bittersweet, and very, very funny."

The crowd for the Maplewood premiere includes excited moviegoers and curious locals, as well as some of Jared's friends and classmates from his school, Newark Academy. There are seven more of the young stars of Moonrise Kingdom, including five-year-old Wyatt Ralf, who is also a resident of Maplewood. With the young actors came their mothers, who played a significant part in the production.
"The Moms," as they were called on the Rhode Island set, were required by regulations regarding minors to be on set everyday and stay within sight of their child at all times. They made sure each of the 13 young actors had sunscreen, bug repellant, and water. That meant things occasionally got hectic. One mom tells me, "You have 13 parents there all the time with a lot on their minds, like 'Is my kid going to be safe?'" Another smiles and says, "It's easier when there's just one kid and one mom on set."
Bug repellant was a big issue. The location reportedly had Rhode Island's highest concentration of mosquitoes and ticks, which was a little scary given the proliferation of Lyme Disease. The set and production designer took precautions, lining the woodland paths with green tarp to protect the actors from ticks and poison ivy. Despite those efforts, Kara Hayward's tights ended up getting exposed to poison ivy, which plagued her for a week.
For the moms, there were other concerns, too. Many of them are movie-industry veterans, their kids having appeared in several films. "Sometimes," says one, "watching from the sidelines doesn't always offer a good impression of how the final product will turn out." The process turns them into film critics: "You're watching and thinking 'Is this working? Is this funny?'" Occasionally, adds another mom, "It does turn out great and still goes straight to DVD."
Related Story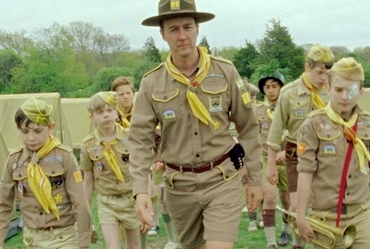 But the Moonrise Kingdom reviews, from the cast's parents at least, were unanimous. "It's fantastic" one says. "The props and sets were beautiful in person, ten times more on screen." As for Anderson? "He's amazing ... I have a hard time getting my kids to do a chore once, but he could get them to do a take 17 times without a complaint."
In addition to learning their lines, many of the kids had to pick up more obscure skills. Charlie Kilgore, who plays Lazy Eye, underwent four weeks of intensive bugle training; he calls the instrument "unforgiving". Lucas Hedges, who plays Redford, took motorcycle-riding lessons, which were made all the more difficult because the film's vintage model required "20 things to be turned on at once to make it go." Jared had to learn how to handle a canoe, cook over an open fire, and shoot an air rifle. The hardest task, though? "Flipping a fish in a pan as I was cooking it."
Moonrise Kingdom may be Jared's first professional acting job, but his first acting role of any kind was less than a block away at the YMCA's annual Halloween Haunted Manor. He stood out even then: The organizer of the Haunted Manor, Tom Pascuite, featured Jared in a promotional video that ran on local television for the three-night event in 2009. (He's at 3:59, wearing his trademark goggles)
It's a long way from South Orange to the Cannes Film Festival, where Moonrise Kingdom premiered last month. When asked about being part of the world's most famous film festival, Jared stumbles a bit. "There are no words," he says. "You can't make up a word. It's too good for words. You just keep pinching yourself a lot." As his mom, Leslie Gilman, puts it, seeing her son walk the red carpet at Cannes was a "fantastic, once-in-a-lifetimes experience."
But actors don't want what happens at age 14 to be an once-in-a-lifetime experience. Jared, who began taking lessons in the third grade, is hoping for a long career in movies. He says he's auditioning for roles now. ("I just hope the next movie I do is a good as this one.") At the Maplewood screening, someone asks him if he'll be returning to the Haunted Manor. All Jared can do is laugh.