How Good Is Kevin Durant?
Will he surpass Michael Jordan? And does it matter that he's a good guy as well as a good player?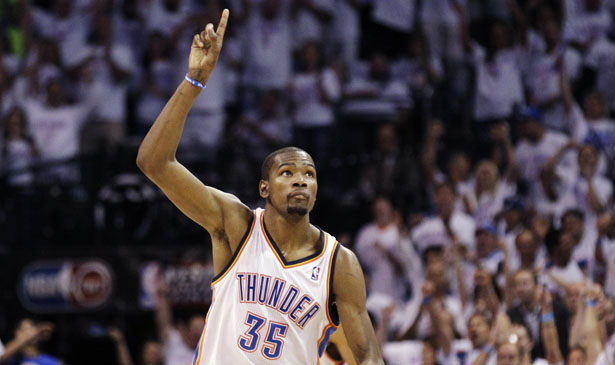 AP Images
Every week, our panel of sports fans discusses a topic of the moment. For today's conversation, Jake Simpson (writer, The Atlantic), Patrick Hruby (writer, ESPN and The Atlantic), and Hampton Stevens (writer, ESPN and The Atlantic) talk about the Oklahoma City Thunder phenom.
---
"I hope people watching the game understand that greatness is growing up in front of us right now for 23-year-old Kevin Durant."
–TNT analyst/former NBA great Reggie Miller on Wednesday night
The best offensive player that I've ever seen (with the notable exception of Michael Jordan) was too good for the NBA's best team again on Wednesday. Four years removed from his college days at the University of Texas, Kevin Durant and his Oklahoma City Thunder overwhelmed the San Antonio Spurs, who had won 20 straight games over 50 days—including the first two games of the Western Conference Finals against the Thunder—before Durant led his team to four straight victories, each more improbable than the last. Wednesday's 107-99 win in Game 6 sent the Thunder to the NBA Finals for the first time since the franchise left Seattle in 2007.
Durant was the catalyst for it all. In Game 4, the NBA scoring champion and MVP runner-up scored 18 points in the fourth quarter to key a come-from-behind win. Durant was equally brilliant in Games 5 and 6, scoring at least 20 points in the second half of each game despite constant defensive attention from the Spurs. The young superstar played all 48 minutes in Game 6, grabbed 14 rebounds and even blocked a Kawhi Leonard dunk attempt at the rim.
But what makes Durant special is his offensive ability. I've never seen a player quite like Durant on offense, and unless some boomer-generation historian wants to compare him to George Gervin, no one else has either. Durant is 6'9" and lanky, with a shooting range of up to 25 feet and a preternatural ability to score. In Game 6, he drained a three-pointer from about five feet behind the three-point line to complete an 18-point comeback for the Thunder—it was a shot that no one else in the world could make consistently, and yet it looked like second nature. Barring injury, Durant could lead the league in scoring every year for the next decade.
By all accounts, Durant is a consummate professional on the court and a gentleman off it, announcing a 2010 contract extension with the Thunder via a simple, exuberant tweet (unlike certain Decision-making superstars). LeBron James may be the best player in the NBA, but Durant is the best for the game.
Where do you stand on Durant, Patrick?
–Jake
Jake,
For the love of Michael Jeffrey Jordan—
inveterate gambler
,
Bill-Murray-in-Lost in Translation-esque philanderer
,
flag-over-shoe-brand-logo patriot
,
redundant gay slur-uttering bully and, oh yeah, best basketball player ever—please leave Durant's supposed professionalism, humility, and all-around good guy-ness out of this. For one: None of us have any idea what any particular athlete and/or famous person is actually like in real life. Our perceptions are at best mediated and incomplete, and at worst the product of carefully crafted and painstakingly controlled marketing schemes. (See Woods, Eldrick). For two: Sports and morality go together like sports and, say, biochemical engineering. No matter how many self-important high school coaches say otherwise. Playing basketball "the right way"—let's pause for a moment while I barf at the thought of Larry Brown's passive-aggressive blame-defelecting in any press conference ever—means passing and cutting and doing cool stuff with your body in a child's game. It does not mean practicing the Golden Rule, the Categorical Imperative, or the Way of the Buddha.
Woods, Jordan, Babe Ruth, Ty Cobb, Lawrence Taylor: pretty much a bunch of jerks. Who cares? They're all peak performers, fun to watch. And in that way, they're just like Durant. I agree with your George Gervin comparison, Jake, though with Durant's height and seemingly endless arms, there's a little Dirk Nowitzki in his game, too. Which is to say: No one in the NBA is a bigger mismatch than the Thunder forward. Not even James, a point guard blessed/cursed with Karl Malone's body. (Of course, if James ever develops a reliable post game, he'll instantly become the biggest mismatch in league history not named Shaquille O'Neal). Cover Durant with a small, quick defender, and he'll shoot over the top; check him with a big man, and he'll drive to the basket. Durant can go one-on-one with the shot clock running down. He can score just as effectively as an off-ball threat, coming off screens and curls within a structured offense. In short, he's skilled, versatile, and pretty much unguardable—consistent, Scottie Pippen-like defensive intensity and physical strength are the only two things keeping him from surpassing James as the league's top player, and guess what? Durant is only 23 years old.
In other words:, his prime years are ahead of him.
Indeed, while the basketball world—plus TMZ!—fixated on James taking his talents to South Beach for not one, not two, not three, not four (cue the Boy Band smoke machines!) but umpteen future championships, the NBA's actual next dynasty seems to be sprouting in Oklahoma City, where a young core of Durant, Russell Westbrook, Serge Ibaka, and James Harden is poised to win right now. And likely for the next decade, too. If Durant was a stock, he'd be Apple, just before the introduction of the first iPhone. I'm buying. It's nice that Durant is nice, but better that he's good.
Hampton, does anything stand between Durant and extended world basketball domination? And how sad are Portland fans—who got to watch Greg Oden for something like 82 games total over the last four years—going to be when they turn on the Finals and see yet another franchise-defining superstar who got away?
–Patrick
Come on, Patrick. Of course character counts. Sports are entertainment, and one of entertainment's most important functions is to communicate shared cultural values. If I find out a point-guard that I like beats his wife, for instance, I won't root for him any more—no matter how transcendent his talent may be. You can claim you only care about sports for the display of physical prowess, but I'm unabashedly looking for heroes and villains. And, really, they aren't that hard to spot. Sure, athletes today have tightly controlled public images. But even through the blizzard of hype, it's possible to get a sense of what a player is like as a human being, on- and off-court.
Unless you are with the Portland Trailblazers, apparently. For a long time, the Blazers picking Bowie over Jordan has been the gold standard for bad NBA drafting. It's not merely seen as the worst pick in league history, but has become a kind of symbol for a mistake so huge and glaring that Malcolm Gladwell will write a book about it. Yet the Blazers may have outdone themselves by taking Greg Oden over Durant. Incredibly, when news broke earlier this year that Oden needed yet another knee surgery, acting Trailblazers' GM Chad Buchanan stood by his club's pick. He claimed there was no way anyone could have predicted Oden's injuries.
Oh, yeah. That would have been impossible. You would have had to know that Oden had at least two surgeries before he even played college ball. One, to repair a dislocated hip, was in sixth grade. Not a good sign. Even ignoring the fragility, though, all Portland had to do was look at Oden's hangdog expression and body language on the court. The kid never seemed to be having fun playing basketball, let alone be hungry for titles.
Durant sure did. Always. That same year, in his single season at Texas, KD played in 35 games, averaging over 35 minutes per contest. (He also averaged 11.1 rebounds. Oden, the 7-footer, grabbed 9.6.) For me, though, it only took one of those games to know that Durant was special. That March, Durant brought his 15th-ranked Longhorns into Allen Field House, and put on maybe the single greatest performance by an opposing player in the history of KU basketball. It was just dazzling. Showing a poise that would have been sensational for an NBA vet, the freshman opened the game by going 5-for-5 on three-pointers. Then, in the second half, he got hot. Kid stopped, popped, dunked, banked, and everything-elsed for 25 points—despite spraining an ankle with four minutes left in the game. The KU crowd couldn't help but roar when he left the court.
Durant did something else in that game, too. Late in the second, Durant made a "clam down" gesture towards his teammates, helping them stay poised. Anyone who watched his young Thunder team beat the Spurs this week saw him make the same gesture two or three times. That's what makes me think that Oden may ultimately prove an even bigger blunder than Bowie—and that Durant may even outshine Jordan.
MJ had greater individual skills, no doubt. Jordan's stats in his first five years were much better then Durant's are. Then again, Kevin was two years younger when he left school.
More importantly, Durant is simply a better leader. He is less selfish than Jordan was early in his career. Durant came into the league knowing how to make his teammates better, something His Airness had to learn (and that Kobe and LeBron still haven't mastered).
That unselfishness, and his leadership skills, are huge reasons why Durant is in a position to win his first title at 23, five years sooner than Jordan. To me, that proves that all those fuddy-duddy "Play the right way" moralists are right. Even if all a fan cares about is winning, Durant's success proves that character counts.
–Hampton