From Soccer to Tennis to Cycling, Spain Is Suddenly Dominating Sports
The country that produced Rafael Nadal and several Tour de France winners may be on its way to capturing the European soccer championship.
The country that produced Rafael Nadal and several Tour de France winners may be on its way to capturing the European soccer championship.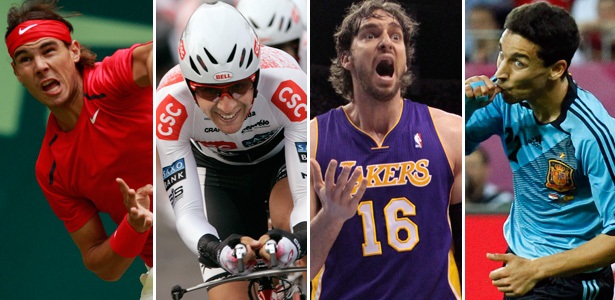 Reuters
"In variety, brilliance and grandeur," wrote V.S. Pritchett in The Spanish Temper, "the Spanish landscape is unparalleled in Europe." Nearly 60 years after Mr. Pritchett's observation, one could substitute the word "sports" for landscape and also be correct. Soccer reigns in Spain, and Spain reigns in soccer. After tying Italy1-1 in the opening round of Euro Cup 2012, crushing Ireland 4-0, and beating Croatia 1-0, Spain is the favorite to win the 14th European soccer championship. (They play France in the quarterfinals this Saturday.)
This will come as no surprise to soccer aficionados; the 2010 World Cup champions draw on the greatest pool of soccer talent in the world with such powerhouse professional teams asReal Madrid, FC Barcelona, and Savilla. (Real Madrid alone has won 9 UEFA championships.) At a time of near economic collapse - the unemployment rate is a staggering 24.1 percent—Spain's incredible success in soccer and other major sports is the greatest source of national pride.
Related Story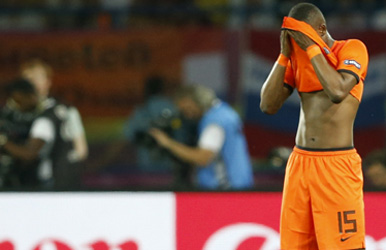 In addition to soccer, Spaniards can take pride in their country's success in:
Basketball If U.S. fans didn't know how good Spanish basketball was before 2008, they found out at the Beijing Olympics when the Spaniards shocked Kobe Bryant, LeBron James, and others, scoring 107 points in a heroic losing effort and taking the silver medal. There are currently five Spaniards in the NBA, including the Lakers' Pau Gasol, Toronto's Jose Calderon, and Minnesota's Ricky Rubio, the fifth overall pick in the 2009 NBA draft.
Tennis Spanish men and women have been at the top of tennis for two decades. Since the Spanish sporting revolution began in the 1980s, the Spanish men's and women's teams have gone through an amazing run. The men have won five of the last 12 Davis Cups, while the women, since 1991, have made the finals of the Fed Cup 11 times, winning five.
This year's French Open winner, Rafael Nadal, has staked a claim as the best player of our time and is currently rated No. 2 in the world. At least five other Spaniards are currently ranked in the top 25. Spanish tennis techniques are regarded as so state-of-the-art that Scottish star Andy Murray chose to train in Spain.
Cycling Spaniards have won four of the last six Tour de France races; that would be five out of six, but Alberto Contador had his 2010 title stripped when he tested positive for the performance enhancing drug clenbuterol (which he claims he got from eating contaminated beef). Spanish riders have also won eight of the last 12 races in their own country's prestigious Vuelta a Espana (Tour of Spain), and the greatest of cyclists from Spain, Miguel Indurain, won the Tour de France every year from 1991 through 1995.
These are just the four most popular sports in Spain. You can also find Spanish names in the ranks of Formula One racing, where two-time world champions Fernando Alonso is currently No. 2 in the F1 rankings; golf, where Sergio Garcia was ranked as one of the world's top ten golfers for much of this century and is currently No. 22;.and even rugby, a sport in which there are more than 20,000 registered union players. Rugby hasn't yet produced any nationally known names from Spain, but the game can claim at least one star: former player turned actor, Academy Award-winner Javier Bardem.
Most observers of the Spanish sports scene agree that there are three major dates in the evolution of their sports supremacy. The first is November, 1975, when Franco's death unleashed a wave of energy that had been suppressed for two generations. The second key date was the 1982 World Cup hosted by Spain. Though the team failed to make it past the second group, the games ignited the Spanish passion for soccer. Then, in 1992, the Barcelona Olympics put the Spanish flair for sport and drama on international display.
According to sportswriter Juan Jose Paradinas, there is one other huge factor in the Spanish sporting surge: money. He told me in an interview last year, "The Barcelona Olympics unleashed a torrent of money from both the government and private sources to build sports facilities all over the country and support sports which had not previously had support in Spain. By the end of the decade, we saw the results. Now Spanish sports make money. Real Madrid may be the most profitable football [soccer] club in the world."
With success has come a new unforeseen problem. The Guardian's Sid Lowe, writing about the Spanish national soccer team, put it in perspective this past Tuesday: "Spain are victims of their own success. They are victims of the fact that they are expected to destroy the opposition in every single game, meaning that anything less is treated as failure. And they are victims of the fact that the teams they are expected to destroy every game are content simply not to be destroyed. Every team Spain face adapt their game to protect themselves. Attacking teams become counterattacking ones, or simply stop attacking altogether."
Or, stated another way, most of Spain's opponents are happy to play for a tie and content to leave with a 1-0 loss, as Croatia did during their June 18 meeting. Some Spanish fans grumble because, three matches into the tournament, their team has only outscored the opposition 6 goals to 1. Spain's coach, Vicente del Bosque summed it up: "We have gone from poor to rich very quickly and we don't value what we have." Well, there are worse problems to have than adjusting to life as a winner.
Hemingway wrote that bullfighting, which defined Spain for 600 years, "is not a sport, it is a tragedy." With the passing of bullfighting and their new-found domination in other sports, the Spanish have passed beyond tragedy into a new era of triumph.