A guide to the literary, artistic, and political tropes alluded to in Ridley Scott's sci-fi blockbuster
Fox
Ridley Scott's long-anticipated Prometheus took in $50 million at the weekend box office, and with its heady mixture of sci-fi spectacle and metaphysical speculation is already generating passionate debate.
Related Story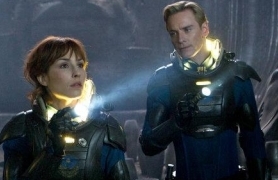 Set in the year 2093, the film depicts the crewmembers of the spaceship Prometheus as they journey to a distant moon to search for the origins of humanity. The team is led by scientist Dr. Elizabeth Shaw (Noomi Rapace), a Christian believer who has discovered a series of ancient pictograms convincing her that the moon is home to mysterious "Engineers" who created the human species. Shaw is accompanied on her vision quest by a robot with ambiguous intentions played by Michael Fassbender, an icy corporate executive played by Charlize Theron, and a crew of scientists and technicians. Once they arrive on the moon, they find a mysterious dome-shaped structure that contains horrifying forces with the potential to destroy humanity.
The striking images Ridley Scott devises for Prometheus reference everything from Stanley Kubrick's 2001 to Leonardo Da Vinci's Vitruvian Man and Mario Bava's Planet of the Vampires. Scott also expands on the original Alien universe by creating a distinctly English mythology informed by Milton's Paradise Lost and the symbolic drawings of William Blake.
The following guide unveils the cultural mysteries of Prometheus. (Warning: these slides contain plot spoilers.)
We want to hear what you think about this article. Submit a letter to the editor or write to letters@theatlantic.com.
Govindini Murty
is a writer, independent filmmaker, and co-editor of
Libertas Film Magazine
. She has contributed to
The Huffington Post
,
The Los Angeles Times
, and
The
New York Daily News
.