CreativeMornings: a Monthly Campfire for Designers
The a.m. speaker series has expanded to dozens of cities. Now, it aims for thematic unity.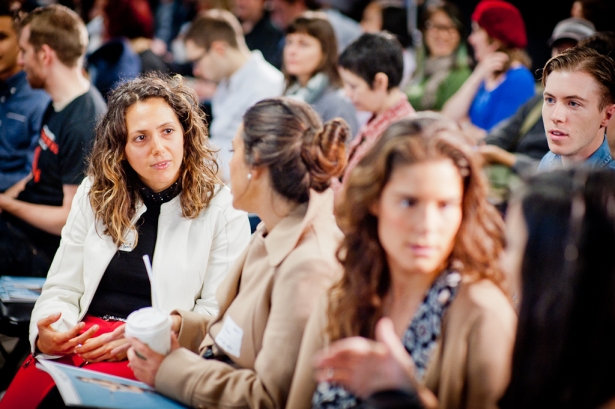 Mathew Smith
Tina Roth Eisenberg, a graphic designer and proprietor of the popular design blog Swiss Miss, started CreativeMornings, an extremely well-attended design salon in 2008. After attending a number of large graphic design conferences, she had been "dreaming of an event that was more light-weight and accessible. Something that didn't involve giving up your entire day and, most of all, that wouldn't cost a lot of money." Her premise was that most designers attend conferences less for the celebrity show-and-tells and more for the coffee breaks where attendees get to connect with others of their creative ilk. So, Eisenberg decided to produce ongoing events for her growing community of creative Dumbo, Brooklyn neighbors to "inspire them with one talk before work"—and with a lot of coffee and pastry.
CreativeMornings has since grown into 31 chapters, spread over six continents, from Vancouver to Cape Town and Sydney to Singapore. Take that, TED.
The formula, according to Eisenberg, rests on getting good people. "Each chapter is championed by an amazing, local organizer, and we've been so lucky that through our communities and application process, the right people just seem to bubble up." She has never called for organizers, she says: "They all came to us."
From the outset, disparate guests (including me) have been invited to speak about anything to about 100 people at a time at Galapagos, an art space in Brooklyn. Now comes a turning point: "Themed Mornings." This month marks the first time that CreativeMornings events worldwide will come together with a common theme, with John Maeda, president of Rhode Island School of Design, and his team helping to coordinate Arts + Tech = Magic. "The theme is meant to start a common conversation across multiple perspectives," Eisenberg says. "Until now, I might not have watched a talk from some other city unless I knew the speaker. But once there is a common thread, a common topic, I might want to see what Paris or Singapore has to say."
The first themed month will be taking place in 29 cities, as well as at a special "pop up" RISD chapter in Providence, Rhode Island (see all the cities on creativemornings.com). Eisenberg promises free coffee and breakfast, a 20-minute talk, good company, and that by 10 a.m. it is over and "you're ready to start the work day."
The event is open to anyone who signs up (tickets for subsequent events become available the Monday before the event, through the chapters). "Attendees include anyone and everyone from the creative community, whether they're designers, developers, bloggers, students and the like," Eisenberg says. A loyal core group always attends, but a shift in the audience depends on who the guest is. And speakers are happy to join the crowd in conversation.
In a world where the individual is increasingly dislocated, weaved together through virtual communities, CreativeMornings returns to idea of the tribal campfire. Of course, there is digital online access, but the global conversations via local communities is exciting and nourishing—and so is the free coffee.