An Older, Posher Bonnaroo
With new amenities, the rock festival settles into comfy middle age—along with many of its longtime fans.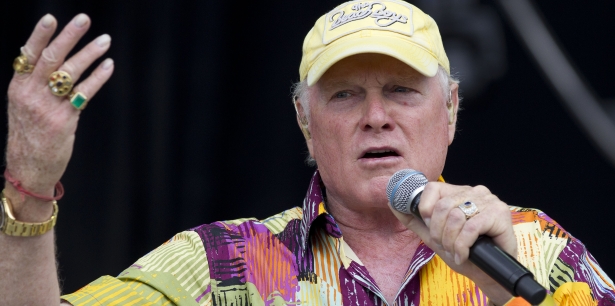 As the reunited Beach Boys took the main stage at Bonnaroo, in Manchester, Tennessee this past weekend, the crowd swelled to several tens of thousands strong. And while most people, myself included, weren't even a thought when the band first sang "Surfer Girl," there were plenty in the mix who probably made out to that song when it was released in 1963. Regardless of age, crowd members seemed to be digging the set, from the 20-something in neon-rimmed shades who noodle danced to Mike Love's croon, to my father-in-law, a 60-something Bonnaroo newbie, who gave a happy nod of recognition as the band launched into a set of automotive classics.
It was a scene that encapsulates Bonnaroo's present-day, big-tent sensibility. This was my fourth visit to the festival over its 11-year run; the first was in 2004 when acts jam-band icons like Dave Matthews Band, The (formerly Grateful) Dead, and Trey Anastasio performed. But this year, with a lineup ranging from the Beach Boys, to Radiohead, Phish, and the Red Hot Chili Peppers, and a host of new amenities on hand, it was clear that, as many others have reported, the producers of the festival were marketing toward a wider—and older—audience. While youth worshippers may scoff at the event's ever-more-mainstream lineup and ever-posher amenities, the festival's transformation over the years has been for the better: Bonnaroo has grown up along with the fans who initially supported it.
Back when I made my first Bonnaroo trip, I was unmarried, in my early 20s, and still willing to camp in an open field for three nights straight—despite torrential downpours and the stench of mud that hung on my skin for days. My second visit, in 2007, was a hot, dusty mess; my husband and I stood watching Wilco through a cloud so thick, we were forced to wear bandanas like masks just to breathe. We still camped, but for just two nights, and we were off site before the closing band took the stage in order to beat traffic.
As I get older, I find myself looking for a more comfortable musical experience than what Bonnaroo once provided. But give up four days, hundreds of artists, and a program that almost identically matches my iTunes library just because I don't want to sleep in a field? No need. Bonnaroo's organizers understand that what I want is a little luxury in my weekend, and they've done a lot to meet me where I am today.
This year was by far the cushiest 'Roo we'd had yet: We frequented the Food Truck Oasis, where about a half-dozen trucks from around the Southeast were serving up short-rib sliders and fried avocado tacos; we spent some time in the Bonnaroo Salon, where folks were getting scalp massages and personal hair-styling sessions; my husband Dave kicked back with a beer, watching the Miami Heat beat up on the Boston Celtics over at the Bonnaroo sports bar on Saturday night. Inside Planet Roo, there was a Victory Garden and morning yoga classes and nearby, a massive relaxation tent complete with hammocks and white couches. Though we were hanging out in a field in the middle of Tennessee, it was as relaxing and enjoyable as a weekend spent lounging in our hometown of Boston—with the added bonus of catching The Shins, visiting the Broo'ers Festival for a few craft beers, and following it all up with Phish.
MORE ON MUSIC
Monday, I caught up with Kerry Black, a partner at Superfly, which produces the festival, who explained that all of these experiential perks have come out of a conscious and dedicated effort from year to year. "We are looking to improve the entire experience for everyone," he said, adding that they bought the 700-acre piece of property about four years ago: "It's giving us the opportunity to make long-lasting improvements and invest in the site." That included a massive re-sodding effort last year that resulted in vibrantly greener open areas this year as well as better dust control (this was also the best weather they've seen in 11 years, Black said). My husband and I opted out of the camping grounds this year, but the experience there has improved too, Black said: Organizers created camping blocks that allowed groups, up to 75 people in some cases, to register for and reserve spaces together rather than having to grab spots scattered throughout the grounds.
For those who aren't into sleeping in fields, Manchester offers a handful of hotels that have popped up at the edge of the campgrounds, within walking distance of the festival entrance. Those are just a few of the businesses that benefit from the 100,000 people who descend on the town (pop. 10,000), growing it from 56th to seventh largest in the state each year. The visitors bring more than $14 million in business to the area and over the years, the Bonnaroo Work Fund has donated more than $5 million to local organizations. In other words, this isn't the hippie-dippie jam-band festival I first attended in 2004. Today, it's an economic powerhouse.
All that said, though, the crowd is getting younger every year, according to Black. That fact makes it all the more impressive that the festival seems to increasingly accommodate people like me: dedicated to family, with an appreciation for small luxuries in life—and yet still holding onto our head-banging, fist pumping youth.