After LeBron, Who's the Star to Heckle for Not Winning a Championship?
For years, fans chided James because he hadn't won the big one. Who's left to obsess over now?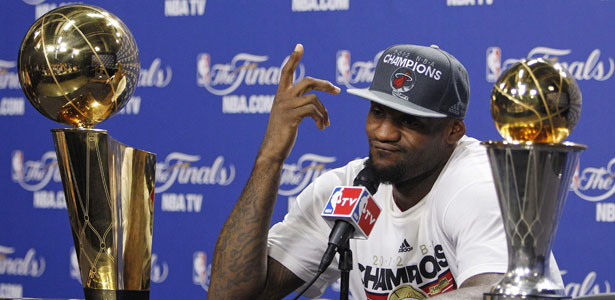 AP Images
LeBron James has finally won his first NBA championship, thanks to the Heat's 121-106 victory over the Thunder in Game 5 of the Finals last night. Which is great for him. And his teammates. And their fans. But for the rest of us, there's a huge vacuum in the sports landscape. James was the reigning holder of the "Can't win the big one" title, an unfair description that has been pinned on the likes of Alex Rodriguez, Peyton Manning, John Elway, Steve Young, and other sports figures dating all the way back to the days of Roman gladiators. (Probably). It's a lazy, kneejerk demarcation that's omnipresent in sports, because all you need to qualify are superstar status and the absence of a championship. Candidates are aplenty.
Naturally it helps if you develop a villainous or unlikable persona, as in the case of Rodriguez (slapping at Bronson Arroyo's glove in the 2004 American League Championship Series) or James, whose announcement that he was taking his talents to South Beach during a 2010 television special called "The Decision" made him an overwhelmingly unsympathetic character. But Manning, Elway and Young had largely appealing public personas, and yet they too were chided for not winning a title. Until, of course, they did win a title, and the ever-churning machine of talking heads and sports writers scoured the landscape looking for new candidates to heckle because they "can't win the big one."
Rest assured that machine is churning away right now, and if some candidates don't come immediately to mind, it's because this designation is, as I said, unfair. Still, let's play along. Let's consider the candidates who might replace LeBron as the reigning athlete who can't win the big one.
Kevin Durant

What, you don't think fans could turn their knives on the NBA's three-time scoring champ, a 23-year-old who just took his team to the NBA Finals in his fifth year in the league and is widely lauded for his humility, low-key demeanor, and assassin-like closing skills? All you have to do is look at the history of LeBron James to see how quickly perceptions can change. In 2007, when he was only 22 years old, James scored 25 consecutive team points against the vaunted Pistons defense in a double-overtime victory in Game 5 of the Eastern Conference Finals. He was an assassin! A killer! A cold-hearted snake! (Cue the Paula Abdul). Even when the Cavs were swept by the Spurs in the Finals, most people said James would undoubtedly be back in the title round again, with multiple rings assured. Four years later he had been back to the Finals just once (losing with the Heat to the Mavericks), and everyone was saying that he disappeared in playoff games. He was eviscerated in the press, described as a follower who wasn't willing to step up and take the big shot when it was needed. Granted, the evidence was there—albeit in a small, selective sample size. But the LeBron who steamrolled the Pistons in 2007 apparently no longer existed. He'd become timid, weak-willed, a loser at heart.
Yes, Kevin Durant, they will come for you, too, if you don't win a title.
Josh Hamilton
Hamilton has received tremendous fan support for his honest and very public battle with substance abuse. It doesn't hurt that he's a rare five-tool player who works hard and astounds people with his Mickey Mantle-like gifts. Earlier this season he had one of the best stretches in Major League Baseball history, hitting four home runs in one game and nine in a week. When healthy, the 2010 American League MVP is a megastar. He is also a pending free agent. And while Rangers fans undoubtedly hope he remains in Texas, Hamilton made it clear he does not intend to give the team a hometown discount when he negotiates his next contract, saying, "I don't feel I owe the Rangers anything." He later backtracked a bit, but the Rangers have consistently stood by Hamilton when he's fallen off the wagon, so his statement seemed disloyal.
A candidate for MVP once again this year, Hamilton currently leads the American League in runs batted in, slugging percentage, and OPS (on-base percentage + slugging percentage). The Rangers, meanwhile, enjoy a comfortable five-game lead in the American League West and seem fated for another postseason run. But Texas has come up empty in two consecutive World Series trips, while Hamilton has batted a meager .184 with a .347 slugging percentage and two home runs in the Fall Classic. His numbers are much better in the American League Championship Series, where in 12 games he's hit .326 with four home runs, 12 RBIs, and an outstanding 1.117 OPS. But those are inconvenient numbers when observers are trying to determine who doesn't have the mettle to win the big one. If the Rangers come up short again, Hamilton—the pending free agent with a track record of disappearing in the World Series—could become a convenient scapegoat.
Caroline Wozniacki

Wozniacki was ranked No. 1 at the end of 2010 and 2011, an oddity of sorts in that she reached that plateau without the benefit of winning a single major tournament. She has won 18 singles titles, but to date the 21-year-old from Denmark has only reached the finals of only one major, the 2009 U.S. Open. She has lost twice in the semifinals of that tournament (2010, 2011) and once in the semifinals of the Australian Open (2011). At Wimbledon she's lost in the fourth round each of the last three years, while the clay surface of the French Open has given her the most trouble, with Wozniacki winning just 10 matches against 5 losses.
Lately the No. 7 female tennis player in the world has been making more headlines for her relationship with golfer Rory McIlroy than for her on-the-court success. Wimbledon is the next major on the schedule, and if Wozniacki can break through and win her first major at the All-England Club, she might be able to climb back towards No. 1—a ranking that will seem more legitimate with a major win on her resume.
Sergio Garcia

Garcia came to prominence during the 1999 PGA Championship, when the exuberant 19-year-old memorably ran down the fairway and leapt into the air to track one of his shots. He finished second to Tiger Woods in that tournament, but his future looked promising. Garcia has amassed seven PGA tour wins and 10 wins on the European circuit, but he has never finished higher than second in any major, coming in as a bridesmaid on two more occasions (2007 British Open, 2008 PGA Championship). He is regularly referred to as "the best golfer to never win a major." Oddly enough, he seems resigned to it, even saying after this year's Masters, "I'm not good enough ... I don't have the thing I need to have. In 13 years I've come to the conclusion that I need to play for second or third place." If God has a sense of humor, Garcia will finish fourth in the next several majors.
Joe Flacco

Some athletes retire without ever winning the big one. Among NFL quarterbacks, the most notable is Dan Marino, the former Miami Dolphins quarterback who set all kinds of passing records and yet never won a Super Bowl. Marino at least reached a Super Bowl, though, which is more than you can say thus far about Ravens quarterback Joe Flacco.
Flacco has made the playoffs every season of his brief four-year career, with the Ravens advancing to the AFC Championship Game twice (but losing both times). Baltimore has been a perennial playoff presence, but Flacco has posted average numbers (8 touchdowns against 8 interceptions) and the Ravens have been largely average in the postseason (5-4). Considering he's only played four full seasons, it might seem premature to designate Flacco as the NFL quarterback who can't win the big one. After all, he's certainly not on par with long-suffering megastars like John Elway or Steve Young. But there's an aggravating factor: all the active quarterbacks who might be considered more skilled than Flacco—Peyton and Eli Manning, Aaron Rodgers, Tom Brady, Ben Roethlisberger, Drew Brees—have all won Super Bowls. So Flacco, to some degree, earns this tag by default.
One tag he didn't earn by default is "best quarterback in the NFL." No, Flacco gave that tag to himself. "I assume everybody thinks they're a top-five quarterback," Flacco told a Baltimore radio station back in April. "I mean, I think I'm the best. I don't think I'm top five, I think I'm the best. I don't think I'd be very successful at my job if I didn't feel that way. I mean, c'mon? That's not really too tough of a question."
Unless Flacco wins a Super Bowl, he's going to be reminded of that quote for the rest of his career.
The New York Jets

This is fudging the parameters a but, but still—no professional sports team has become more synonymous with their inability to win the big one over the last few years than the Jets, due largely to the brash boasts of head coach Rex Ryan, who has repeatedly said that he expects the Jets to win the Super Bowl. On one hand, it's commendable that a head coach believes in his team so publicly. On the other hand, these types of statements can put undue pressure on everyone involved (particularly, in this case, the quarterback Mark Sanchez) and create an atmosphere ripe for schadenfreude.
Ryan almost looked prescient during his first two years with the Jets, as the team advanced to back-to-back AFC Championship Games behind a stout defense. But the team lost both times and still hasn't been to a Super Bowl since the Joe Namath-led squad in 1969. Last year Sanchez and the entire team struggled for long stretches, and the Jets failed to even make the playoffs. On top of talking big and coming up short, the Jets have become known for making splashy moves since Ryan's arrival: signing former prison inmate and New York Giants wide receiver Plaxico Burress; trading for controversial quarterback Tim Tebow. For years opposing fans had been largely indifferent to the Jets, but in the span of just three years they've become the team that many people love to hate, even though they still haven't reached a Super Bowl under Rex Ryan. For now, they are considered the team who can't win the big one, thanks largely to Ryan's big mouth.