A Poet Remembers Lonesome George, Giant Tortoise and 'Emblem of Despair'
X.J. Kennedy, who wrote a poem in honor of the 100-year-old reptile, calls his death this weekend a "personal loss."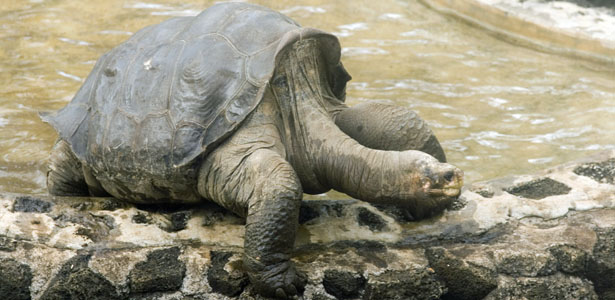 Reuters
Lonesome George, the Pinta Island giant tortoise thought to be the last of his subspecies, died Sunday in his Galápagos Island home. Scientists estimate that he was over 100—middle-aged for a tortoise whose brethren are known to live to up to 200.
Since he was discovered in the wild in 1972, the famous bachelor was visited by a steady stream of researchers, tourists, and journalists, and became a beloved international symbol of conservation. He was also a constant source of anxiety for the scientists who tried to find a suitable female to make George lonesome no more. Over the years, several female tortoises of related subspecies lived with George. Two of them eventually produced eggs, but none hatched.
In May of last year, the poet X. J. Kennedy and his wife, Dorothy, visited Lonesome George. The day was blazing hot and they themselves were feeling, in Kennedy's words, "as sluggish as tortoises." Though George was not alone in his pen at the Darwin Research Station—he had three lumbering four-foot-long female companions—he might as well have been. Kennedy was told that the keepers hoped the females might rouse George "to action, but he was paying them no mind." George wasn't paying much mind to his visitors either, though he did cast them "one disinterested glance" before going back to his lunch of cactus leaves.
Kennedy's visit that day, and Lonesome George's haunting plight, inspired the poem "Lonesome George," which appeared in the June 2012 Atlantic. "Dead-ending male, lone emblem of despair," the poem reads, "he slumps on his knees, his tail antennaing the air."
With the news of George's death, Kennedy said he feels "a sense of personal loss." He also feels a connection to the now-extinct tortoise. "As a writer given to the old formalities of rhyme and meter, I sometimes feel endangered these days. But I'm glad that, unlike poor old George, whose line has come to a dead end, rhymed lines and printed books go on, in slightly better health."