6 Rules for a Great Story, Inspired by Snoopy
Start somewhere intriguing, hone your opening words, and aim for the heart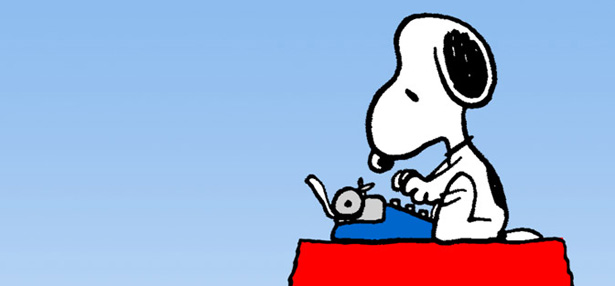 United Feature Syndicate
You might recall Snoopy's Guide to the Writing Life (public library), from whence Ray Bradbury's wise words on rejection came. To recap: Barnaby Conrad and Monte Schulz, son of Peanuts creator Charles M. Schulz, asked 30 famous authors and entertainers to each respond to a favorite Snoopy comic strip with a 500-word essay on the triumphs and tribulations of the writing life. The all-star roster includes William F. Buckley, Jr., Julia Child, Ed McBain, and Elizabeth George. Among them is also one by Barnaby Conrad himself, offering the following six tips to writing a great story, in response to this 1997 comic strip:
1. Try to pick the most intriguing place in your piece to begin.

2. Try to create attention-grabbing images of a setting if that's where you want to begin.

3. Raise the reader's curiosity about what is happening or is going to happen in an action scene.

4. Describe a character so compellingly that we want to learn more about what happens to him or her.

5. Present a situation so vital to our protagonist that we must read on.

6. And most important, no matter what method you choose, start with something happening! (And not with ruminations. A character sitting in a cave or in jail or in a kitchen or in a car ruminating about the meaning of life and how he got to this point does not constitute something happening.)

Hone your opening words, for just as stories aren't written but rewritten, so should beginnings be written and rewritten. Look at your opening and ask yourself, 'If I were reading this, would I be intrigued enough to go on?'

And remember: Always aim for the heart!
Conrad is the author of The Complete Guide to Writing Fiction.
For more advice on writing, see Kurt Vonnegut's 8 tips on how to make a great story, David Ogilvy's 10 no-bullshit tips, Henry Miller's 11 commandments, Jack Kerouac's 30 beliefs and techniques, John Steinbeck's 6 pointers, and various invaluable insight from other great writers.
And, above all, let's not forget these famous disclaimers on taking writing advice.

This post also appears on Brain Pickings, an Atlantic partner site.