Yayoi Kusama: The Polka-Dot-Loving Art Legend I Initially Mistook for Crazy
A documentary in the works looks to capture the incredible career of an 83-year-old Japanese eccentric.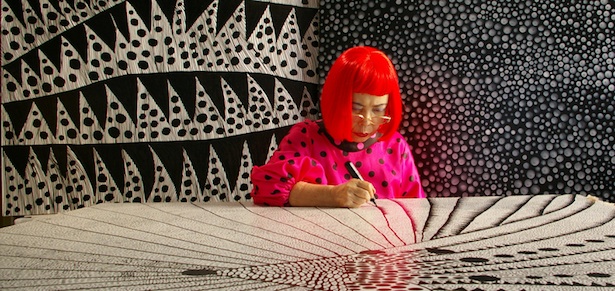 Yayoi Kusama, known for her innovative soft-sculpture, immersive, polka-dotted experiences, is among Japan's most revered living artists. With art that strides the abstract, cute, and bizarre, this 83-year-, orange-wigged living doll is the consummate avant gardist. She exists in a self-contained bubble of spacy illusions and ephemeral visions, and for the past 38 years has lived voluntarily in a Tokyo psychiatric hospital across the street from her painting studio. Frequent exhibitions at MoMA and the Whitney, prestigious gallery shows, mountains of published monographs, and scores of fashion products bearing her imprimatur attest to her surprising popularity. Last February, the Tate Modern in London opened a major retrospective, now in its final month, that testifies to her colossal art-world appeal.
I came to know Kusama in 1968. But to me, then, she was simply a kook. I was the 17-year-old rookie art director of Screw, an underground sex paper that was a part of the late-'60s sexual revolution. That's where I fielded almost daily phone calls from Kusama, who was aggressively hawking photos of the orgiastic happenings she had choreographed. You see, she was a prodigious orchestrator of gaggles of naked hippies, some wearing masks of Richard Nixon and J. Edgar Hoover, covered in polka dots and scampering in undulating piles of potato-shaped soft sculptures (and on one occasion dangling on the Alice in Wonderland monument in Central Park). Kusama routinely appeared in these photographs as ringmaster, wearing a dot-encrusted leotard.
"I come now, bring photos," Kusama announced in such fast-clipped, heavily accented English that I almost believed that she was speaking—and I was understanding—Japanese. She'd arrive at the door moments later, as though she had called from just around the corner. Usually, she'd stay for an hour or so, explaining the hidden meaning of every single shot. Listening was torture.
I'd never met anyone as self-promotional as Kusama. But I'm reminded of Woody Allen's joke about the guy who had a brother who thought he was a chicken: When asked why he wasn't committed to a mental asylum, the reply was "'cause we need the eggs!" Well, at Screw we needed the photos—and Kusama kept the underground sex press well-stocked.
It was a story on a blog in which I mentioned Kusama's hijinx that brought me to the attention of Heather Lenz, a filmmaker making the documentary Kusama Princess of Polka Dots, a seven-minute version of which was cut for the Tate exhibit . I was surprised to learn that this strange blip of memory—Kusama—had become such an incredibly renowned artist. If only I saved those photos, I might be rich enough to help Lenz complete her entire film in time for the Tate exhibit.
Lenz was introduced to Kusama's work in the early '90s, when she was earning duel degrees in Art History and Fine Arts, and her textbooks seldom contained any mention of women artists. "Then one day, a sculpture professor showed me a photo of Kusama's sculptures," she told me in a recent interview. "It was love at first sight."
Some years later, Lenz decided to make a film about Kusama. First it was conceived as a biopic, but she decided a documentary was better because "It would be more interesting to have Ms. Kusama tell her story in her own words while she was still alive, and while that was still an option." Lenz is now an expert on Kusama's life in Japan and during the '60s as a struggling artist in New York.
During that period when I met Kusama, "her work had already taken many forms," Lenz explained. Her early material included small paintings made from ink and watercolor on paper. When she moved to New York in 1958, she started making larger paintings on canvas. Then she began crafting sculpture and, later, installations that included sculpture, paintings, and other elements, such as mirrors and macaroni (which in some cases covered gallery floors and required guests to walk over the crunchy pieces of pasta.) Then she moved onto the Happenings she was conceiving when she became our ad hoc photo supplier. "During that era she also made 'orgy clothes,' with strategically cut holes," Lenz said. Then, after moving back to Japan in the '70s, she made collages and wrote semi-autobiographical novels and poems. Since then, she has made paintings, sculptures, installations, and a variety of objects including furniture, purses, puzzles, stickers, and limited-edition phones shaped liked dogs.
"Respect for Ms. Kusama's work has increased dramatically in recent years," Lenz added, and she was the first woman to represent Japan at the prestigious Venice Biennale in 1993. "Like many artists who are ahead of their time, she was misunderstood in her hometown for decades, but now there is a museum there with the largest permanent collection of her art."
Lenz posited that part of what makes Kusama so compelling is that she was willing to go to great lengths to pursue her passion to make art. "I think a lot of the art she created in the '60s was really ahead of its time, and that makes it important. Personally though, I'll always have a soft spot for the collages she produced in Japan after returning there."
I hoped the Kusama film would be finished by now. Lenz told me that a feature-length cut is still "in the tweaking stage." So now she is applying for grants and raising donations primarily to cover the licensing of archival photos, footage, and music. To complete the film, she also needs to finish the score and color correction. With luck it will be out soon, if for no other reason than because I'm anxious to re-appreciate the artist whom I initially mistook as simply crazy.