What Happens When Cajun and Zydeco Meet Classic Rock
Louisiana's regional music scene is embracing its own traditions while reinterpreting popular music.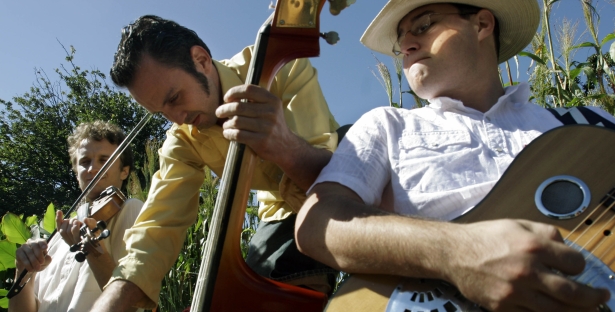 For much of the 20th century, Cajun music and its black Creole counterpart, zydeco, were scorned as provincial and passé. Many French-speaking Louisianans felt ashamed of their ethnicity, and would only express it within their tight-knit communities, beneath the radar of mainstream America. But the past three decades have seen a dramatic rise in the popularity of the rollicking, accordion-dominated, dance-music styles of southwest Louisiana. Today they can be heard at festivals, on movie soundtracks, and in nightclubs nationwide and overseas
Big ideas in arts and entertainment.
See full coverage
This atmosphere of respect has led to renewed vibrancy in Cajun music and zydeco. Songs rooted in medieval France have been revived, and new songs are written based on such folkloric traditions. This heritage-oriented focus can give the false impression that Cajun and Creole musicians care only for their rich cultural inheritance. But what makes the contemporary Cajun/zydeco scene so impressive is that it thrives by choice, not rural isolation or a lack of options. In addition to their own local sounds, southwest Louisianans have always followed the entire range of mainstream music popular nationwide.
This combination of eclectic open-mindedness and regional pride energizes the rambunctious, fun CD, En Francais: Cajun 'n' Creole Rock 'n' Roll, out last year. The "Rock 'n' Roll" here consists of '60s and '70s rock and soul classics sung in French and played, predominately, with Cajun/zydeco instrumentation. En Francais features some of today's best and brightest young Cajun/Creole musicians. They reprise iconic classics by the likes of Jimi Hendrix, Neil Young, the Who, and the Beatles, presenting an interesting conceptual contrast. The album was crafted by and for champions of a centuries-old traditional culture and language, but many of its songs originally represented a counter-culture that scorned tradition. The Who, for instance, wrote and performed "My Generation" to rebel against their elders. On this album The Lost Bayou Ramblers have recorded it in French, as "Ma Génération," to honor their elders. Yet the Ramblers are rebelling, too—against the assimilation that threatens their elders' legacy and trivializes their own sense of identity.
In this sense, En Francais has a serious cultural-political purpose. But, as on these songs' original renditions, the operative principle is the pure delight of rocking out. The similarities run deeper, as well. A Cajun two-step, for example, is almost identical to a basic 4/4 rock beat. What's more, Cajun/zydeco and classic rock have been interacting since the 1970s. On its 2009 Grammy-winning album Lay Your Burden Down, for example, the band Buckwheat Zydeco convincingly covered Led Zeppelin's arrangement of the old blues song "When The Levee Breaks." And in 2010, Elvis Costello said that En Couleurs—by the young band Feu Follet, who appear here—was "one of the most beautifully melodic records I've heard all year."
MORE ON MUSIC
Highlights on En Francais include the Lost Bayou Ramblers' romp through "Ma Génération" (the Ramblers' Louis Michot produced En Francais), Steve Riley and the Mamou Playboys' wistful take on Neil Young's enigmatic "Down By The River", and Feu Follet's exquisite vocal harmonies on early '70-s cult favorite Big Star's "In The Street." Zydeco accordionist Corey Ledet provides En Francais' tour-de-force performance on "Eh Joe," a song made famous as "Hey Joe" by Jimi Hendrix. Ledet's lengthy, intricate solo matches the deft intensity that Hendrix, playing guitar, brought to his definitive version in 1966. In the early1950s, the late Clifton Chenier defined today's classic zydeco sound by likewise playing mainstream hits on the accordion and singing them in French. Chenier, one can safely assume, would love Ledet's impassioned hybrid here.
En Francais affirms the continuing viability of both Cajun/zydeco and classic rock. This happy fact is underscored by the active national touring schedules of the bands involved. Chances are that at least one of these groups—perhaps Feu Follet, The Lost Bayou Ramblers, Corey Ledet, Bonsoir Catin, Ryan Brunet et Les Malfecteurs, Steve Riley and the Mamou Playboys, or other En Francais artists—will be in or near your town this summer. Count on hearing them play songs you may already know translated into a language that you may not.