The ode to young love overcomes the Royal Tenenbaums director's worst tendencies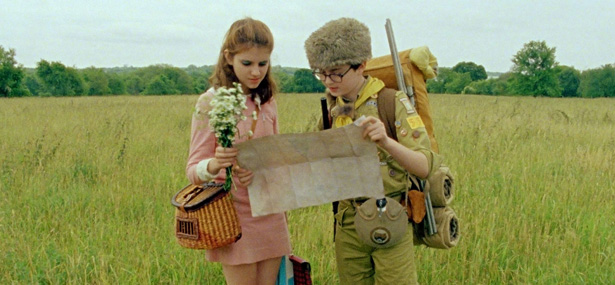 Focus Features
My Cannes 2012 experience got off to a kind start yesterday. When I found myself cash-less and red-faced at a sandwich stand, the petite, blonde-haired woman behind the counter cheerfully chirped, "Pay me tomorrow, it's no problem!"
Then, as she handed me my lunch with a smile: "This wouldn't happen in Paris."
True enough.
Similar sweetness and good humor was on display at this morning's screening of the festival's opening film, Wes Anderson's Moonrise Kingdom, a lovely—if feather-light—ode to young love and growing up. Moonlight Kingdom (out May 25 in the U.S.) is not as enchanting an opener as Woody Allen's Midnight in Paris last year, but its moments of transporting beauty and visual brilliance overcame my growing aversion to Wes Anderson's brand of ultra-stylized archness.
That aversion had me rolling my eyes in the film's first minutes, as Anderson's camera pans across and tracks up and down the interior of a family's New England home, pausing to show us the inhabitants in the meticulously symmetrical, fussily choreographed, accessorized and color-coded shots that are the director's trademark. I've long felt that despite his technical skill, Anderson's dollhouse aesthetic—as distinctive and personal as it may be—has mostly stifled any ounce of spontaneity or genuine emotion in his movies. The filmmaker's jokes have been more "funny" than funny, his picture-frame-ready images are art-directed to within an inch of their lives, and his sensibility has often felt like an aging-hipster pose.