And what's wrong with that?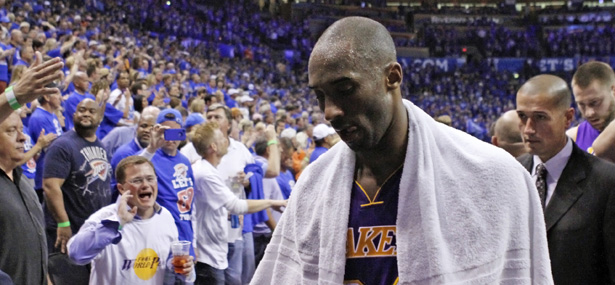 Every week, our panel of sports fans discusses a topic of the moment. For today's conversation, Jake Simpson (writer, The Atlantic), Hampton Stevens (writer, ESPN and The Atlantic), and Patrick Hruby (writer, ESPN and The Atlantic), discuss the current storm of malice surrounding sports
---
Hey, guys,
Ah, spring, when a young man's fancy turns to... hate. Not real hate, of course. That will rot the soul. But the silly, fantastically cathartic faux-hate of certain players and teams that gives sports fandom so much meaning. Hating Kobe Bryant's Lakers, for instance. Seeing L.A. get bounced from the NBA playoffs, losing four of five games to the Thunder, was pure joy—almost as much fun as it will be to watch their roster get completely gutted again this summer.
But the real basketball vitriol is back east. There was plenty of good, old-fashioned nastiness in the Heat and Pacers series. Miami and Indiana had loads of flagrant fouls, called or not, and trash talk on- and off-court. In Game 5, Tyler Hansbrough even drew blood with a foul on Dwyane Wade; to which Miami's Dexter Pittman and Udonis Haslem did not take kindly; for which they were suspended for Game 6; despite which, the Heat won handily. The series between Philadelphia and Boston has gotten pleasantly mean-spirited, too, with Kevin Garnett saying the 76ers have "fair-weather fans," and a Philadelphia Inquirer beat writer responding by calling Boston fans racist. Saturday at 8 p.m., fair-weather Philly will meet racist Boston for what should be a gloriously low-down and grungy deciding game.