'Tis the Season to be Hateful (in Sports)
And what's wrong with that?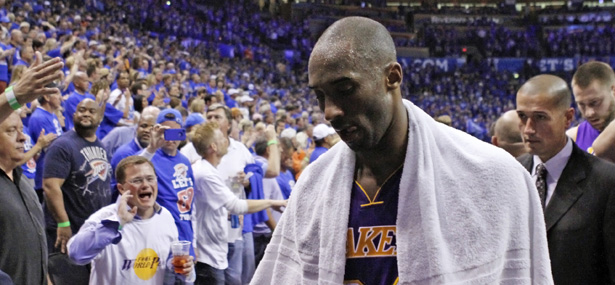 Every week, our panel of sports fans discusses a topic of the moment. For today's conversation, Jake Simpson (writer, The Atlantic), Hampton Stevens (writer, ESPN and The Atlantic), and Patrick Hruby (writer, ESPN and The Atlantic), discuss the current storm of malice surrounding sports
---
Hey, guys,
Ah, spring, when a young man's fancy turns to... hate. Not real hate, of course. That will rot the soul. But the silly, fantastically cathartic faux-hate of certain players and teams that gives sports fandom so much meaning. Hating Kobe Bryant's Lakers, for instance. Seeing L.A. get bounced from the NBA playoffs, losing four of five games to the Thunder, was pure joy—almost as much fun as it will be to watch their roster get completely gutted again this summer.
But the real basketball vitriol is back east. There was plenty of good, old-fashioned nastiness in the Heat and Pacers series. Miami and Indiana had loads of flagrant fouls, called or not, and trash talk on- and off-court. In Game 5, Tyler Hansbrough even drew blood with a foul on Dwyane Wade; to which Miami's Dexter Pittman and Udonis Haslem did not take kindly; for which they were suspended for Game 6; despite which, the Heat won handily. The series between Philadelphia and Boston has gotten pleasantly mean-spirited, too, with Kevin Garnett saying the 76ers have "fair-weather fans," and a Philadelphia Inquirer beat writer responding by calling Boston fans racist. Saturday at 8 p.m., fair-weather Philly will meet racist Boston for what should be a gloriously low-down and grungy deciding game.
We know who Tim Duncan is rooting for. The Spurs star told Sports Illustrated that he hates Kevin Garnett. But... Whatever. Does anyone truly believe that Tim Duncan is capable of anything more than mild dislike?
Hate isn't just for hardwood, though. Ozzie Guillen hates Twitter. The Florida Marlins' manager, who has more than 230,000 followers, told reporters he will quit Tweeting because he doesn't get paid for it. Given Guillen's penchant for saying anything that pops to mind, though, Marlins' ownership may have had a say in his choice.
The French Open starts this weekend. That's got everything a hater could want. Americans can't win on the red dirt of Roland-Garros. Plus there's Rafael Nadal, who's trying to become the first man to win a seventh French title, and the looming possibility that he will wear Capri pants at some point during the tournament. Let's not forget classics, either, like A-Rod. Mike Vick still exists, and player-hating has no off-season. Tom Brady, the big showoff, had the nerve to get his supermodel wife pregnant for a second time.
How about it guys? Take me to Haterville. Douse me with Haterade, and tell me who's currently topping your list of people you love to loathe.
–Hampton
I have to say I'm impressed, Hampton. Your Haterade is free-flowing and apparently can be found in all 50 states. Mine is much more concentrated and perhaps more vitriolic.
I'm looking at you, Boston and Philadelphia. You are the Sodom and Gomorrah of sports.
Where do I start? The snowballs Eagles fans threw at Santa Claus? The time the Philly crowd booed local boy Kobe Bryant (a product of heralded Lower Merion High School) after he won the MVP at the 2002 NBA All-Star Game? The beer bottle that smashed into a wall two inches above my head the last time I went to Fenway Park, all because I was singing "New York, New York" after the Yankees beat the Red Sox?
OK, I guess I understand the last one. But the fan bases of these two cities are the absolute worst, and I have nothing but hate for every sports team from both towns. Show me a Philly or Boston participant in the Little League World Series, and I'll boo them too. The only positive outcome to the current Celtics-76ers playoff series would be every player simultaneously tore his ACL.
The worst days of my life as a sports fan came at the hands of a Boston team. That'd be the 2004 Red Sox, who came back from a 3-0 deficit to beat the Yankees in the ALCS—oh wait, that never happened, along with Godfather III and Windows Vista. To this day, I hate anyone involved with that team, from current Red Sox players like David Ortiz and Kevin Youkilis to Unfrozen Caveman Johnny Damon, whom I irrationally disliked even when he played for the Yankees.
At least Boston's anger stems from a never-ending sense of dread brought on by a century of missed sports opportunities. In Philadelphia, they hate every other team just for the sake of hating them, and they're proud of it. After the Rangers beat the Flyers in this year's Winter Classic, Philly fans vented their frustration by beating the crap out of a Rangers fan who turned out to be a New Jersey policeman. That's sadly par for the course for a fan base whose natural emotion seems to be anger with a side of violence.
Wow, that felt good. Care to join in the Haterade party, Patrick?
–Jake
Jake,
Join the party? Not to get all Al Gore-on-the-Internet/Sean Combs-on-the-remix here, but I've been sports hatin' since I've been breathing -- , the New York Knicks, the New England Patriots, Duke basketball, the NCAA, Lance Armstrong, the federal government that went after Armstrong, Dan Gilbert, LeBron James, Boston Red Sox fans, sports moralizers of all stripes, wealthy owners dipping into municipal coffers and the politicians and fans who enable them, even myself and other sports writers; my on-record hating is vast, it contains multitudes&mDASH;and if I didn't write the book on how a regular cooler-flipping Haterade bath does a body good, I definitely penned the comprehensive article.
So yeah: Drinks are on me.
Sports hatred is engaging. As a fan, it gives you—to borrow a favorite phrase of flat tax, soak-the-poor conservative television pundits everywhere—more skin in the game, more chances to experience a vicarious thrill. Sing when your team is winning; sing when the team you can't stand is losing, too. At its core, sports is contrived drama, same as the movies and reality TV. All are more entertaining with a villain. (Star Wars with Darth Vader? I am your father. Without Darth Vader? Yippee!) Moreover, some psychologists contend that sports hatred—the silly, theatrical, overwrought kind Hampton described, not the deranged variety found in lousy Wesley Snipes-Robert DeNiro flicks—is actually healthy, because it allows us to vent the very real frustrations and disappointments of our very real lives in an essentially harmless way.
Also, hatin' is just plain fun.
As such, I'm bummed that the Lakers and Knicks are out of the playoffs. That Duke didn't win the NCAA championship. That the USSR no longer exists as an Olympic foil. That Armstrong is mostly a triathlete now. The Brett Favre is finally, mercifully retired. That Nadal looks vulnerable. That the Red Sox and New York Yankees—truly sorry for the latter, Jake—are looking up at Baltimore in the American League East standings. I hate, yes; but only because I love doing so. And therein lies the irony of true sports hatin': The only thing worse than seeing the objects of one's irrational derision win is to see them lose.
–Patrick