The Universal Appeal of 'Who Do You Think You Are?'
The NBC series breaks the reality TV mold by watching celebrities exploring their family trees.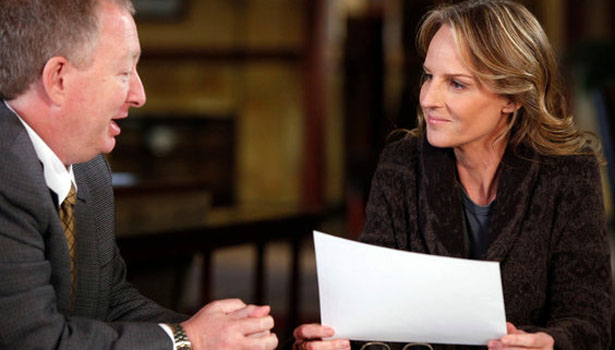 NBC
Who Do You Think You Are? is not breathtaking television. Not unless you find it exhilarating to leaf through musty volumes of century-old tax rolls. The NBC genealogy series, which concludes its third season tonight, is reality TV without drunken nightclub brawls, rose ceremonies, or tribal councils. Most of the people we meet have been dead for generations. All that happens, really, is that a guest star—which this season has included Marisa Tomei, Martin Sheen, and Rob Lowe—traces a branch of their family tree. Usually, they do this by looking at old things in dusty, out-of-the-way places, with deeply nerdy historians and/or archivists beside them.
Yet WDYTYA is extraordinarily watchable television. Learning about the genealogist's research tools and methods is exciting for anyone who cares about history—especially the personal kind. And beyond the academic appeal, the show inevitably offers a huge, life-affirming payoff at the end. It's reality TV that even Newton Minnow would have loved—a rare combination of intellectual and emotional appeal.
That draw, clearly, is universal. NBC's version, produced by ex-Friend Lisa Kudrow, is adapted from the BBC series by the same name. There are also versions in Canada, Ireland and South Africa. The Israeli variant is Mi Ata Hoshev She'ata?. In Norway, it's Hvem tror du at du er? And so on.
MORE ON TELEVISION
But call it exceptionalism, patriotism, or chauvinism, it seems the WDYTYA premise is uniquely suited to Americans, a nation of blank slates—immigrants and refugees assimilated from every other country and culture on earth.
Americans are finally starting to notice too. With the Reba McIntyre episode a few weeks back, WDYTYA won its Friday night time slot for the first time in two years.
The show's searches always start the same way by mentioning the smoothly integrated sponsor, Ancestry.com. Then we're off to some hall of records or archives for a deeper delve—usually through the use of resources available to the public. We always learn neat little research factoids along the way. Like when Rob Lowe was on for instance. He, along with the audience, learned that George Washington's personal papers are digitized and available to the public online.
Like the home improvement show where someone builds a house in 22 minutes, WDYTYA does make the process look a million times faster and easier than it is for novices in real life. The voice-over narration casually drops phrases about the researchers that the guest stars meet along the way—phrases like "looking through parish records" or "searching the census files," very short constructions which suggest very long, very dull hours upon hours of squinting.
Family is a great equalizer. The sheer scope of history is humbling, and stars behave authentically on WDYTYA. The facial expressions are more honest than anything you'll get in the most "intimate" interview with Barbra Walters or Oprah.
Part of that honesty comes from the fact that the power dynamic is different than it usually is between star and interviewer. There's a delicious tension that comes from the ever-looming possibility that one of those frumpy researchers will drop something shocking about a celebrity's ancestor. Earlier this season, Lowe, a heart-on-his-sleeve patriot, learned that he is descended from a Hessian solider who fought against Washington's troops at the Battle of Trenton. Whoops! Or, for something closer to home and the present day, there's the big shocker about his grandfather in tonight's episode starring Jason Sudekis.
No matter where the connections lead though, they lead somewhere. Ultimately, that connectedness itself is the point of an ancestry search and feeling a link to the past, even vicariously through movie stars, is the source of show's appeal. Even if the search ends in a dark place—as it did for Rashida Jones when she learned of relatives lost in a Holocaust-era massacre—everybody that appears on the show will have some sort of profound moment of new self-awareness. They will shed a tear, or at least get misty-eyed, stammer a bit, and suddenly be imbued with a deeper, richer, and most importantly, more accurate sense of their own identity. Reality TV doesn't get any more real than that.