The Novelty of Up-and-Coming Female Rappers Isn't That They're Female
Rye Rye, Azealia Banks, Brianna Perry, and Angel Haze each have a shot at hip-hop stardom for a simple reason: They sound distinctive.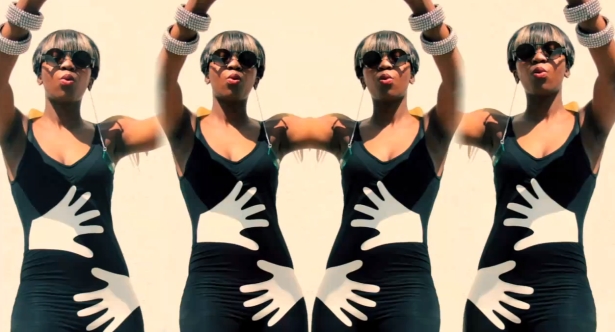 "I'm a hood girl doing white girl shit," announces Baltimore rapper Rye Rye on the leadoff track to her just-released debut album Go! Pop! Bang!, a claim that can be taken in several ways. First and foremost, it's the standard hip-hop boast of overcoming low-income origins: She's using "white" as a synonym for "middle-class," as in the NPR-mocking blog Stuff White People Like or the Twitter hashtag #whitepeopleproblems. Demographically speaking, it's a wildly inaccurate usage (plenty of middle-class people aren't white, and plenty of white people are poor), but it's also immediately comprehensible.
But "white girl shit" is also a nod in the direction of the fact that a significant portion of Rye Rye's following is made up of, well, "white" girls: educated, middle-class, professional (often in the media industry) women in their 20s and 30s, who were attracted to her day-glo fashion sense, her smart pop feminism, and her collaborations with indie-friendly pop auteurs like M.I.A. and Robyn. For example, chatty post-collegiate women's blog The Hairpin has featured Rye Rye's videos far more frequently than WorldStarHipHop.com, the Drudge Report of hip-hop, ever has. The clip for "Hardcore Girls" was widely praised on feminist blogs for its depiction of women of widely varying ages, races, sizes, and gender presentations, all looking undeniably cool.
This is, to say the least, not the traditional way to get noticed in hip-hop. Indeed, Go! Pop! Bang! is listed under Electronic, not Hip-Hop, in iTunes. (Make no mistake, it's a rap album, from the clattering beats to Rye Rye's forceful-yet-chipper flow.) The strategy she's pursued—drawing together a disparate coalition of Baltimore club kids, middle-class media folks, and Internet pop-watchers—is practically a necessity in today's fragmented music industry, especially for a woman who raps. The recording and release of Go! Pop! Bang! was delayed for several years while Rye Rye had a baby and built her fanbase, but it's still the first physical album from the wave of young female rappers who are attempting to build a career in the totalizing shadow of Nicki Minaj—a wave whose members are exploiting the Internet, adopting indie aesthetics, and pursuing audiences outside hip-hop's usual boundaries. The buzz, if not (yet) the popularity, surrounding Rye Rye and her peers suggests that for the first time in U.S. hip-hop history, there may be more than one commercially successful female rapper at a time.
Female rappers have been around ever since the music's inception, and over the years many of them proved themselves to be peerless writers and rappers, made deathless records, and contributed immensely to the form and the culture. But mainstream pop success has always been another story. Minaj 's cartoonishly exaggerated sexuality, giddy quick-fire rapping, adoption of multiple personas, and penchant for provocative spectacle have pushed pop music to new heights while also being enormously profitable. But before she exploded in 2010, there hadn't been a charting female rapper since Missy Elliott in the early 2000s. Before Missy, Lauryn Hill had dominated the late '90s, as Lisa "Left Eye" Lopes of TLC had dominated the mid-'90s, Queen Latifah the early '90s, and Roxanne Shanté the mid-'80s. Just prior to the ascension of Minaj, Kid Sister and Lil Mama were the great female hopes of hip-hop. Ten years ago, it was Lil' Kim, Da Brat, and Eve. Today, it's Rye Rye, Azealia Banks, Brianna Perry, and Angel Haze, all of whose prospects are boosted by Minaj's unprecedented success, their own unconventional styles, and the hit-making potential of the Internet.
Rye Rye was discovered by indie-dance provocateur M.I.A. and signed to her N.E.E.T. imprint in 2009. Like her mentor, she favors dense, industrialized beats and short, chantlike structures. But she also has a less-deeply buried pop streak. The lovelorn "Never Will Be Mine," which samples Swedish indie-pop singer Robyn, and the gleeful "Boom Boom," which refurbishes the chorus to a Vengaboys song, are shining examples of how to do pop romanticism without forsaking hip-hop attitude. Go! Pop! Bang! nearly lives up to the thrillride of the title, and when the emphasis is on the bang, Rye Rye unveils a will to party every bit as ruthless as anyone on the charts, from David Guetta to LMFAO.
Azealia Banks, who attended the same New York arts high school that Nicki Minaj did, has become the darling of indie-music blogs and review sites almost entirely on the strength of "212," a dense, wordplay-heavy riff on the Manhattan area code marked by gleefully filthy threats barked over the fritzing crescendos of Lazy Jay's indie-dance composition "Float My Boat." The stylish black-and-white video, which concentrates on Banks's slyly grinning mouth and dorky dance moves, positions the song within the hipster-indie aesthetic of New York art kids. Later releases have dropped the distant, almost-bored vocal style for a more traditionally focused hip-hop flow, but her rhymes remain astonishingly nimble. Her debut EP is due later this month, and certain corners of the Internet are positively vibrating with excitement.
Miami's Brianna Perry, by contrast, is fully a Southerner. The best songs on her Face Off mixtape shift the drawling Dirty South aesthetic popularized by Outkast, Ludacris, and Young Jeezy into a somewhat weirder headspace. "Marilyn Monroe," is her finest moment: swampy horns punctuate the crunk simplicity of its beat, while her fully in-control drawl reshapes words in novel ways but maintains the catwalk strut the chorus demands: "I'm Hollyhood / Arrogant, don't I look good / Marilyn Monroe / Marilyn Monroe." She inhabits the song's brassy femininity with assurance, but she does vulnerable too, as in the Carrie Underwood-sampling "Dear Hip-Hop," which imagines the industry as an unfaithful boyfriend. Like nearly every female rapper, she's got cause for complaint.
Angel Haze does vulnerable so well she can sometimes come off like a raw nerve. The youngest of the four women, she's also the most openly confessional and reflective. Her songs would be in danger of sounding like transcriptions from an emotional teenager's diaries if not for her intellectually dense lyrics and forceful, nimble rhyming. Self-described as a survivor of a cult, she moved with her mother from Michigan to the Washington, D.C. suburbs as a teenager, where she was exposed to hip-hop and popular culture for the first time. Her music often retains the over-earnestness of the hyper-religious—her Voice EP doesn't crack a single smile through 13 tracks—but she and her collaborators have the compositional skills to back up the thematic heaviness.
Aside from being women and rapping, these four women have little in common. In fact, it would probably be more useful, from a descriptive standpoint, to consider them not as women first, but as regional rappers. Rye Rye's loyalty to Baltimore club music may be the only thing standing between her and massive success, as the dense industrial sound hasn't yet gone nationwide. Azealia Banks's YouTube and Soundcloud channels of postpunk covers and freestyles over hip-to-death electronics affiliate her with a certain elegantly wasted New York cool. Brianna Perry embodies both the swampy Southernness and the jetsetting excess of Miami. And Angel Haze? An argument could be made that the D.C. area's storied history of emo, the florid offshoot of punk, is responsible for her literate angst. But her true home is the Internet—and especially Tumblr, the social networking service overwhelmingly populated by emotional teenagers.
MORE ON MUSIC
Of course, the Internet—with its endless appetite for novelty, its culture of instant memeification, and its relentless production of content—is the churning center around which virtually all musical activity now revolves. And once more, Rye Rye's phrase "white girl shit" is fitting. Because while Rye Rye, Azealia Banks, Brianna Perry, and Angel Haze all read as black (Angel Haze claims Native American ancestry), the novelty-seeking LOL/WIN/FAIL/WTF culture of the Internet is just as likely, if not far more likely, to seize female rappers who are white—or, rather more often, white women who are rapping. Sydney's Iggy Azalea, Oakland's Kreayshawn, and Daytona Beach's Kitty Pryde are the most chattered-over at the moment, but give the Internet another month and there will be another sub-viral hit featuring the supposedly hilarious sight of a woman who could have a speaking part on Mad Men doing that crazy talk-singing fad from the early 1980s, just as if Blondie's "Atomic" was still the pinnacle of rap, just as if hip-hop had not developed into a rich worldwide culture over the past 30 years.
Female MCs are far more prominent in Britain, where hip-hop has had its own line of development for 20 years: Ms. Dynamite, Lady Sovereign, Estelle, Lady Leshurr and Cher Lloyd are all active in the UK charts. The same can be said for much of the rest of the world, where hip-hop is as likely to be crossed with local musical forms as it is to imitate American models. Caribbean dancehall and soca in particular have their own particular traditions of rhyming over beats. Nicki Minaj was born in Trinidad, and she frequently makes a point of rapping and singing in British and Caribbean modes. This may make the struggles of other female rappers to be heard that much harder: With hits ranging from soppy R&B ballads to ebullient pop-rap to hardcore beat-driven hip-hop, Minaj, the most successful female rapper ever, has so many voices that pop audiences may not feel the need for any others in the charts. At least, that is, until they've been shown what they're missing. Gender parity isn't the strongest argument for these women's success—their talent is.