The Myth of Parisian Life
The author of Paris, I Love You but You're Bringing Me Down reflects on life as a foreigner in the city of lights.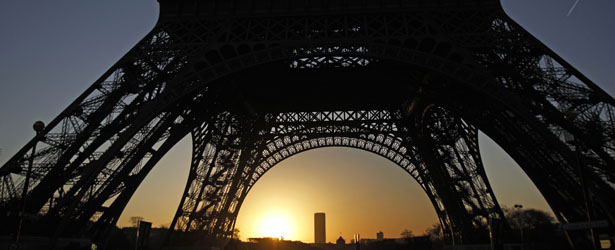 AP Images
After crisscrossing Paris looking for an apartment in 2007, American writer Rosecrans Baldwin found a place near an old fortress, La Conciergerie. There was a breathtaking view of Notre Dame. But it was tiny—too tiny for Baldwin and his wife, said the apartment agent. But then the agent offered the twenty-something Baldwin some advice. "Listen, now suppose you want to have an affair. Men in Paris .... Just remember this place. It would be perfect for that."
It's a great story, and one of many finely crafted observations in Baldwin's new memoir of his time living in the City of Light, Paris, I Love You but You're Bringing Me Down.
As a side note, perhaps New Yorkers wouldn't balk at paying one month's rent (or more) to apartment brokers if they too provided guidance on conducting les liaisons dangereuses.
Baldwin's book is deftly written, with a wry style and liberally deployed irony. And it's very funny. These communication skills, by the way, contrast rather sharply with Baldwin's early struggle to talk to Parisians in his rusty and lumbering French. But Baldwin knew he'd finally cracked the language code when he convinced a Parisian cell phone salesmen to stop calling him.
The title, a nod to a song by LCD Soundsystem, doesn't completely convey the mood of the book. The ending of things lingers in the air—and this includes book titles. Is Paris bringing Baldwin down? To be sure, he became disillusioned as the mythic Paris failed to match the reality of a crowded and expensive city. But then Baldwin fell in love with Paris all over again—and this time with the real city. More accurate perhaps: Paris, You're Bringing Me Down but I Love You.
I recently caught up with Baldwin and asked him a few questions.
---
The Parisian adventure came about because a French work colleague was looking for an English-speaking copywriter. Did you and your wife agonize over the decision to leave New York for Paris, or was it a pretty easy call?
Easy. We'd wanted to move abroad for several years, and we'd been sniffing around for an opportunity. Then this one fell in our laps. We were very, very lucky.
Americans, and especially New Yorkers, are expert at combining activities like eating, drinking coffee, and doing laundry while working at the same time. Is the image of the restful French executive, the 35-hour week, the two-hour lunch, mythical or basically true?
I think it's mythical. The lunch hour exists, and is respected, and people do take their five weeks of vacation. But at least among the Parisians I worked with, people worked hard. Minimum nine-hour days. Passionate and dedicated about their careers. And there was a terrific sense of bonhomie in the office, of family—a core value of French identity that's not just reserved for the home. After all, they are the second biggest European economy for a reason.
Americans may choke on their cornflakes at the idea of five weeks of vacation. Do Parisians spend it all in one go, or do they spread the five weeks out during the year? And where do they like to travel?
It depends. Most people I knew spread it around: two weeks with family in the country, two weeks at the beach. Morocco was a popular destination, or elsewhere in Europe. Lots of young people had been to Thailand already or were planning to go soon.
You weren't invited to many French dinner tables. Is it tough for an American to break into Parisian social circles?
The trouble is, all the Parisians we knew made their best friends in second grade, and planned to hold on to them until death. So until then... But no, many Parisians were outgoing and invited us to their homes, and we returned the favor by bring 13 Euro  champagne (which wasn't horrible!).
Right now, it seem like France is bringing the French down. The country is gripped by economic malaise. Sarkozy is out. It rained on Hollande's presidential inauguration parade, and his plane was struck by lightning en route to a summit in Germany. Are the Parisians you know gloomy about the future? Do they see Paris becoming a theme park for rich Americans and Chinese? Or can the city reinvent itself?
Well, Paris became a theme park for visitors a long time ago—architecturally, the nightlife, restaurants in the city center—all of that's geared for tourists wearing mouse ears, so to speak (or the Parisian version: the beret). But no, the city is reinventing itself, just very slowly, with lots of debate and civic fights and heated exchanged. So in the French manner. But hey, they installed bikes-for-rent before New York.