Television was skewering the rich long before the Occupy movement showed up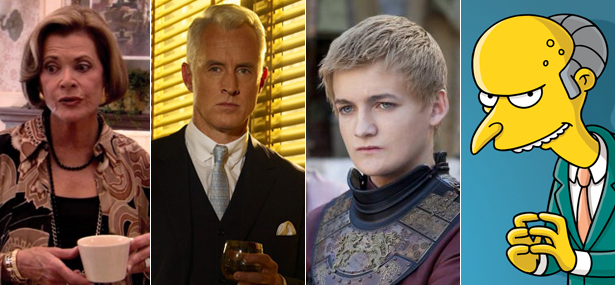 Fox/AMC/HBO/
This year's break-out primetime soap Revenge is yet another testament to our fascination with the rich and awful, in this case the Graysons -- the family Emily Thorne (who is really Amanda Clarke) believes to be responsible for her father's death. With the season finale shown earlier this week, we've spent enough time in the Hamptons this year to know the scope of their power leaves nothing out of the realm of possibility. If you're a Grayson and you want something done, it generally happens. Which of course got us thinking about the history of awful rich people on TV, villainous one-percenters from the lovably conniving to the plain awful. Look below to our roundup of the most indelible characters.
This post also appears on Flavorpill, an Atlantic partner site.
We want to hear what you think about this article. Submit a letter to the editor or write to letters@theatlantic.com.