The End Is Near, and My Crew Is Sleepy
A first-time filmmaker chronicling his experience for The Atlantic enters the final days of shooting.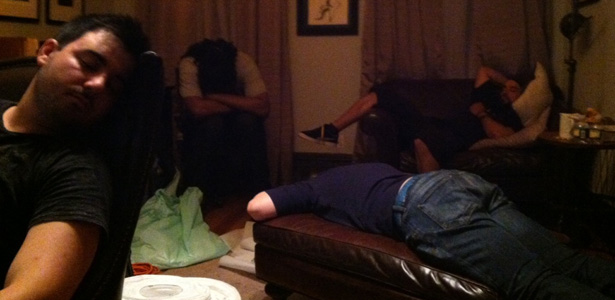 Courtesy of Neil Drumming
The home stretch. The last two days of shooting have been remarkably intense. On Sunday night, we shot outside of a brownstone in the heart of working class Bed-Stuy until sun-up Monday morning. Not only did we have a china ball ten feet in the air blasting artificial light into nearby windows, we were also filming a fight scene between four of our principal actors. There was much tussling, shouting, and the hurling of expletives by black guys pretending to be very pissed off. I consider it a miracle that no one called the police on us and that the most our little crew had to contend with was a wandering drunk looking for his big break in front of the camera.
Last night, my producer took the above photo with his cellphone. No, my crew does not consist of only heroin addicts; Monday night was simply another late one. Fortunately, the last scene of the day, while as dramatic as what we'd shot the night before, lacked the performance pyrotechnics to wake the neighbors. It was a quiet, deeply affecting exchange between Gbenga Akinnagbe and Dorian Missick. And even though I'd written it, by the time I called "action," the moment had evolved into something I'd not foreseen. For a writer who is used to the relative control of print, that takes some getting used to. But in the end, it was a wonderful experience.
Afterward, we wrapped Dorian for good with a round of silent applause—it was, after all, 4 a.m. The actor was the first of our principal cast to sign on, so signing him off really brought the notion home: There's only two days left in principal photography. Sure, I'm staring down the barrel of multiple weeks of grueling editing and post-production. But as far as this stage of the process is concerned, I can honestly say we're almost there.