Horse racing puts animals and jockeys at risk for injury and death. Should that diminish a fan's enjoyment of the sport?
AP Images
Every week, our panel of sports fans discusses a topic of the moment. For today's conversation, Hampton Stevens (writer, ESPN and The Atlantic), Patrick Hruby (writer, ESPN and The Atlantic), and Jake Simpson (writer, The Atlantic) discuss the Derby.
---
Hey, guys,
There are good reasons to watch Saturday's 138th running of the Kentucky Derby. You can see multicolored silks fluttering under the spires of Churchill Downs and hear "My Old Kentucky Home." The Louisville passion for absurd headwear is hysterical, even spawning a hat museum.
Related Story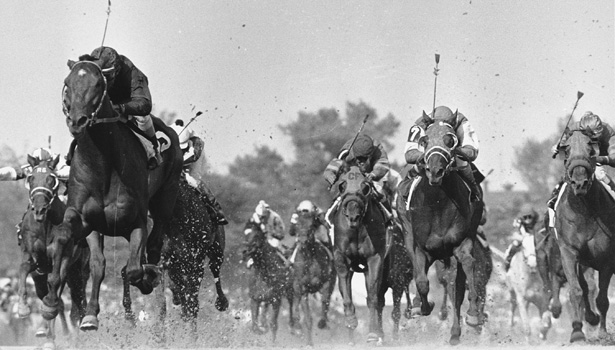 The Derby Day parties are great, too. I've some old friends with deep Kentucky roots who haven't let moving to Budapest get in the way of their annual soiree. They may not have okra for the burgoo, but they'll have bourbon, mint leaf, and sugar for mint juleps. Surely no other sporting event on earth is so closely associated with a specific cocktail, or so charmingly decadent and depraved.
But there are also good reasons not to watch. Some of that decadence and depravity isn't so charming.