The Dark Side of the Kentucky Derby
Horse racing puts animals and jockeys at risk for injury and death. Should that diminish a fan's enjoyment of the sport?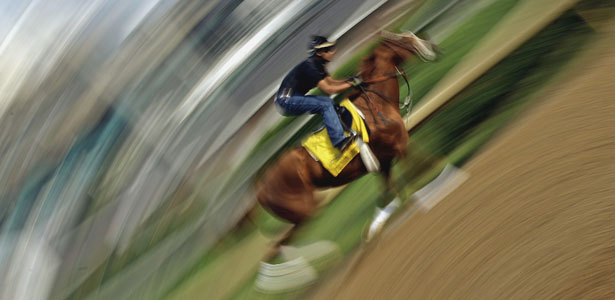 AP Images
Every week, our panel of sports fans discusses a topic of the moment. For today's conversation, Hampton Stevens (writer, ESPN and The Atlantic), Patrick Hruby (writer, ESPN and The Atlantic), and Jake Simpson (writer, The Atlantic) discuss the Derby.
---
Hey, guys,
There are good reasons to watch Saturday's 138th running of the Kentucky Derby. You can see multicolored silks fluttering under the spires of Churchill Downs and hear "My Old Kentucky Home." The Louisville passion for absurd headwear is hysterical, even spawning a hat museum.
Related Story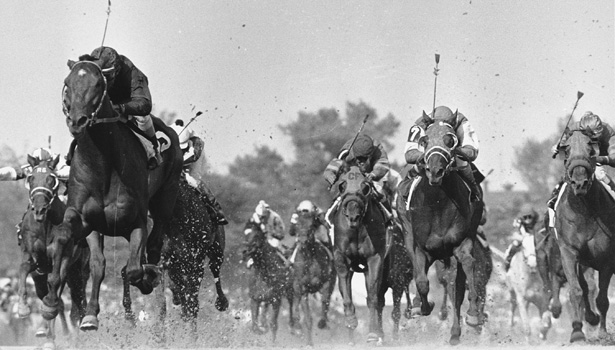 The Derby Day parties are great, too. I've some old friends with deep Kentucky roots who haven't let moving to Budapest get in the way of their annual soiree. They may not have okra for the burgoo, but they'll have bourbon, mint leaf, and sugar for mint juleps. Surely no other sporting event on earth is so closely associated with a specific cocktail, or so charmingly decadent and depraved.
But there are also good reasons not to watch. Some of that decadence and depravity isn't so charming.
Media focus will likely center on Bob Baffert—a super-successful trainer coming back from a heart attack barely a month ago. But rooting for a wealthy trainer, or his very wealthy owner, isn't as much fun as rooting for athletes. In this sport, though, at least if you believe the New York Times, athletes are getting hurt and killed at appalling rates—much higher than at equivalent racetracks overseas, for instance. Not. Cool.
It's one thing for jockeys to get hurt. It's awful, certainly, but at least those men and women choose to compete. Horses don't want to run until they snap a foreleg. They sure don't choose an instant on-track death because of it. Don't worry. I'm not going all PETA on you. But lately we've used this space to discuss athletes in hockey and football who get hurt after making a choice to play their dangerous game. For me, it makes more sense to worry about cleaning up a sport where the athletes don't get a choice.
–Hampton
Hampton,
With full apologies to the Cult of Barbaro—and partial apologies to animal-lovers everywhere, a cohort that includes me—I'm more concerned with the physical safety of humans than that of horses. And guess what?
That's another reason to view the Kentucky Derby with a jaundiced eye.
Last year, former jockey Darrell Haire told ABC News that he kept his kids away from following him into the sport. With good reason. After all, horse racing isn't just hell on competitive equines; it's brutal on the people who ride them. The typical jockey weighs less than 120 pounds. The average race horse weights over 1,000 pounds, reaches a top speed of 40 miles per hour, and does not include a built-in roll cage, even though spills and crashes are commonplace.
Do the math.
The good news? To my knowledge, no jockey ever has been euthanized trackside. The bad news? Riders still die. According to a 2009 report from the National Institute for Occupational Safety and Health, there were 26 jockey fatalities from 1992 to 2006, an average of 5.6 deaths per year—more fatalities than in NASCAR over the same time period (15), and a number the authors of the NIOSH study said was probably an underestimate.
The job isn't particularly safe for living riders, either. A University of North Carolina study found that between 1993-1996, a group of 2,500 American jockeys suffered 6,545 reported injuries. Nearly one in five of those injuries involved the head or neck; a Los Angeles-based orthopedic surgeon who treats jockeys at Hollywood Park last year told ABC News that the average jockey suffers five to 10 bone fractures over the course of his or her career. Moreover, riders often rely on unhealthy methods to create and maintain their emaciated racing physiques —diet pills; jogging in rubber suits; using cocaine and amphetamines as energy-boosting appetite suppressants; gorging on fast food hamburgers, followed by self-induced vomiting—with many developing full-blown eating disorders. Long-term consequences, of course, can include heart problems, esophagitis, osteoporosis, ruined teeth and organ and nerve damage. Not to mention the aforementioned death.
So yes, Hampton, the Kentucky Derby is decadent and depraved. Just not in the roller-coaster, gonzo-good-times-for-loaded-spectators way that Hunter S. Thompson once immortalized. Jake, what's your take on the race?
–Patrick
Damn, guys. I'm gonna need another mint julep now that you two have thoroughly bummed me out.
Yes, the Derby is a horse racing event, and the sport is cruel to horses and riders alike, and it's nearly a 100-percent-white event in terms of consumers, and it's Decadent and Depraved... I get it. Taking potshots at the Kentucky Derby is one of the easiest things to do in all of social-mores-sportswriting (apologies to Hunter's ashes floating around in space, but it's true). A much harder task is explicating the intangibles that make the event a unique and strangely beautiful landmark of spring in America.
Bill Nack did a good job of illustrating the bond between human and horse—more specifically, sportswriter and horse—in his seminal Sports Illustrated piece on the death of Secretariat. The event itself is one of the happiest scenes in sports, unless of course I was just buzzed for the whole day when I attended the '06 Derby. Bemoan the class-warfare dichotomy between the hat-wearing patrician classes and the plebians on the infield holding wet T-shirt contests if you must. But the beauty of the Derby is that it's a Saturday in early May, spring finally having arrived in force for the northern U.S., for people to gather outside, drink, and make merry in the same way they have for 100 years. The horse race is just the medium.
–Jake