The Bee Gees Are Disco Icons, but Robin Gibb Was Pure Pop
He was the band's frontman in its early, Beatles-loving phase, a sideman in its Saturday Night Fever era, and a talented songwriter for musicians outside the group.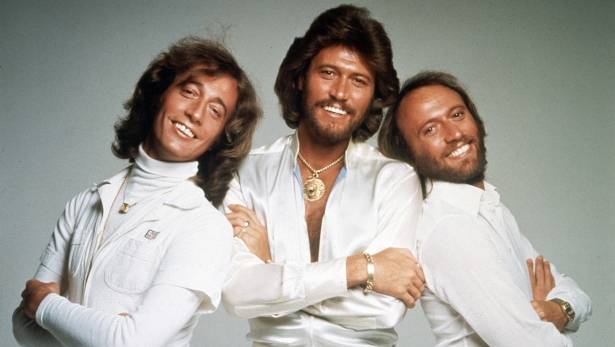 It's natural to pair Robin Gibb's death with Donna Summer's. She was 63; he was 62. Each died of cancer within three days of the other; each was a titan of the disco era, a period not well liked at the time but grown ever more glorious in retrospect.
But if it weren't for the fact that he formed the front line of one of the most successful vocal groups in history, we might instead think of Robin Gibb today as an early progenitor of a hardy music-biz archetype: the young star turned old, backroom pro. Gibb, who died on Sunday, was essentially the Bee Gees' front man in their early years. Considering the success he would have co-writing hits not just for the group but others (Yvonne Elliman's "If I Can't Have You," younger brother Andy Gibb's "Shadow Dancing"), he could have become someone like Linda Perry, who had a few hits with 4 Non Blondes in the alt-'90s before finding new life as a songwriter for Pink; or Dan Wilson, former frontman of Semisonic ("Closing Time"), and now co-author of Grammy winners for others, such as the Dixie Chicks' "Not Ready to Make Nice" and Adele's "Someone Like You."
Yes, the Bee Gees were a trio—oldest brother Barry Gibb and the younger fraternal twins, Maurice (who died in 2003 while in surgery for the same colon cancer that killed his brother) and Robin. (Younger still was Andy Gibb, who enjoyed solo success in the late '70s and died of heart failure in 1988, at age 30.) But the group had two distinct eras, each dominated by a different brother. The Bee Gees we know best is the second, with Barry taking the lead more often than not, in every way. He had a big, outgoing personality, and that seemed to suit Robin and Maurice fine. They could stay in back, cracking wise, pushing, and knowing full well how much they each put in, which by all accounts was a considerable amount.
Before that, though, the Bee Gees went after the baroque possibilities the Beatles suggested with "Yesterday" and "Eleanor Rigby" with relative gusto, and this was the era with Robin up front more often than not. Barry's falsetto could stop a crowd, no problem, but the late '60s were different times. Disco fit the Bee Gees because they could sound like and blend in with synthesizers, pushing the excitement higher. The Robin-led '60s sides—songs such as "I Started a Joke," "Massachusetts," and "I've Got to Get a Message to You," the latter pair the group's first two No. 1s in England—feature a delicately quavering high tenor. The kind of supernatural effects Barry could manufacture weren't suited to the pastoral, but Robin's natural voice was.
The Bee Gees broke up—sometimes brothers, especially twins, can't stand each other anymore. It happens, especially in music.* It didn't take long for the brothers to get back together, though, and the song they came back with is likely their greatest.
Co-written by Barry and Robin, 1971's "How Can You Mend a Broken Heart?" is the softest of corn: the tempo is slow and rigidly even, the violins dusting everything with powdered sugar; everything is pillow-soft. The brothers had Andy Williams in mind when they wrote it. But what they delivered was correctly heard as a soul record. It hit No. 1 and a year later received as great an accolade: Al Green covered it, his version appearing on Let's Stay Together. The ability to easily triangulate Andy Williams and Al Green tells you a great deal about the Bee Gees' appeal.
MORE ON MUSIC
"How Can You Mend a Broken Heart?" is also a symbolic torch passing: It starts out a Robin song and ends up a Barry song. Robin sings the opening verse, Barry takes over from the first chorus forward. Looking over the arc of the Bee Gees' career, this was about, proportionately, just about appropriate.
The future Bee Gees' material was highly collaborative. But when the brothers assisted with Barbra Streisand's Guilty in 1980, it was Barry who made it a co-star turn. There was also the matter of image. In 1988, when Rolling Stone included "Stayin' Alive" as one of its Top 100 singles of the previous 25 years, the Bee Gees sent the magazine a joint message saying that they wished to take the song, dress it up in a white suit and gold chains, and set the entire thing afire.
In the post-Web age we've become a culture in which just about any stylistic or historical referent—in fashion, music, literature—is considered grist for the mill; people seem less inclined to make hard distinctions between what's cool and what isn't anymore, in a quid-pro-quo way. The logic now is more like, "If you can rock it, do it." In that light, the sheer vilification disco faced at its public execution—the Comiskey Park riot in July 1979, set off by a radio station burning disco records as a promotional stunt—is stunning to behold today. Nearly a quarter-century on, such disparagement seems as quaint as disco itself.
---
*This post originally stated that Robin Gibb recorded a solo album called Cucumber Castle. That's actually the name of a Bee Gees album recorded without Robin. We regret the error.