Searching for Steve Stajich, Who Wrote the Soundtrack of My Youth
Why I tracked down the underground folk hero and asked him about his 1978 album, Open Reel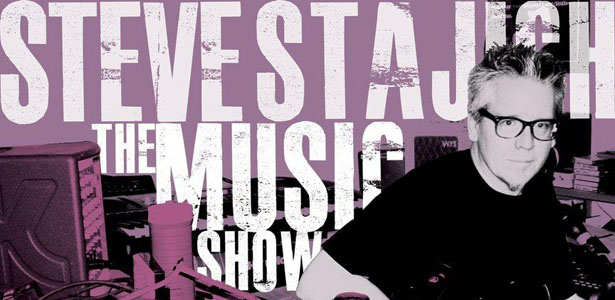 Steve Stajich
Like many stories, this one starts with a song. We all have a song, don't we? That song, the one which reminds us of our youth, the tune we hear first in our mind when we take ourselves back to high school or college or to the summers in between. For me and my small group of friends growing up in Colorado in the early 1980s, that song was called "Mama, She's a Lady," and the man who wrote and recorded it was named Steve Stajich.
Prelude
We were all counselors at a summer day camp for kids near Parker, just south of Denver, and we'd all go out in the late afternoons or at night with one another and have a great time. In our cars, or by the camp pool, or at each others' houses, we listened on vinyl or cassette tape, over and over again, until we knew all the words. The album was Stajich's Open Reel, which he had recorded in Denver in 1978. And "Mama, She's a Lady" was the second song of the album.
The second song but not, I should add, the only one we loved. The album is a beautifully constructed and choreographed piece of art. Stajich recorded Open Reel with the clarity of James Taylor, the mournfulness of Johnny Cash, and the verve of Lyle Lovett. But none of us were (or are) music aficionados and, the truth is, we didn't know much about Stajich except that he took risks as a musician, wrote tender verses, and performed stand-up comedy around town.
We felt like groupies but we acted (silly kids) as though we had all the time in the world; that he'd always be around to play for us and to answer the questions we had about his music. Who was the "Lady" in "Mama, She's a Lady," we all wanted to know, and what had happened to her since Stajich had sung the song? Some of my friends saw him perform live—but they never asked him their questions—and then he was gone. Me? I have never in my life laid eyes on him.
We knew that Stajich had left Colorado but in the days before the Internet and social media none of us mustered the investigative energy to track him down. Moreover, as the years and our lives rolled on, and as the vinyl warped and the cassettes tangled, it became harder to find Stajich's music anywhere, including online. Imagine having once danced to Sinatra and then not being able for years to hear "Fly Me To the Moon."
The Artist, Act I

For 30 years it was this way. And then, this spring, I decided to do something about it. I was sick of just talking with my friends about how much we missed Stajich's music but mostly I was sick of not being able to hear it myself. So I looked him up. And found him right away. And made contact with him for this piece. It was as easy a process as you can imagine. Steve Stajich was never hiding from us. We just hadn't spent any time looking for him.
He lives in California now, as we had suspected, and he has spent the past quarter of a century spreading his remarkable creative talent around in many different directions. After Denver, he went to New York and wrote comedy for cable TV shows, and for A Prairie Home Companion, and then landed later as a full-time comedy writer in Los Angeles. Today, he writes a column for the Santa Monica Mirror, still produces music, and is involved in theater. By email, he gave me a sense of the scope of his work:
What I do now is sometimes consult TV pilots and other television projects mostly as a "punch up" guy... I also write for pay creating "material" for other comedians... I'm finally bearing down on getting one project, "Mekong Joe," out on the road so that it makes a little money... Another project, "FlipCom" will debut in Milwaukee in early June.... and I'm working on either some form of returning to stand-up... or a one-man show I would perform myself...
Born in Milwaukee, Stajich was barely into his 20s when he wrote his first play, in 1975, a piece he today describes as "a series of sketches meant to comment on all the hoopla surround America's approaching bicentennial." He came to Denver in the first place because of a girl, a college friend, who as Stajich tells it "worked for a small theater that only produced unproduced plays." While waiting for his play to be produced, he began to perform music in small clubs around town. And that led to his first big break.
The Album
"When I got out of college," Stajich says, "I set a personal goal of either making a film or recording an album by the time I was 25. Music won." David Ferretta, a legendary local folk music producer, had heard Stajich perform, liked his music, and decided to pay for "a record and pressings," Stajich remembers. "David wanted to produce, so that he might show locals how Denver-made recordings could have a wider appeal and I think we succeeded well on that count."
Despite Ferretta's profound influence on the project—without his support, Stajich says, Open Reel would "never have happened"—Stajich dedicated Open Reel to his father and even today is wonderfully poignant in describing what the gesture meant:
I dedicated Open Reel to my father, who studied the violin in his own youth hoping that he would become a professional musician. My Dad was not an emotional guy but I truly surprised him with the dedication, saying, "Because of you, I play music." Instead of misting up, he bought 20 copies of Open Reel, making a big point of paying for them, and then gave them to his friends. If you want to know one ultimate outcome of the project, it was that Open Reel gave me a moment where I knew for a fact that my father was proud of me. There's my "gold record" right there.
There were other special moments, too, as Stajich reminisced about the album.
There was a morning when Open Reel engineer Andy Smith was going to mix the last track, then the master tape would be done and he would personally drive the tape to get the disc mastered in Los Angeles. (This is the level of attachment people had on this thing.)

Patti, my girlfriend at the time, and [local radio executive] Mary Vogel were there. Andy said "That's it. It's done." and while he and I were High Fiving I notice that Patti and Vogel are crying. They both felt emotional about the music and that we had done this thing, similar perhaps to what young film makers feel now when they get recognition for a meaningful fill, To have moments in your life where what you're pursuing creatively is moving to others... dude, that's it."
And Open Reel was endearing and moving to us as well. I can't remember who among my friends heard it first. And I don't ever remember hearing it on the radio, although that was one of the ways in which the album began to make its way through town. "We had not way of distributing Open Reel except to schlep it to stores ourselves and have the shops take copies on consignment," Stajich recalls. He adds:
I played "live" in stores to promote Open Reel. There was an afternoon at Peaches Records where the guy that does the in-store displays stapled an entire wall with copies of the album cover.. a "rock" fantasy come true... [To further market the album], I went to a tiny shop that sold dollhouse furniture, and bought a handful of these teeny little Coca Cola bottles. I taped one of those to a letter that read in part "People tell me the way to get your record played is give people a little Coke"... That actually worked...
Interlude
Here's audio of the song, "Mama, She's a Lady." I only have it now because Stajich mailed me a CD of the album. The Atlantic only has it now because I happened to hand-delivered it to the Watergate a few months ago.
The Artist, Part II
 
"Youth is filled with romance," Stajich says now about those long-ago days, "I was into the adventure of my life." And it was at that moment in his life that Open Reel emerged. What channeled his creativity? "When you are in your 20s the songs have to come from somewhere," Stajich says. "More often than not it's girlfriends that become relationships that become ended relationships. But it's wonderful to have songs that remind me of these people that I really cared about."
By all accounts, at least all the accounts I could find, Stajich was a very well-liked guy during his time in Denver. Gil Asakawa, the former music editor of Westword, Denver's beloved alternative weekly, remembers Stajich "mixing together music and comedy in the grand tradition of urban folkies from the '60s running through the Smothers Brothers to Steve Goodman." (Goodman once "reviewed" Stajich's work, but I think that's a whole other column)
Marte Meyer, a singer-songwriter who lives in Denver, remembers his old friend Stajich as "one of the funniest people I've ever met." Meyer met Stajich just after the latter moved to Denver. They worked in a hospital together (more about that later), and soon were singing and performing music together. Meyer sang background in one of the songs of Open Reel and it was evident to him back then that Stajich's talent and creativity were limitless.
Meyer says: "He had all these different interests and I think for Steve it was going to be 'Which one of these things was going to take me farthest?" Asakawa, now the Manager of Student Media at the University of Colorado's journalism program agrees. "Steve had endless energy and was sharp and smart... great at turning news into brilliant comedic commentary. He was a natural schmoozer, and was a social hub for the local acoustic scene at the time."
The Song
If you are still reading, it means you've now heard the song, or are hearing it now as you are reading. When Stajich talks today about "Mama, She's a Lady," he does so as though he's talking about one of his children and doesn't want to offend any of the others (Meyer, for his part, was adamant in his recollection that fans of the album—aside from us, of course—didn't single out "Mama, She's a Lady" for special attention). Instead, Stajich says today that the title of the song could have used a little work:
Who is "Mama" in that song?" I asked him.
"That may not be the clearest song lyric in the world," Stajich answered. "as it intends to be me telling my mother, 'You'll really be knocked out by this girlfriend I have.' Has that always been clear to you?"
Yes, yes it had always been clear to me. So who was the "Lady" in the song? Stajich then answered the question my friends and I had been wondering about for the past 30 years.
After moving to Denver, Stajich worked (with Meyer) at a big hospital in Denver, first as an orderly in physical therapy and then in the ICU. He explains:
A young woman from Boston doing an internship in physical therapy was the "Lady" in question. She was beautiful and smart and she was taken with my music—the kind of stunningly beautiful young female that causes your male friends to wonder what the hell she is doing with you. For reasons I can't divulge, it wasn't in the cards. But I can't play or hear that song without seeing her...
Funny thing is, that's not too different from what we all had hoped or expected he would say about the object of one of the greatest love songs of our lives. And that's ultimately the magic of the song. Because none of us can hear that song, either, without thinking of the people we loved back then and have loved since. I hope music lovers come back to Steve Stajich, and to Open Reel, because they both represent a form of genuineness rare in today's recording world.
"Is it too pompous to say 'I made an emotional, poetic audio documentary of my life at age 25 and I'm really lucky to have it?'" Stajich asked me. No, Steve, it's not. Not at all. And thank you, for everything, for all these years.