The new movie is better than the second installment, with standout performances by Josh Brolin (as a young Agent K) and Jemaine Clement.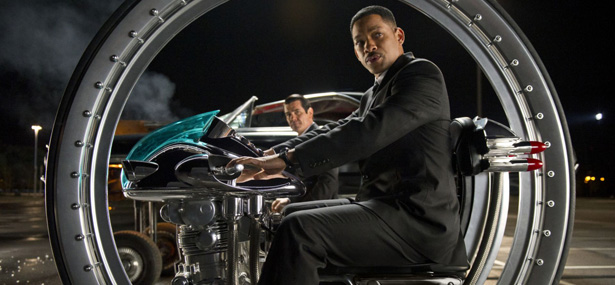 Sony Pictures
The world is generally not kind to long-belated sequels. Or perhaps it would be more accurate to say that long-belated sequels are generally not kind to the world. When a film property sits on the shelf long enough, its recipe fades and its ingredients molder. Thus The Godfather: Part III. Thus The Two Jakes. Thus Indiana Jones and the Aliens George Lucas Insisted On Putting In. (Yes, yes, Toy Story 3, you get to be the rule-proving exception.)
Men in Black III seemed poised to add to this litany of cinematic woe, ambling along a decade after the franchise's already weary second installment slouched into theaters. Yet contrary to expectation, the movie represents at least a partial return to form--not as inventive as the first, but surely better than the recycled materials that made up the second. It's hardly a must-see, or even a should-see. But it's a might-see, a could-if-you're-in-the-mood-see.
The movie stars Will Smith as Agent J, Tommy Lee Jones as Agent K, and, in its defining flourish, Josh Brolin as Tommy Lee Jones. (Back to this in a moment.) As the story opens, Agents J and K are fulfilling their professional obligation to ensure that the many extraterrestrials living covertly on Earth obey the laws delineating their visits. (In particular, there's one proprietor of a Chinese restaurant whose Noodle Surprise contains a larger than usual surprise...)