MCA, Kid Forever: How the Beastie Boys United Us by Never Growing Up
The outpouring of grief when Adam Yauch died Friday showed the incredible reach of his band's music.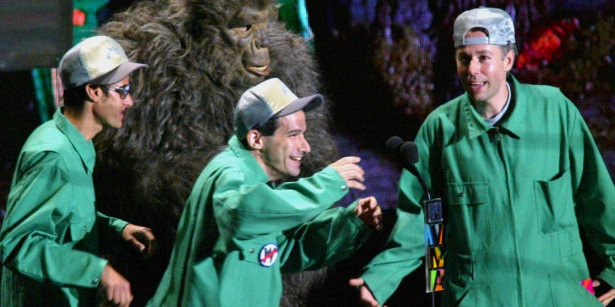 Last fall Russell Simmons and Rick Rubin convened at the New York Public Library for a public conversation about Def Jam Records, the musical venture they famously birthed in an NYU dorm room in 1984. Describing the invention of a label that would become one of the most significant in American history, Simmons remarked, beautifully: "It was us, intentionally being young."
Big ideas in arts and entertainment.
See full coverage
The Beastie Boys recorded only one album for Def Jam—their monstrously successful 1986 breakthrough Licensed To Ill—but in the 26 years since it's hard to think of another group that's more uniquely embodied this idea. There was a numbing shock to the news that Adam Yauch, known to the world as MCA, died of cancer on Friday at the age of 47. This was a man who approached the world with all the energy and curiosity of a precocious teenager, taken from us well before his time. It's a cliché to remark that a celebrity death makes one feel old, but it's hard to think of another artist who spent so long making us feel so young.
Yauch founded the Beastie Boys as a New York City hardcore band in 1981, with friends Mike Diamond, John Berry, and Kate Schellenbach. In 1982 they released Polliwog Stew, a cultishly beloved EP that is not "good" in any remotely conventional sense of the term. Yauch and Diamond soon lost Berry and Schellenbach (the latter would later find success as the drummer in Luscious Jackson) and added Adam Horovitz. As a trio they began moving away from hardcore toward hip-hop, because even as teenagers Mike D, Ad-Rock, and MCA were the only three people in the world to whom such a transition would seem entirely logical. In 1983 they released the single "Cooky Puss," the best song ever written about a prank phone call to Carvel and the first indication that their reinvention as a rap group might actually have legs.
They hooked up with Def Jam, quickly fashioning a hit single and a heroic CV of disastrous live shows. By the time Licensed to Ill was released in 1986 they'd gained a reputation as the Sex Pistols of rap: charismatic, loutish, gleefully reprehensible. Licensed to Ill lived up to this, its catchy party jams infused with ridiculous levels of sex, violence, and general decadence. Critics killed it, parental groups tried to ban it, Def Jam got rich off of it. Licensed to Ill was a stupid record that was smart enough to recognize its stupidity—in other words, just smart enough to be really fun and also smart enough that it should know better.
The Beastie Boys, to their endless credit, were smart enough to know better. They bolted from Def Jam and released Paul's Boutique for Capitol in 1989, a shockingly ambitious album that was a watershed in sample-driven music. Magically eclectic and unbelievably intelligent, it was such a profound departure from Licensed to Ill that it felt like an ethical statement. It also alienated much of their fanbase, and the Beastie Boys went from the most successful and reviled group in rap to commercially ineffective critical darlings.
They regained their footing with Check Your Head in 1992, an album that continued the experimentalism of Paul's Boutique but boasted enough quirkily anthemic material to get them back into the public's good graces. By the time Ill Communication was released in 1994, in a little more than 10 years the Beastie Boys had morphed from bad hardcore band to boorish novelty act to one of the most creatively vital groups in music. It all seemed to happen so naturally that it was easy to forget that nothing quite like it had ever happened before.
They turned into pretty extraordinary human beings, too, and MCA was no exception. He converted to Buddhism, founded the Milarepa Fund to raise awareness of human rights abuses in Tibet, and in 1996 helped organize the massively successful Tibetan Freedom Concert. He directed many of the Beastie Boys' most iconic music videos under the excellent pseudonym "Nathanial Hornblower," and later started his own production company, Oscilloscope Laboratories. In 2006 he directed a great documentary about a high-school basketball game. He became a husband, a dad, a writer of hilarious letters to august institutions of American journalism.
MORE ON MUSIC
Twenty-six years ago it would have been difficult to believe that someone could write seven paragraphs about the Beastie Boys without a single mention of race, and it still shouldn't be entirely ignored. When
Licensed to Ill
became the best-selling rap album of all time it prompted (well-founded) accusations that skin color had allowed the group to jump the line. The triumph of
Paul's Boutique
was partly a triumph of belonging: If
Licensed to Ill
was the best record ever made by a white rap group,
Paul's Boutique
was one of the best records ever made by a rap group, period, and the first to render that qualifier unnecessary. In the wake of MCA's passing, some folks have remarked that the Beastie Boys made it cool to be white, or
some variation on this, an intelligible sentiment that I think is pretty wrong. The Beastie Boys made it cool to aggressively treat being white as a meaningless condition, a crucially different and far better thing. I was 12 years old when Check Your Head came out, and it didn't teach me that my whiteness was cool—it taught me that great music was infinitely more interesting than the color of anyone's skin. I learned the exact same thing from A Tribe Called Quest, who, it should be said, loved the Beastie Boys too.
Because really, who doesn't? When MCA's illness forced a concert cancellation in 2009, Jay-Z subbed in and opened with "
No Sleep Till Brooklyn
," delivered with all the assurance of someone who's known every single word since he was a kid. Adam Yauch's passing rightfully made the front page of the
New York Times
and inspired heartfelt
tweets and retweets from Judd Apatow, a lengthy and powerful essay from ?uestlove, and an oddly affecting musical tribute from Coldplay (!), all within hours. The outpouring of consensus grief was deeply sad, insanely moving, and totally deserved. On Friday we all lost someone in common, something we should continue to reflect on by spending a little more time intentionally being young. No sleep till.