Maurice Sendak Scared Children Because He Loved Them
The author, who died this week at 83, believed kids are able to handle dark, complicated stories.
The author, who died this week at 83, believed kids are able to handle dark, complicated stories.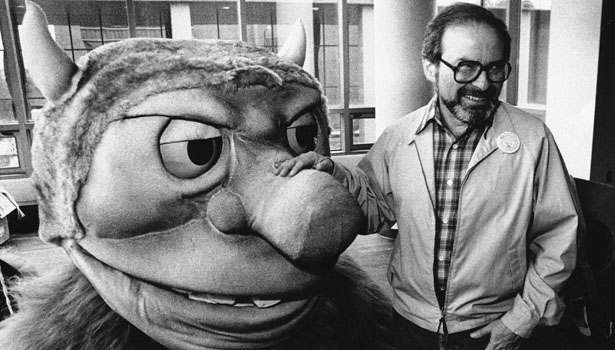 AP Images
It is rare for an artist to remain beloved throughout his lifetime. Attitudes shift and tastes evolve. As they do, even hallowed creators and entertainers watch themselves become relics in their own time.
The iconic author and illustrator Maurice Sendak was a rare exception. An artist whose vision never fell out of favor, he remained prolific and popular until the end. Yesterday, news of Sendak's death at age 83 spawned an outpouring of grief and adoration. Twitter and Facebook swelled with talk of wild rumpuses and night kitchens. Fan artwork, blogged tributes, and resurfaced memorabilia were shared and shared again. Articles related to Sendak's death were the top stories at The New York Times and NPR.
In recent years, his best-known book, Where the Wild Things Are (1963), experienced a massive renaissance, aided by tributes from high-profile fans like Dave Eggers, Spike Jonze, and Brian Selznick. In his final year of life, at age 83, he not only released another lavish volume, Bumble-Ardy (2011)—he proved remarkably adept at navigating our modern media gauntlet. His final interview on NPR's Fresh Air, an uncompromising meditation on his own mortality, made listeners weep. In January, he drew belly laughs sniffing markers with Stephen Colbert.
I had the tremendous pleasure of interviewing Sendak in 2011. He was my favorite author growing up, and it was a thrill to ask him about latest book. In addition to generous insights, I received more than one dose of his famous wryness—like when I off-handedly mentioned I planned to have children of my own one day.
"You plan? You plan?" he howled. "You should take a parenting test!"
Caustic, maybe, but kids were serious business for Sendak. The decision to have them, or not, was no trifle for him.
Related Story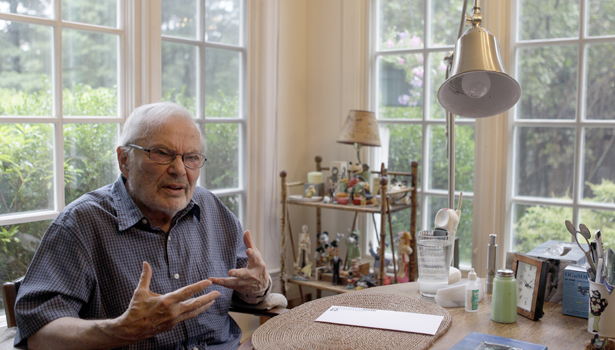 "Children surviving childhood is my obsessive theme and my life's concern," Maurice Sendak told NPR in 1993. His lush visual idiom managed to evoke the strange—and sometimes malign—intensity of real childhood, as fey, unruly protagonists sparred with adversaries (fanged monsters and imperfect parents). All his work demonstrates a strong desire, and uncanny ability, to capture the eerie vividness of youth and its crucibles. "I am trying to draw the way children feel," Sendak told The New Yorker in an early profile. His ambiguous phrasing is apt—as though "the way children feel" was both what he tried to draw, and how.
Well-known for trafficking in the dark psychological undertones of classic fairy tales Sendak's proclivity for Sturm und Drang earned him some vociferous critics. Outside Over There (1981), for instance, received both praise and censure for its harrowing depiction of an infant turned to ice and kidnapped by goblins. The book was Sendak's own grappling with an image that haunted him since 1932, glimpsed when he was four: a ghastly newspaper photograph showing the body of Charles Lindbergh's murdered son. This willingness to explore darker subject matter made some books, like Wild Things, beloved, and others controversial (even banned).
Still, Sendak railed against what he perceived to be an insidiously overprotective parent culture. The evidence does suggest we adults sometimes take our good-natured desire to protect children from unpleasantness to perverse depths. I see it in the phenomenon of "helicopter parenting," for instance—the misguided attempt to thwart all potential pitfalls through hovering omnipresence. We seek to foil internal darkness, too, by plying young people with antidepressants and anxiety medication. And we're highly sensitive about showing children any sort of "challenging" material, even in cases when censorship verges on absurd. The new documentary Bully, which depicts the brutal realities of life in the hallway and playground, was initially deemed "too violent" for children, the very audience it portrays, and attempts to reach.
But it is this expurgated account of childhood—what he called "the great 19th-century fantasy that paints childhood as an eternally innocent paradise"—that Maurice Sendak fought tooth and claw, horn and beak. He knew that children are unavoidably beset by grief, yearning, anxiety, and rage, the same wild and turbulent emotions that seize adult human beings. "To master these forces," Sendak said, in his 1964 Caldecott acceptance speech, "children turn to fantasy: that imagined world where disturbing emotional situations are solved to their satisfaction."
Psychologists, child specialists, and literary critics alike argue that stories allow children to tame threatening feelings that might otherwise overwhelm them. In The Uses of Enchantment, child psychologist Bruno Bettelheim suggests that fairy tales help children externalize, and ultimately diffuse, their deepest anxieties. "The child must somehow distance himself from the content of his unconsciousness and see it as something external to him [if he is] to gain any sort of mastery over it," Bettelheim writes. This is why so many fairy tales take place in the deep and mysterious woods--it is the realm of the subconscious, where the wandering child-mind can encounter its fears and wants in reified form, then neutralize them.
Bettelheim offers the folktale classic "Little Red Riding Hood" as one example. "The kindly grandmother undergoes a sudden replacement by the rapacious wolf which threatens to destroy the child." It's a terrifying transformation—unrealistic and, some might say, unnecessarily scary. "But when viewed in terms of a child's way of experiencing," Betteheim asks, "is it really any more scary than the sudden transformation of his own kindly grandma into a figure who...humiliates him for a pants-wetting incident?" In other words, the wolf and grandmother are two sides of the same person, the physical embodient of a parent's bewildering duality. The fable helps the child reckon with the sudden, confounding changes that scare her.
This cathartic experience is not only what Sendak sought to provide through his books—exorcism is the explicit topic of many of his stories and drawings. One example is an illustration from A Kiss for Little Bear (1968), a story in the Sendak-illustrated Little Bear series written by Else Holmelund Minarik. The tale begins wordlessly—we watch the young bear nail a canvas to a tree and start to paint. A horrifying artwork appears: a fanged and wild-eyed monster with terrible claws and demon horns. A waddling hen looks on in the foreground, clearly concerned—a stand-in for the anguished parent. But the Little Bear is unperturbed. He admires the leering nightmare with a placid smile. "This picture makes me happy," he tells us. It's a striking image—the placid child and his cast-off devil, two pieces of a whole standing side by side.
In Wild Things, this exorcism takes a more dramatic form as Max's anger at his mother—"I'll eat you up!" he snarls—is transformed through his imagined sojourn to the faraway island. He negotiates his feelings through his interactions with the monsters he meets (who physically embody aspects of his own anger; they gnash their teeth and roll their eyes, just like Max). When he "tames" them, he feels ready to depart. "Oh please don't go," the Wild Things call to departing Max, "We'll eat you up, we love you so!" Their plaintive cries demonstrate the strong attachment on the other side of anger: We'll eat you up, refigured here, starts to sound like I love you, never leave me. Home again, a tamed Max devours not his mother, but her homemade soup. The menacing sort of eating he once threatened evolves into a wholesome act of communion and contrition.
What we see is a successful negotiation between Max and his mother, a balance between the parent's desire for order and the child's desire for rebellion. By the end, "away" loses its appeal. This is the lesson offered in countless tales: We see it in Hansel and Gretel when the house of forbidden sweets gives way to a perpetual enslavement. We see it in Pinocchio when the fairy promises to make our puppet hero a "real" boy, if only he will never leave her. These foster parents promise independence, but are actually far more sinister and oppressive than flawed old Ma and Pa. Through reading, then, a young person can try out the prospect of illicit freedom—disobedience, overindulgence, parentlessness—but can ultimately make a willing return to home sweet home.
When fairy tales flirt with trouble, but avoid real consequences, they really work. And yet the possibility of straying too far—the Lindbergh scenario—haunts Sendak's work. "Certainly," Sendak told the Caldecott audience, "we want to protect our children from new and painful experiences that are beyond their emotional comprehension and intensify anxiety." The child must return home safely for the story to have ameliorative power; Sendak criticized Roald Dahl and Hans Christian Andersen for veering into unnecessary cruelty. Still, he insisted that children are more complicated, tolerant readers than we think, and that they will surprise us in their ability to respond to difficult literature.
Eventually, we all endure a startling transformation, if we are lucky—the transformation from child to adult, or from child to parent. We can lose touch, along the way, with the people we once were. In this light, we should be grateful to Maurice Sendak: His work reminds us that we contain many selves, and that there can be fluidity among them. He was dark and light, innocent and experienced, playful and morose. He opened a roiling window into childhood, he cast the shadow augury of growing old.
When adult and child marvel together at his pages, they temporarily trade places—the young one testing out experience, the old one pushing back towards youth. You can even hold them all inside one person. They're not so different, really. I remember reading Little Bear with my mother and marveling at the pictures. I'll remember reading Bumble-Ardy on my own. And one day, I hope, I'll read Wild Things to my child—who will be wide-eyed and entertained and terrified as me.