Junior Seau Is Dead
Why it might be time to stop watching football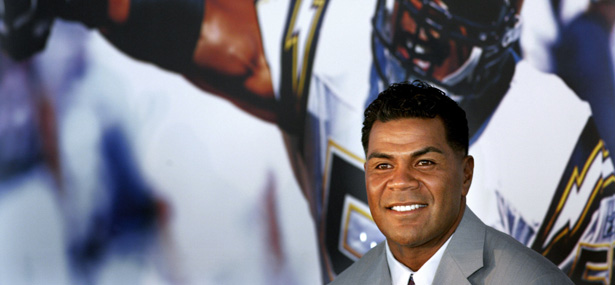 AP Images
Junior Seau, regarded as one of the N.F.L.'s best linebackers over a 20-year career with the San Diego Chargers, the Miami Dolphins and the New England Patriots, died of a gunshot wound to the chest Wednesday at his home in Oceanside, Calif. He was 43. The Oceanside police said Seau's death was being investigated as a suicide. 




He was found by his girlfriend in a bedroom of his beachfront house Wednesday morning, and a handgun was found near the body, the police said.
This comes on the day Jonathan Vilma was suspended for a year. The general sense among a lot of players is that Vilma got a raw deal. What's fairly clear to me is that football and its surrounding apparatus--the players, the big media, the NFL--aren't really ready to think about all that brain injuies might mean.
Perhaps it's too much to expect them too.
Malcolm Gladwell
puts the responsibility right where it belongs:
Slate: Should the NFL be banned too? 




Gladwell: As long as the risks are explicit, the players warned, and those injured properly compensated, then I'm not sure we can stop people from playing. A better question is whether it is ethical to WATCH football. That's a harder question.
I'm not so sure that it's hard at all. The answer, at least for those displeased with pro football's response, seems pretty clear. Doing the damn thing is the hard part.
I now know that I have to go. I have known it for a while now. But I have yet to walk away. For me, the hardest portion is living apart--destroying something that binds me to friends and family. With people whom I would not pass another words, I can debate the greatest running back of all time. It's like losing a language.
UPDATE
: I was just listening to Chris Berman's response to Seau's death
in which he said
:
No one will ever know what happened on the football field that may have caused what happened today. We have no idea....
I cut it off once Berman started discussing what Seau meant to a defense. I understand. That's his job. But listening to this made me ill. When Berman started in on tactics, I had that old feeling of Lost Causers discussing "tactics" and flanking at Petersburg and Shiloh.
I'm not here to dictate other people's morality. I'm certainly not here to call for banning of the risky activities of consenting adults. And my moral calculus is my own.  Surely it is a man's right to endanger his body, and just as it is my right to decline to watch. The actions of everyone in between are not my consideration.
I'm out.