Japan's Latest Pop-Music Craze? Kids
Teens have long had a presence on the country's charts, but the stars have gotten younger lately.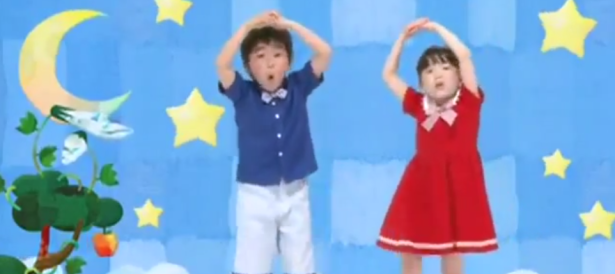 Mana Ashida is the most famous child in Japan, and that's saying something. The seven-year-old has starred in a dozen movies over the past three years, been in enough commercials to warrant a 13-minute-long YouTube mashup of them, and co-headlined the ratings-smash Marumo No Okite, a drama program featuring a talking dog.
But Ashida's biggest claim to ubiquity is music. Alongside Marumo co-star and fellow seven-year-old Fuku Suzuki, she recorded the hit "Maru Maru Mori Mori!," an infectious slice of Chuck-E-Cheese pop that made Ashida and Suzuki the youngest artists to ever appear in the Japanese music charts' top 10. "Maru Maru Mori Mori!" stuck around for the rest of 2011, and Ashida has since released more singles and a mini-album, Happy Smile that sold solidly. Most impressively, respected Japanese advertising agency Dentsu named Ashida the sixth best Japanese "product" of 2011—placing her in front of hybrid cars and emergency supplies.
Story continues below.
Ashida, who released her latest song on May 16, stands as an extreme example of the Japanese music industry's recent embrace of young performers. For more than half a century, the country has turned barely adolescent singers into stars, but over the past year the number of groups packed with school-aged children has been rising as the actual ages of the members keeps falling. This shift is in large part a result of a clever business model that has been used for decades but has seen its biggest success recently.
The most popular of these groups is a collection of five boys dubbed, strangely, Sexy Zone. With an average age of 14 and one member coming in at 11, they made news by being the youngest group to ever be "debuted" by the prolific, influential talent agency Johnny & Associates, which has been behind some of Japan's biggest boy bands of the past 20 years. Their two singles, "Sexy Zone" and "Lady Diamond," both premiered at No. 1. They've also raised a few eyebrows thanks to comments made by Johnny's president Johnny Kitagawa, who said he chose the members considering "the sexiness of men" and named the group after "Michael Jackson's sexiness."
Johnny & Associates, celebrating their 50-year anniversary in 2012, can claim a lot of responsibility for this youthful boom. The agency's strategy of training male idols extensively prior to their debuts—often as "Johnny's Jr.s," a sort of developmental league for J-Pop—has been adopted by other talent firms in Japan and in Korea. Groups start out in their teens in order to attract similarly aged and younger fans, an audience that will hopefully stick around as they grow up. It mirrors the model used by Disney—recall that period of time when Miley Cyrus and The Jonas Brothers made the jump from kid-show stars to chart-topping stars—with one key difference. Whereas Disney stars mostly stick to Disney-related media to build up a teen and tween audience, Johnny's groups appear everywhere, in as many TV shows and movies and commercials as they can.
Japan's infatuation with young performers existed before Johnny & Associates, kicking off after World War II with the singer Misora Hibari. Born Kato Kazue in 1937, she began gaining attention in the mid 1940s for singing boogie-woogie songs full of lyrics focusing on adult themes, and by the age of 12 she had the highest-selling single of the post-war era. Hibari was the target of criticism in the media at the time, says University of Chicago associate professor of modern Japanese literature Michael K. Bourdaghs in his recent book Sayonara Amerika, Sayonara Nippon. "Hibari represented a troubling new trend in postwar popular culture, a breaking down of the boundary between the cultures of adults and children," he writes.
Hibari would eventually become one of the most respected musicians in Japanese history, but her success allowed kid singers to become a staple of the J-Pop scene for the next few decades. Children as young as 13 proved successful in the 1970s, while in the 1980s the outfit Onyanko Club introduced the idea of bunching many young idols together in one group. It also debuted the "graduation" system, a way of pushing older (along with troublesome and unpopular) members out of the group to make way for younger ones. This concept would prove especially successful in the next decade with Morning Musume, a collective of teenage girls that became one of the bestselling acts of the '90s.
Though the practice of turning teens into pop stars didn't vanish over the past decade, it's been accompanied by the rising popularity of even younger, mostly female, performers. Ashida exists as the extreme at seven, but others aren't much older. The members of Fairies, a pop group formed in 2011, boast an average age of 13, and most of the members got their starts as 12 year olds. The outfit Tokyo Girls' Style features five girls who debuted at ages 11 and 12 at the time. Meanwhile, Morning Musume continues to chug on, mixing long-standing members (the oldest being 23) with a gaggle of 13 year olds.
The reason so many young pop units skew female is in part because of AKB48, arguably the most popular pop act in Japan right now. Although the members of that group aren't all teenagers—the oldest singer is 25—they dress as schoolgirls, projecting an image of youthfulness that has proven to be highly lucrative. They achieved national prominence in 2009, and groups like Tokyo Girls' Style and Fairies debuted only a few years after, as did many more direct rip-offs. All of this has also happened during a boom in "junior idols," a category of modeling featuring girls as young as 12. At its most extreme, these young models wear revealing swimsuits or pose in provocative ways.
MORE ON JAPANESE POP CULTURE
This renewed fascination with youth comes at a time where Japan faces the problem of a rapidly aging population and a falling birthrate. Children, in other words, are becoming increasingly outnumbered by their elders. Performers like Fairies and Ashida offer an alternate vision, providing the appearance of youth in a country that's missing it. There's a fantasy element at play, too. Johnny's enforces strict rules on their boy bands' personal lives, often banning the performers from having a significant others as a way of keeping female fans interested in them. This year, Johnny's singer Jin Akanishi got married against the talent agency's rules and suffered punishments from them that have effectively crippled his career.
This isn't to say that kids are the only people able to sell music in Japan these days. Korean pop groups made big inroads into the Japanese market in the past few years by emphasizing an image opposite those of many Japanese girl groups—they play up their age and sexiness. Still, the each subsequent release by Sexy Zone and Fairies has sold better than the last, while Morning Musume recently claimed the top chart spot for the first time since 2009. Ashida, meanwhile, remains a media fixture. Whether she evolves into a long-standing Hibari-like performer or gets replaced by another child star remains to be seen. For now she's the perfect symbol of the Japanese music industry's youth obsession.