Imagining Hemingway's Marriage
Director Philip Kaufman talks about how his HBO epic 'Hemingway & Gellhorn' came to be.
Director Philip Kaufman talks about how his HBO epic Hemingway & Gellhorn came to be.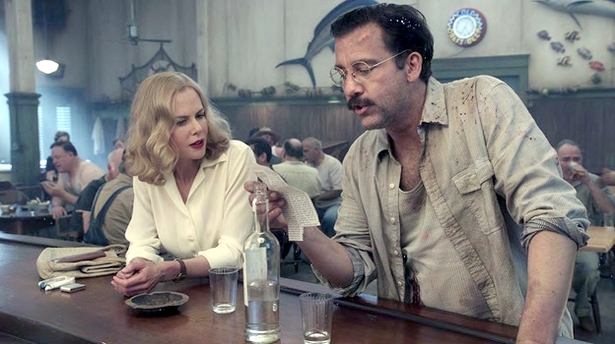 HBO
Ernest Hemingway met his third wife, Martha Gellhorn, in 1936 in Key West. Hemingway was already world famous for the novels A Farewell to Arms and The Sun Also Rises, several volumes of stories, and nonfiction, such as his account of bullfighting in Spain, Death in the Afternoon. Gellhorn, born in St. Louis in 1908, was a professional journalist who had just published The Trouble I've Seen, an account of the transient homeless in the U.S. that earned her national attention and began her lifelong friendship with Eleanor Roosevelt.
Philip Kaufman's two-and-a-half-hour epic, Hemingway & Gellhorn, starring Clive Owen and Nicole Kidman, picks up their story at their fateful meeting at Hemingway's favorite Key West hangout, Sloppy Joe's Bar, and follows them through their mercurial courtship and marriage in 1940 to their 1945 divorce. Together they covered the Spanish Civil War, the Russian invasion of Finland, the Japanese invasion of China, and World War II.
Hemingway & Gellhorn, which premiered on HBO on Monday and will be showing on the network throughout the coming month, marks Kaufman's return to directing after an eight-year absence. Over his 48-year long career he has made 13 feature films, including Invasion of the Body Snatchers, The Right Stuff, and The Unbearable Lightness of Being. With Hemingway & Gellhorn Kaufman finds himself in familiar territory. Like Unbearable Lightness, it's a love story set against the chaotic and turbulent background of a changing world. Like Henry and June, about the prolonged affair between Henry Miller and Anias Nin, it is the true tale of two larger-than-life literary figures. And like most of Kaufman's films, Hemingway & Gellhorn has the feel of a sweeping major production yet preserves a sense of intimacy.
I met with Kaufman at the New York London Hotel in April during a retrospective of his films at the Museum of Modern Art. Kaufman's passion for his subject is felt in nearly every frame of Hemingway & Gellhorn, and in person he communicates that passion just as effectively
---
How did Nicole Kidman and Clive Owen come to be attached to this film?
Nicole came on board first. She's a terrific actress, she really is. I think she's right up there with Meryl Streep or any of them. Watch her in To Die For or The Hours. And most people have never seen her in The Birthday Girl. Nicole came to San Francisco, for a center they were building for violence against women. Nancy Pelosi and Joan Chen, who was Madame Chiang Kai-shek [in the movie], were there and Joe Torre was there. My daughter-in-law, Christine Pelosi [Peter Kaufman's wife], said "Phil, come with me, I want you to meet Nicole." We shook hands, she knew all my movies and immediately asked "What are you doing now?" There was just this long look between us in this big crowd.
Two days later she called me, and she had just read the script. I don't know how she got it—nobody was supposed to read it, but she has her ways. She said "I want to do this, I'll wait as long as it takes to do this film. I want to work with you, and I want to do this film."
I got Clive through a great lawyer, Barry Hirsch, down in LA, who also represents Sean Penn and Francis Ford Coppola. He read the script and loved it, then asked "Would you be interested in Clive Owen?" Three weeks later I got a call from London, from Clive Owen, and he said "I think this is a stormin' script." I never heard that word, "stormin'" before. He said "I want to do it," same kind of thing. He had some other movies lined up. That's sort of why we had to pushback production, but HBO agreed to wait over a year.
Were you a Hemingway aficionado?
When you're growing up, you have to read him, especially my generation. He had the thing with the perfect sentence, and you can smell the outdoors. He had a way you always felt. Sort of like an acupuncturist, he could hit exactly the spot that freed some of your senses. He was great, there's no question. He changed things, virtually every writer after him was influenced by him. Mailer, Nelson Algren, John O'Hara. J.D. Salinger had a whole fascination, a whole correspondence with him.
What I liked about him too, he wasn't a university-trained writer. He was a sports writer, really. Some of the best American writing is sportswriting, which has an immediacy you don't find in other writing. In the film, all of those Hemingway-esque lines—"Get in the ring", "Show us what you're made of"—are right out of Hemingway's writing. And Clive, he could just deliver them.
Gellhorn's style was definitely influenced by Hemingway, her journalistic style. The theme professionally is the "Hemingway code." The underlying theme of The Right Stuff—grace under pressure—that phrase comes from Hemingway. In our story it's Martha Gellhorn who carries it through. She has it at the end, she's the bearer of the Hemingway code. He disintegrates, really. In some ways, he was like one of his characters, like Jake Barnes [the protagonist in The Sun Also Rises]—somebody who can't keep the fishing pole going anymore.
What did you think of Corey Stoll's portrayal in Midnight In Paris?
That was younger Hemingway. That was great. I'm glad that movie came out [before ours], because people mostly think of the older "Papa." But this was what he was like in the prime of his life.
How much did you know about Martha Gellhorn?
I knew about her before, but I didn't know enough. She was a truly great correspondent. She got the smell and feel of the war. She really connected you to it.
She was an advocate for taking sides in journalism, like Edward R. Murrow or Walter Cronkite...
That was what really made her work stand out and why it was so effective. With Gellhorn, there's anger filled with compassion, filled with vitality.
She never gave interviews about her marriage with Hemingway and famously said "I do not see myself as a footnote in someone else's life." How did you find a way to show the story from her point of view?
MORE ON MOVIES
Correspondence. She and Hemingway had an incredible, passionate correspondence to read all those years. When she was covering the Russian invasion of Finland she wrote to him in Cuba, "We will never, ever leave each other ever again." A lot of the lines are right out of their writing. We see the older Martha Gellhorn, who seemed to not like sex or love, then we go into the past and see what a passionate relationship they had.
So, much of the dialogue came from their letters and writing?
Even from Hemingway's books. The scene where they're eating watercress, that's in For Whom The Bell Tolls.
It really is, essentially, her view of Hemingway. When we showed Henry and June at the Venice Film Festival, we were up on stage and some guy said, "Yes, but we wanted the Henry Miller of The Tropic of Cancer. I said "This is the Henry Miller of the woman who slept with him, of Anais Nin, and I left that other Henry Miller for you to make up"
How did you get started on the subject of a movie about them?
Eight or nine years ago, Barbara Turner was developing something on Hemingway and Gellhorn. It was a 265-page script, and I said "No thanks." It was just this big sprawling thing, but it had the germ of an idea. So I got involved, but it was not the movie I wanted to make.
When HBO really said they wanted to do it I brought it to my friend Jerry Stahl. He started coming up to San Francisco, and we spent about two years getting the love story down. It all came together with Nicole and Clive.
Who does a love story as a feature anymore? We made a grand sweeping love story that was true. Who would make that nowadays?