Giving a School a Makeover? Let Kids Pick the Color Palette
Hues influence moods, so one group is empowering students to influence their surroundings.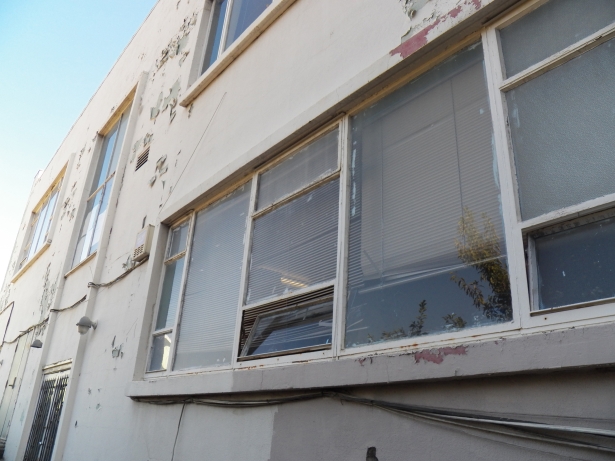 Project Color Corps
The E.C. Reems Academy of Technology and Arts in Oakland, California is a vibrant institution of learning whose walls aren't. Their white stucco surfaces are flaking, pealing, and stained. But Laura Guido-Clark, who runs a Berkeley, California-based color consultancy bearing her name, thinks color can be made into a tool of empowerment, and is setting out to prove it at the academy. Project Color Corps is helping students to decide their school's new color scheme--and teaching them how hue impacts society.
"They participate in a design charrette where we discuss their feelings about their school," says Guido-Clark, whose clients include American Girl, Apple Computer, Best Buy, and Design Within Reach. "They share what kinds of emotions they want to feel when they are in various areas of their school, as well as desired imagery."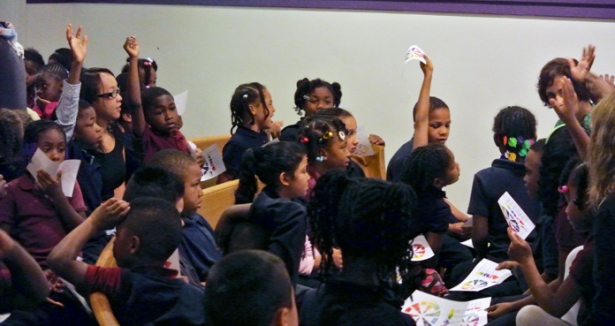 Project Color Corps collects information from the students, teachers, and parents and then uses its volunteers' professional knowhow in translating feelings into color and pattern. Students are shown the outcome of their feedback through Photoshop renderings, and they then vote on which they like best. "The majority of the work is done by professionals to elicit a sense of craftsmanship and pride, while select areas will require student and community participation, so everyone feels they contributed to change," Guido Clark says.
Color communicates on a deeply profound level: physiologically, psychologically, culturally and emotionally. In The Third Teacher (edited by Cannon Design, VS Furniture, and Bruce Mau Design), the Italian teacher and psychologist Loris Malaguzzi is often quoted about his notion that children develop through interactions--first with the adults in their lives, then with peers, and ultimately with the environment around them. Malaguzzi asserts the third teacher, the environment, is essential. "If we are put in colorless, more-often-than-not run-down environments, what is it teaching us?" asks Guido-Clark. "Often, a sense that situations are bleak and hopeless result - that perhaps we are not deserving of stimulus, beauty, or care." She points to Harry Wohlfarth's 1983 study of four elementary schools showing that schools that received improved lighting and color enjoyed the biggest improvements in academic performance and IQ scores. "Studies have also indicated that students turn inward in monotone environment, which can induce feelings of anxiety and stress resulting from under stimulation," she says.
The new colors of the E.C. Reems Academywill develop from listening to the students and being sensitive to local concerns. "We addressed the neighborhood gang colors with the principal Lisa Blair to have an understanding of which color combinations to avoid," she says. The idea is for students to take ownership of their surroundings, and to teach them about color in this way encourages them to use it creatively in their daily lives. Guido-Clark grins when relaying some of the K-8 student's descriptions of what they wanted to feel: "Overwhelmingly happy and joyful;" "Calm, "puffy like a pillow;" and "tranquil like water." She also heard "rainbow" many times, used to talk about an environment where everyone felt they belonged. The students also asked for colors that could "end violence and promote peace" and a school that would make them feel "respected and proud."
But more important than specific colors is the way that the project translates the students' emotions into powerful design concepts - strategically applying the color palette into areas that could elicit different emotions or feelings. "I would like them to think of color as an accessible medium," Guido-Clark says. "One that is simple to change. Like music, something that could be a friend to accompany or emotionally transport them on their life journey. For example the feeling they get when they enter the school would be different then the playground, which could allow for various zones of quiet, tranquility, and energetic play."
Knowing color is like speaking a new language. The more familiar students' become with it, the more intuitive and imaginative they can be. And, says Guido-Clark, "it can communicate and aid in transcending barriers. Being part of this change also [helps] them to understand that their environment will play a role throughout their lives, and that ultimately they are the keepers and creators of their environment."