Getting Thrown Out of a Bar, Hollywood-Style
The second dispatch from a first-time film director chronicling his experience for The Atlantic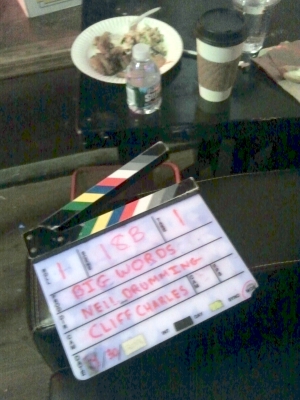 Yesterday marked the first time I've ever been kicked out of a bar for reasons other than being drunk. There was only apple juice and flat cola in the bottles on set for the first day of shooting for my film,
Big Words
. But despite a well-planned shot list and the fact that I wore my lucky sweater, we ran over quite a bit and got booted for trying to squeeze in a couple of close-ups before happy hour. Today, we go back to get what we missed.
But first, three random notes about yesterday's experience:
My cinematographer, assistant director, and I nearly drove ourselves—not to mention two actors—insane trying to choreograph a conversation that takes place during a game of pool. The conversation, for the most part, went swimmingly: emotional beats, delivery, whatever. My two leads were aces. It was figuring out who sinks what ball and on what line and in what shot that was the problem.
I picked up a bit of movie-making slang. Apparently, to "Hollywood" something means to pick it up with your own hands, as in, "Hey, Sal. Can you Hollywood that bounce board for me?" I suspect the term's use is limited. A phrase like "I'm going to Hollywood one of these chicken wings from the craft service table" probably isn't quite right.
Movie magic: I marveled as our vastly over-worked production crew turned a leather chair, some fabric, two tables, and a beer bottle into a viable strip club. Of course, the illusion would not have been complete without the apprehensive yet willing actress who volunteered to sit around for several hours while we shot all the actors with lines, just so she could bare her impressive legs in a pair of stripper heels. In the hopes that we'll still be cool after this, shout out to my friend [NAME DELETED].