The action-packed Snow White and the Huntsman is less a subversion of an old story than a return to one.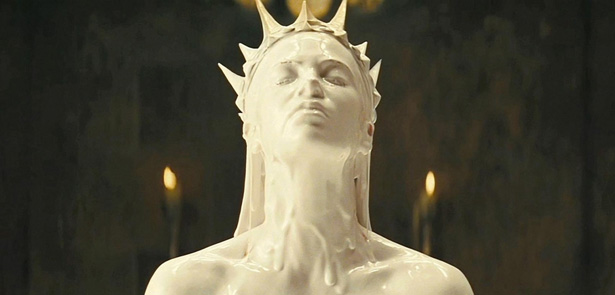 Universal Pictures
"I guess you think you know this story.
You don't. The real one's much more gory.
The phoney one, the one you know
Was cooked up years and years ago,
And made to sound all soft and sappy
Just to keep the children happy."
–"Cinderella," by Roald Dahl
In the first minute of the trailer for Snow White & the Huntsman, Charlize Theron's evil queen Ravenna strips naked, sucks the "youth" out of a teenage girl, and plots to rip Snow White's heart from her chest. Given that most people think of Snow White as an innocent girl twirling through a forest, singing about the someday when her prince will come, this is less a trailer and more a statement of purpose: This story isn't for children anymore.
Snow White & The Huntsman is, yes, another fairy-tale film adaptation aimed at adults, coming on the heels of this year's Mirror, Mirror, last year's Red Riding Hood, and dozens of other works in the past decade. They're the latest in the long but accelerating trend that's undoing Disney's 20th century work of transform horrifying folk stories into genial animated musicals. While such retellings may seem subversive, they're actually throwbacks, marking a return to what these tales originally were—before, even, the Brothers Grimm got their hands on them.