Donna Summer's Heavy-Breathing Blueprint for Pop
The disco singer died Thursday, but her influence will remain inescapable for a long time.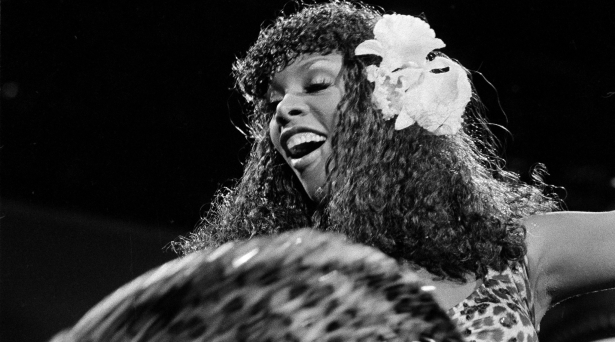 AP Images
One day in 1975, an African-American actress/singer billing herself as Donna Summer mentioned a six-year-old French song to her Italian producer, Giorgio Moroder. They were in Munich, Germany, where Summer had gone in the late '60s to star in a production of Hair; she'd married an Austrian actor named Helmut Sommer (hence the moniker; she was born LaDonna Gaines). The song was Serge Gainsbourg and Jane Birkin's "Je t'aime . . . moi non plus," a short sex scene set to guitar and organ, climaxing with Birkin, well, climaxing.
According to Anthony Haden-Guest's The Last Party, Summer told Moroder, "I can do a record like that." His response: "You? Come on! You're not sexy!" And even though the resulting song, "Love to Love You, Baby," would last more than 17 minutes and follow the singer's every moan and gasp through what Time magazine infamously counted as 22 orgasms—more than everybody in the song's filmic equivalent, Deep Throat, three years earlier, combined—Summer continued to insist that, no, she wasn't sexy. "That was Marilyn Monroe singing that song, not me," Summer told Haden-Guest. "I'm an actress. That's why my songs are so diverse."
The "actress" motif has recurred in tributes to Summer following her death yesterday at age 63, of cancer, in her Englewood, Florida home, and rightly so. But there's a big difference between the kind of vocal acting of a Frank Sinatra—the carefully honed phrasing of every clearly written line—and what Summer did beginning with "Love to Love You, Baby." Her material was, let us say, earthier than his, and so was her approach, at least initially. But she had as much grande dame in her as Judy Garland or Ethel Merman. From the faux-swing razzmatazz of 1977's "I Remember Yesterday" to her Barbra Streisand summit meeting "No More Tears (Enough Is Enough)" in 1979, Broadway brass was as important to Summer as Moroder's post-Kraftwerk synthesizers or her own intimations of deep heat.
We can look back and see that Summer's porny early disco hits were calculated market plays, foundation-building for bigger pop successes to come. The hardcore disco audience—or, today, that of the artier strains of house music and techno, the core styles built from Summer and Moroder's innovations—is possessive: Prove you love them, and they're yours forever. Summer's 1975-80 Casablanca Records albums were aimed squarely at DJs of all ranks, each LP side's tracks segued together to facilitate nonstop dancing in the living room or club. She scored 14 Top-10 hits altogether, four of them No. 1s (all in 1978-79: "Macarthur Park," "Bad Girls," "Hot Stuff," and "No More Tears"), but for all the rumors that Summer had unkind things to say about her many gay fans, rumors she denied repeatedly for years, disco cultists knew she was theirs.
Make no mistake, though: Summer's first four albums with Moroder—Love to Love You, Baby; the 1976 pair A Love Trilogy and Four Seasons of Love; and I Remember Yesterday—make up the heaviest-breathing artistic unit in pop history. Not even the succession of Janet Jackson "sex albums" following 1993's janet. come close. They're also successively more ambitious pieces of work. I'm not the only disco fan who thinks "Try Me—I Know We Can Make It" (from Trilogy) and the widescreen-opulent "Spring Affair" (from Four Seasons) out-pant "Love to Love You, Baby" in passing: On "Spring Affair," the way Summer utters the line "Just the man I hoped you'd be" is so taut and rapacious it's startling.
As for "I Feel Love," you can't even count the orgasms in that song, because it never climaxes. That's its point. It became the keynote record of a modern dance culture dedicated to the prolonging of peak points, and as such it's an emotional blueprint as much as a musical one. Entirely made with programmed hardware, rather than played instruments—a first in pop history—"I Feel Love" is clearly the product of circuitry, but the groove isn't merely robotic. Clacking percussion and mutated sine waves skitter across the sound field like post-coital shivers, Summer navigating the whole thing with the most utterly contented vocal of her life. She had her finger on the trigger; she was in control. (Especially in 2012, what could be more human than being blissfully overwhelmed by technology?) Techno, trance, and a whole lot of other entire genres have been aiming for what "I Feel Love" accomplishes, and few have come near it. It may have been the most widely impactful single recording of the 1970s.
MORE ON MUSIC
Summer could have left it there. But the I Remember Yesterday album was a breakthrough in other ways as well. Summer began writing more, and the material diversified in a hurry: The album contained a great girl-group romp, "Love's Unkind," as well as the title track and "I Feel Love." Next came a pair of conceptual double-LPs—1977's Once Upon a Time and 1979's bank-breaking Bad Girls—that curried favor with the rock intelligentsia and won: Bad Girls finished 10th in that year's Village Voice Pazz & Jop Critics' Poll.
In short, like any artist—and certainly, any pop star—Summer was willful. She was a good Catholic girl who broke the bank gulping and heaving over a hard, steady throb. She was a singer first, who imposed her vision on her material and improved it. Later, after leaving Casablanca in 1980, she moved away from disco and toward rock and new wave with The Wanderer, and made another double-LP in 1981, I'm a Rainbow, inspired by Summer's conversion to Christianity the year before. A lot of other people were being born again around the same time—Bob Dylan, for instance, who released three albums of Jesus music—but I'm a Rainbow remained shelved until 1996.
Summer shook it off and came back as a comfortably familiar pop star, rather than the paradigmatic one she'd been during disco's peak. "Love Is in Control" (1982) and "She Works Hard for the Money" (1983) were both Top 10; she adapted easily to MTV with the delightful "She Works Hard" video, in which Summer leads a diner-waitress revolt. Both relied on a modified version of the synthesized style of her classic albums. So did a torrent of chart-hogging early-'80s Donnabes: Irene Cara, Laura Branigan, Shannon, and, oh yeah, Madonna, whose collaborations with a succession of producers resemble the way Summer and Moroder worked together—he bringing his sonic expertise, she putting her stamp on everything. (Think also of Janet Jackson's work with Jimmy Jam and Terry Lewis, or Aaliyah's with Timbaland.)
Her last big pop hit came in 1989, with "This Time I Know It's for Real," produced by Stock-Aitken-Waterman, the British team behind Rick Astley's "Never Gonna Give You Up." Seventeen years separated the last two albums Summer made during her life, the final being 2008's Crayons, which was naturally keyed to contemporary clubs. Its dance hit was "I'm a Fire," which resembled past glories without really recalling them.
It didn't matter. Donna Summer invented a lot of futures and embodied a lot of archetypes. The internationalism of post-disco pop music bears a lot of resemblances to her career's accidental pan-European intersections. Her path from musical theater to pop stardom, from interpreter to co-author, echoes constantly in the Idol age, as does her blooming from seeming novelty to legitimate auteur, a la Justin Timberlake. Like Jimi Hendrix, she had to go to Europe to become an American star; like David Bowie, she was a brazen persona constructor with real feeling at her core. She echoes out every time a DJ cues up a 12-inch (or .wav file) in a Berlin club, or a young hopeful with an ear to the radio steps up for her first school-musical audition. Donna Summer has moved on; pop music hasn't.