Donald 'Duck' Dunn's Quiet, Sweeping Influence
The late bassist, famous for his work at Stax Records, left a mark on nearly every genre of pop music.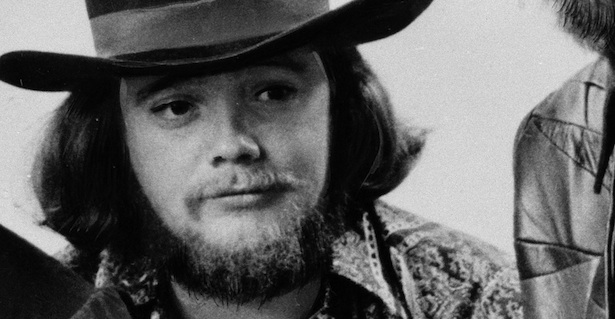 AP Images
The bassist usually doesn't get much attention. Occasionally, a flashy player hogs the spotlight with slapping, popping, and soloing, but it's usually just a quiet guy holding down the low end and staying out of the way. For many listeners, Duck Dunn probably seemed like the latter sort of rudimentary player. That's probably the way he would have had it, too. But it would be a mistake to think of Dunn, who died in his sleep at 70 Sunday, as a background player. In fact, he is probably the most influential bassist of the last 50 years, with an impact in every pop genre save country.
Even if you've never heard of Dunn, you've heard a lot of his playing. That's him easing into Otis Redding's "(Sittin' On) The Dock of the Bay." Those are his monster arpeggios chugging along under Wilson Pickett's "Midnight Hour." It's his syncopation at the bottom of Sam and Dave's "Hold On, I'm Comin'." And that's him in The Blues Brothers, too. As a member of Booker T. and the MG's, the house band at Stax, he played on most of the great Memphis soul hits. (Ironically, though, he didn't play on the band's most famous tune, "Green Onions"—he joined the band two years after it was recorded.) His most obvious peer was James Jamerson, a long-standing member of the Motown backing band. But Jamerson was melodic and intricate, relying on subtle passing notes and elaborate syncopation. Dunn was a riff-master, staying close to the triad of each cord and sticking to the bottom of the register. It's much simpler, but it's never blunt or bludgeoning.
But it's not just the inevitable head-bopping that accompanies the classic Stax sides that makes Dunn an immortal. It's his influence. Chalk it up to the MG's serving as a melting pot (to borrow the name of the band's 1971 hit, which features one of Dunn's greatest lines). Through the 1950s, black and white musicians increasingly borrowed from one another, with artists from each race recording the same songs (most often squarer versions by white artists of tracks originally recorded by black musicians). Record-buying patterns had begun to change, too, with people like Chuck Berry attracting white listeners.
Still, the group was a serious rarity as an integrated band. Dunn and guitarist Steve Cropper, his childhood friend, were white; keyboardist Booker T. Jones and drummer Al Jackson were black. It gave the band a wider range of influences than the average soul group: Cropper and Dunn were a little bit country, an attribute they showed in their convincing Blues Brothers rendition of "Rawhide." It also gave them a wider audience, bringing soul music—the grittier, greasier Memphis version, no less—to white listeners as well as black ones.
As a result, tracing Dunn's influence over the following years sketches a history of late-20th-century pop music, far beyond the obvious impact on soul and blues—Dunn also played the bass on Albert King's "Born Under a Bad Sign." Start with rock: The most high-profile admirers of Booker T. and the MG's were the Beatles, whose John Lennon reportedly referred to the band as "Book a Table and the Maitre D's." Take Revolver. The record's opening cut, "Taxman," centers around Paul McCartney and George Harrison doing their best impression of Dunn's repetitive bass riffs and Cropper's choppy, metallic rhythm guitar. Booker T. and the MG's later returned the tribute with McLemore Avenue, an instrumental full-album cover of Abbey Road (the name derived from the street on which Stax's studio was located). The other great rock disciple of the MG's was Neil Young. On Young's 1969 hit "Down by the River," Billy Talbot's soul-flavored bass line is a plodding but unmistakable imitation of Dunn. Young later hired Jones, Dunn, and Cropper to back him on tour.
MORE ON MUSIC
Meanwhile, Dunn's influence grew in unexpected ways in unexpected genres. Take Jaco Pastorius, the great jazz bassist whose technically elaborate and fluid inventions seem a world away from Dunn's sound. On his debut album, Pastorius recruited Sam and Dave to record a tune called "Come On, Come Over," his tribute to Dunn's stripped-down groove. Punks may have disdained many of the previous generation's rock, but they went to the same wells of influence. On 1980's Black Market Clash, the band recorded a surf-tinged version of Booker T and the MG's "Time Is Tight."
At the same time, hip-hop was growing in popularity in black audiences. Producers were drawn to the MG's: The sound was funky, the drum beats translated well to rap, and the instrumental tracks were perfect for sampling. A very partial list of rappers who have sampled the MG's: Cypress Hill; Ice Cube (repeatedly); Raekwon; Mary J. Blige; ODB; and Big Daddy Kane.
Dunn, a road warrior to the end, died in Tokyo on tour with Cropper and fellow Stax alum Eddie Floyd. The MG's mostly called it quits in 1971, and after Al Jackson was shot to death by a home intruder in 1975 the band only played sporadically. They were a rare act that never seemed to be mining nostalgia, even as they aged, even without Jackson. (I saw them bring down the house in 2007 with a 10-minute extended rendition of "Time Is Tight.") Dunn's demise probably means there will be no reunions. While the group may be gone, Dunn leaves behind an impressive legacy: just a quiet guy holding down the low end who managed to change the sound of pop music.