Did the NBA Lockout Ruin This Year's Playoffs?
The shortened season may have threatened the league's historically fair postseason.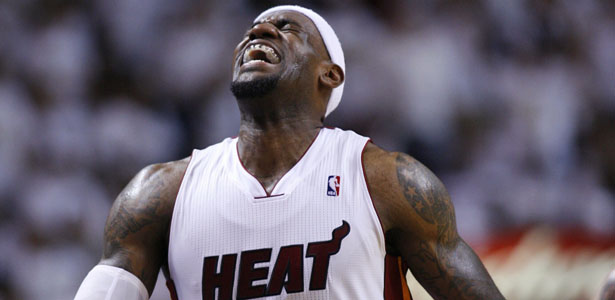 Reuters
Every week, our panel of sports fans discusses a topic of the moment. For today's conversation, Patrick Hruby (writer, ESPN and The Atlantic), Hampton Stevens (writer, ESPN and The Atlantic), and Jake Simpson (writer, The Atlantic) discuss the NBA postseason.
---
Hey guys,
It's fashionable to rag on the NBA's regular season—too many games; too little effort; in the typical contest, only the last five minutes of the fourth quarter really matter—as the least compelling in professional sports. But the postseason? That's a whole 'nother story. The NBA playoffs are intense, physical and fiercely competitive. Defense rules. Transcendent talent takes over. Team and player strengths are revealed, while papered-over weaknesses are exposed and mercilessly exploited. (See James, LeBron, in crunch time over the last two years).
Most of all, the NBA playoffs are overwhelmingly fair. Just, even. In the NHL, a team can ride a hot goalie and a few lucky bounces to the Stanley Cup. In the NFL postseason, injuries increasingly matter more than seeding. In college basketball, the three-point shot and single-game elimination format make March perpetually mad. None of this happens in pro basketball, where fluky upsets are rare and the best team almost always wins the championship.
Question is, will this season follow suit?
There's little debate that the NBA lockout wreaked havoc with the league's regular rhythms: From a belated Christmas Day opening to the ongoing playoffs, we've witnessed bad, disjointed basketball, a ridiculously compressed schedule (three games in three nights only works for the Harlem Globetrotters) and a rash of injuries to stars such as Dwight Howard, Jeremy Lin, and reigning MVP Derrick Rose, some of which have been blamed on the work stoppage. (Sorry, Amare Stoudamire, but breaking glass in the case of a non-emergency can't be pinned on NBA owners' desire to up their BRI income). And all of this has me worried. Worried that the league is on the verge of crowning a bogus champion, akin to the 1999 San Antonio Spurs, winners of what Grantland's Bill Simmons - in his full obsessive-compulsive, list-making ?quien es mas macho? sportswriting glory—calls "the lamest NBA title ever."
Remember: the 1999 playoffs took place after a 50-game regular season that began in February. The No. 8-seeded New York Knicks made the Finals—and are more notable for Larry Johnson's infamous phantom four-point play than for actually being, you know, good. The Spurs triumphed largely because they: (a) had roster continuity; (b) avoided major injuries; (c) didn't have to face the just-retired Michael Jordan. This year's Miami Heat seem primed to repeat San Antonio's performance—and while James and Co. might indeed be the NBA's best team, a worthy successor to past champions, I'm not sure the playoffs will prove it.
Jake, what's your take?
–Patrick
Completely disagree.
Oh, you need more of an explanation than that? Consider the three teams who have the best chance to win the title.
–Miami Heat: Led by the best player in the game by a good amount, the player who ESPN's Austin Link called "the best player of his generation, regardless of a championship or not" searching for his elusive Holy Grail of a first NBA championship. Besides LeBron, you have a second superstar in Dwyane Wade and a top-10 big man in Chris Bosh. The supporting cast includes veteran Shane Battier, who perhaps more than anyone in the league deserves to win a title.
–Oklahoma City Thunder: OK City has the best offensive player in the league in Kevin Durant, who would have won the MVP this year if it weren't for LeBron. One of the two best sixth men in the NBA in James Harden (we'll get to the other one in a sec). And what's not to love about Russell Westbrook, who seems to be a better version of Tiny Archibald but holds Durant back because of his Nick Van Exel-like need to play one-on-five?
–San Antonio Spurs: Between Tim Duncan and Gregg Popovich, this is unquestionably the smartest team in the league. Put simply, the Spurs know how to win. Duncan and Pop have won four titles with the same implacable determination. Tony Parker is having arguably the best season of his career (Year 1 AE, perhaps?) and Manu Ginobili has recovered from an early-season injury and is throwing crazy bullet passes like his former self. Oh, and the supporting cast is as good as it's been in years. My favorite bench player is rookie Kawhi Leonard, who was overshadowed by in-conference rival Jimmer Fredette while at UNLV but has been a hard-nosed forward for years.
That's three quality teams, Patrick. Three teams that probably would have won 58-plus games this season had the lockout not happened. Any of these three teams would be a worthy champion in a non-"lame" season. And that's not even mentioning the Bulls, who were a lock for a 60-plus wins if they had a healthy Derrick Rose.
The '99 playoffs were underwhelming because the league was in a Jordan hangover and because Allan Houston hit a lucky shot. This year, there are teams worth watching and deserving of the Larry O'Brien trophy. Even though the Heat eliminated my beloved Knicks, that's reason enough for me to keep watching.
How about you, Hampton? Are you keeping both eyes on the NBA playoffs?
–Jake
Both eyes? No, sir. One is on the NBA. The other is skittering from hockey to baseball and motorsports. But, yes, I do love me some NBA playoffs.
The question, like last year, is who can stop the Heat? Not the deflowered Bulls. Not the Pacers, either. LeBron's shooting may wilt late in big games, but his defense won't. James should have no problem shutting down Granger, and I've a tough time seeing Boston or Philly stopping Miami's Big Three either.
The Spurs sure could, though. They are the smartest team in the NBA, Jake, and not just the devastating plod of that pick-and-roll. The Spurs have been smart off-court, too. In this shortened season, teams have played far more back-to-back games, and sometimes even three in a row. (People really need to stop using the expression "back-to-back-to-back." It makes no sense. Three people with their backs together would be a triangle.) The AP had a great story describing how fanatical Popovich has been about protecting his stars from the grind. Duncan averaged a career low in minutes this season, at 28.2 per game. Ginobili played just 23.3. With eight days of rest before they meet Memphis or the Clippers, San Antonio's legs will stay bouncy.
But my pick to stop the Heat is OKC, and not just because Durant averaged 26.5 per game in sweeping the defending champion Mavericks. It's all gets down to the Jaywhawk factor, of course. OKC has two former KU stars on the roster—Nick Collison and Cole Aldrich. With Mario Chalmers, the Heat can only boast one.
–Hampton