David Robertson: The Answer to the Yankees' Post-Rivera Pitching Woes
The reliever is the team's best hope now that their legendary closer is injured.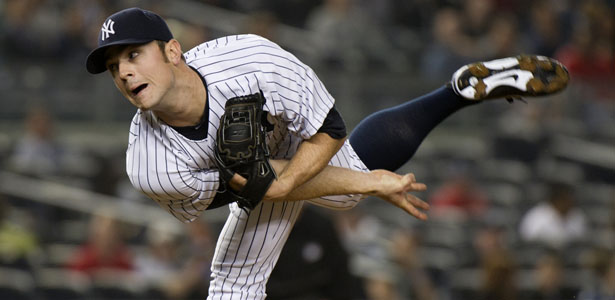 Reuters
In the ninth inning of Wednesday night's Yankees-Rays game, Tampa's Matt Joyce hit a three-run homer off New York reliever David Robertson. It proved to be the winning margin in a 4-1 loss for the Yanks.
No big deal. Something like this happens a couple of times a week in the big leagues. Except that it was a big deal. It was the first home run allowed by Robertson this season. It produced for the first runs Robertson had allowed this year. In fact, they were the first runs he had allowed in the 26 1/3 innings going back to August of 2011.
The irony of the loss is that it highlighted precisely how important Robertson has become to the Yankees. Since 2009 Robertson has been something of a mini-legend in the Bronx. He has already earned several nicknames: "The Hamma from Bama" (he was born in Birmingham, attended the University of Alabama and is the fifth Crimson Tider to wear a Yankees uniform), "Houdini" (named by Yankee pitcher Joba Chamberlain for his uncanny ability to escape bases-loaded situations, 22 in a row so far), and "The Silent Assassin" (from Yankee outfielder Nick Swisher, who admires the way Robertson walks in, does his job, walks off, and has little to say to reporters later). "He's only been on the team for about five years," cracks Swisher, "and he's already got three nicknames. One more and he should be in the Hall of Fame."
Though fans in New York and millions around the country have not yet really absorbed the fact, the era of Mariano Rivera—the greatest closer, the greatest relief pitcher in baseball history—is over. The sight of the great Rivera doubled over in pain on the warning track dirt after suffering a torn ACL was enough to make one heartsick. (He had been simply shagging flies, as he had done nearly every game of his Yankee career.)
Mariano had announced before the season that this would probably be his last, so one could rationalize and say, what the hell, he only lost about 40 or so more appearances off his career total. But of course it was oh so much worse than that. Whether or not we got to see him walk off the mound a winner in his final game, we at least wanted that chance; we wanted—and I guess there's no better word to apply to the game's greatest closer—closure.
What happened to Rivera was the closest thing a baseball fan gets to trauma. And yet, it wasn't the worst possible scenario. Ask yourself this: Would you rather see him go out that way or, at age 42, suddenly lose his magnificent power—like Thor losing his hammer or Iron Man's transistors burning out—as he did on opening day when he gave up 3 hits in the 9th inning and lost the game? Yes, Mariano righted himself after that, but at his age who knows how much longer he could have continued?
MORE ON BASEBALL
One thing we were definitely robbed of is experiencing the greatest set-up/closer team the game has ever seen—Robertson/Rivera. Last year Robertson's ERA in the set-up role was 1.08, lower than any ever posted by Rivera (Mo's best was 1.38 in 2005). Essentially, this meant that through all of the 2011 season and so far this year, in every game the Yankees were ahead by the 7th inning they stood about a 98 percent chance of winning. With former ace closer Rafael Soriano in the role of "hold" man, who pitches the 7th and then hands the ball to the set-up guy, the Yankees were repeatedly able to "shorten" a game to six innings.
Now, all that is over. Robertson's job now is to finish games, and Soriano's job is to replace Robertson. Who will replace Soriano? A few days ago manager Joe Girardi, when asked the question, shrugged, smiled and replied, "A committee."
Closers, even great closers, are not known for their longevity. They often wind up in the bull pen because of arm trouble early in their careers or they wouldn't be relief pitchers in the first place. Nearly all of them have developed one great pitch that they can come in and throw in a tight situation. With Rivera, of course, it was the cut fastball, which broke in on left-handed batters and sawed the bat right above the fists. Right-handed batters didn't do well with it, either.
With Robertson, it's hard to tell. He can throw any one of three pitches in just about any situation: a curve ball (rare for a reliever's arsenal as the curve puts a particular strain on the arm), a change-up, and a fastball that is, well ... no one quite knows what Robertson's fast ball is. Robertson's fastball hops, or seems to. Others—especially opposing hitters—believe that it accelerates as it approaches home. Robertson claims that Mariano taught him how to throw the cutter, and his fastball does resemble Rivera's, if only in velocity (around 93 mph, good but not great by major league standards) and effectiveness. Robertson's ratio of just under 12 strikeouts per nine innings is very nearly the best in the majors.
So far the best explanation for Robertson's fastball has come from Trackman, a Danish technology company which has revealed something that the radar gun fails to take into account. Trackman doesn't just measure the speed of a ball but also an important factor overlooked until recently: the distance between the point pitchers release the ball and home plate. Robertson is a stocky 5'-10 ½" 195 pounds, but his compact, fluid delivery involves a key component in his mechanics, namely a long stride off the mound. He typically releases the ball six and even seven feet in front of the rubber. (According to Trackman, most pitchers release between five and six feet.)
The effect is the same as if Robertson was pitching from a mound 12-14 inches closer to the batter. Most fastballs move, many with a kind of hop, but Robertson's does so at the last split second, which is why he not only gets so many punch-outs, as the players like to call them, but gets the batters looking. The sight of an opposing batter in a tight spot going down with the bat on his shoulder and a befuddled look on his face has become a common sight in the American League this season.
So far no one has found a way to counteract the "hopping fastball," though Detroit manager Jim Leyland suggested moving home plate back a foot when Robertson is pitching. As that's unlikely to happen, Robertson has a decent shot at easing Yankee fans' sorrows over the loss of Mariano. If the Hamma continues at this pace, he'll be a worthy successor to the great Rivera. The Yankees' real problem is how to replace a set-up man named David Robertson.