Cannes' Best Film Yet? A Controversial, Cross-Dressing Epic
Talking with director Xavier Dolan about his Cannes hit Laurence Anyways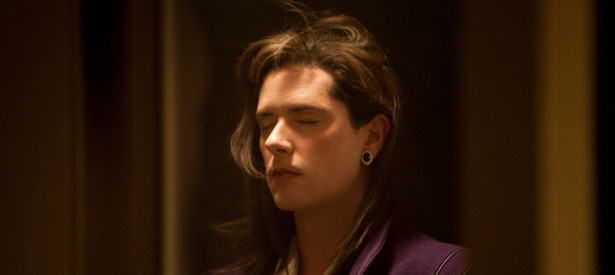 An epic about a man who decides to change sexes and the woman who loves him, 23-year-old Quebecois director Xavier Dolan's Laurence Anyways is the most exciting thing I've seen so far at the Cannes Film Festival: wildly ambitious both in form and in its ideas about gender, identity, society, and love.
The movie is, of course, divisive. Boldness in cinema is often much maligned (remember Tree of Life last year), and people here are already griping that Dolan has overreached, greedily helping himself to a buffet of cinematic devices and tricks. And to be sure, it's an imperfect movie: overripe with pain and passion, full of jagged edges, loose ends, and visual risks. But after the uneven I Killed My Mother and the gorgeous Heartbeats, Laurence Anyways is a big step forward in the evolution of Dolan's inspired, propulsive, anything-goes style (slow-mo, candy-colored visual patterns, music in sync with characters' inner states, slightly cartoonish costumes, flourishes of fantasy like clothes floating down from the sky or floodgates opening up from the ceiling). It's also his most emotionally mature film.
Story continues below.
Dolan doesn't overly fetishize or psychoanalyze Laurence and his cross-dressing ways. Indeed, the most surprising thing about the film is that it's just as concerned with the impact of Laurence's choice on his adoring girlfriend (played, in a powerhouse performance, by Quebecoise actress Suzanne Clement) as it is with the protagonist's own journey. As a portrait of two people trying to balance their love for one another with their individuality, Laurence Anyways has the sweep, density, and nuance of a good, thick novel. It screened in Un Certain Regard; why it was not picked for the main competition—which has, so far, been underwhelming—is beyond me.
I had the opportunity to sit down with Dolan for a chat at his hotel. Here are highlights from our conversation.
---
Where did the idea for Laurence Anyways come from?
A crew member on my first film I Killed My Mother once told me about her boyfriend. She said they were in a restaurant, and he told her, "I want to become a woman. Will you stay with me?" I was breath-taken, and immediately started typing the film in my mind. When I got home, I wrote 30 pages.
Why did you cast a French actor, and not a Canadian, in the title role?
I met [French star] Louis Garrel and we really had fun together, so I wrote this part for him—with his energy in mind, his voice, his humor. And then he bailed out at the very last minute. That happens, and it's OK. We had to find someone else quick, because we had spent so much money in pre-production and preparation that we couldn't afford to postpone the shoot. And Melvil Poupaud, thank God, accepted and was free. Two days later he was in Montreal.
Some critics have slammed your use of music. A few said Laurence Anyways is like one long over-aestheticized music video. What's your reaction?
I sometimes write scenes for the mere use of a song. Music is not dissociable for me from movie making. Music was the soul of cinema for so long before sound in film. Just ask Jean Dujardin [star of last year's Oscar-winning The Artist]. Music can hit you in a personal way when you're watching a film. You may think: "Where was I when I first heard that song?" So music can create collaboration between the movie and the audience. I'm not just trying to relentlessly play my iTunes library. I'm trying to make the movie live a bit.
These are not just aesthetic choices; they're emotional choices. And I don't think about placing my camera. I haven't seen Almodovar films. I'm trying to seek beauty, and sometimes it's not intentional.
What directors did you grow up admiring or do you admire now?
Very few when I was growing up, because I was not a cinephile. I did not have a father who took me to the cinema or showed me Ingmar Bergman films. I started to see serious films when I was 17. Before that it was stuff like The Mask, Batman Returns, and all the Disney classics.
Later, movies by Jonathan Demme [director of The Silence of the Lambs, Philadelphia, Rachel Getting Married] showed me the kind of close-ups I loved and that I use now: very little depth-of-field, a sensation of surveillance. And Paul Thomas Anderson is my hero. He's a genius. And we have a lot of things in common.
Your films deal with gay themes. What do you think about the portrayal of homosexual characters and stories in cinema today?
I've always told impossible love stories. Homosexuality is not a priority for me. I think underlining those differences is going backwards. I don't want to do "gay movies," I just want to do my thing. My movies have been enjoyed by a lot of straight people. Of course, homosexuality is part of my movies, because it's part of me. But there's no message in my movies. If it can help people to see my films, that's a really great thing. But I have no mission.
Do you have any desire to do movies in Hollywood? What actors or actresses would you like to work with?
Sure! But I'd rather wait to have the power to arrive in Hollywood and give my own script to a studio. I don't want to direct some studio script, and end up not wanting to be credited.
As for people, I'd love to work with Meryl Streep, Kate Winslet, Charlize Theron, Alec Baldwin, or Glenn Close. I wanted so badly to work with James Franco. But after a while, you get tired of not being answered, and of meeting someone eight times but them not remembering you, and of managers just postponing things all the time. I think he's a great actor, though, and I would have loved to give him a role.
A version of this post also appeared on France 24, an Atlantic partner site.