Bye Bye, Yaya: A Star Departs the Set
The fifth dispatch from a first-time filmmaker chronicling his experience for The Atlantic
The fifth dispatch from a first-time filmmaker chronicling his experience for The Atlantic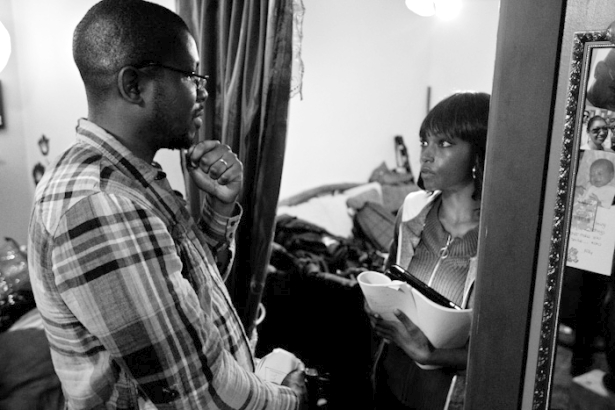 Richard Louissaint
By virtue of the out-of-sequence, counterintuitive way in which motion pictures are shot, on Monday, we filmed Yaya DaCosta's first scene in the movie on her last day with the production. Call time was early in the morning. But by the time I barked action outside Sam Ash Music Store in midtown Manhattan, we were already running desperately behind. From there we moved way uptown to a recording studio in Harlem, where we shot well into the night.
Yaya, like everyone, was tired by then. Moreover, she was distracted, as she still had to pack and fly out to attend to some personal matters. In between takes, I felt for her because I knew her mind was elsewhere. But I could not be more grateful that she never showed any signs of preoccupation while the camera was rolling. During those last few hours, Yaya remained, as she had been throughout the past week, entirely present, inventive, and truly wonderful.
As we wrapped her, shared hugs, and said goodbyes, I couldn't help but think about the first time we met at a cafe in Bed-Stuy to talk about the script. Up until that day, I had been telling people that I was courting Yaya DaCosta for my film—"Yunno, Yaya, from America's Next Top Model!" Not everyone I know had seen her in The Kids Are All Right and ANTM seemed a pretty clear-cut pop culture touchstone. But once Yaya and I'd begun talking, I was embarrassed to even mention ANTM (much less admit that my wife and I still watch that flagging program). She maintained that the modeling thing was something of a blip and that her true passion had always been acting.
Why would you tell your prospective director anything else, right? But after working with her and watching her build out the character I had written with flare and unexpected grit, I have no doubt where Yaya's talents and ambitions lie. I feel incredibly fortunate that my script spoke to her and that she was available to do the film. In this business, you never know exactly how things will go, but I suspect she'll be very busy very soon.