At Cannes, the American Comeback That Wasn't
The jury at the international film festival handed out a conservative set of awards, recognizing directors who had won before while snubbing more adventuresome fare.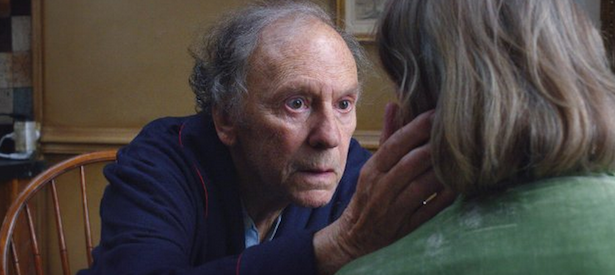 This year may have marked the "return" of American cinema to the Cannes Film Festival, but that doesn't mean the 2012 jury was feeling the love.
None of the six US films in competition picked up any prizes, with the much-coveted Palme d'Or award going to Austrian filmmaker Michael Haneke's Amour (trailer below), a sober, gorgeously directed portrait of an elderly couple facing terrifying questions of life and death.
Haneke took home the big prize just three years ago for The White Ribbon, and his win this past weekend makes him the record-holder for most Palme d'Or prizes in the shortest period of time.
Powered by devastating performances by French old-timers Jean-Louis Trintignant and Emmanuelle Riva, who took the stage with Haneke to accept the award, Amour is a fine choice for the Palme—certainly the best choice the jury made this year.
The rest of the winner's circle seemed somewhat randomly assembled, with one glaring snub: French filmmaker Leos Carax's Holy Motors, a madly inventive, genre-hopping ode to cinema and its endless possibilities, leaves the festival empty-handed. It's an uneven piece of work, but it all but vibrates with passion and creativity, and many critics thought it had Palme d'Or written all over it.
Holy Motors was certainly one of the most impressive entries in a rather weak year, unlike Italian director Matteo Garrone's Reality, which won the second-place Grand Prize. A limp, overlong satire about Italy's obsession with celebrity, the film may have appealed particularly to the jury's president, Italian filmmaker Nanni Moretti. No one ever said jury heads don't play favorites.
The third-place Jury Prize went to one of the few comedies in competition, Ken Loach's The Angel's Share" (trailer below), about British hoodlums who get into whisky distilling. Like Haneke, Loach is a Cannes regular, and the decision to single out his crowd-pleasing new film seemed like a nod to more accessible, mainstream cinema in a group of winners otherwise dominated by art-house heavyweights.
One of those heavyweights, Mexican auteur Carlos Reygadas, was a surprise Best Director winner for his boldly experimental Post Tenebras Lux (trailer below). With a slow pace, hazy narrative shape, and immaculately composed images of startling beauty and violence, the film was booed angrily at the press screening. It's an extremely challenging movie, but the nasty reaction of even some of the most adventurous critics seemed to be more a reflection of festival fatigue (Post Tenebras Lux screened in the last few days) than of the film itself.
Though most juries like to spread the prizes around, this year, Moretti and his fellow jurors bestowed two awards to Romanian filmmaker Cristian Mungiu's austere drama Beyond the Hills. The film's two leads, Cosmina Stratan and Cristina Flutur, both newcomers, shared the Best Actress award for their naturalistic portrayals of a young nun and her troubled best friend (and former lover). Meanwhile, the movie's writer-director, Cristian Mungiu, won the Best Screenplay award—a rather puzzling choice, given the film's exhaustingly redundant second half. Mungiu won the Palme d'Or in 2007 for his far superior 4 Months, 3 Weeks and 2 Days.
The Best Actor prize went to Danish actor Mads Mikkelsen (known to Anglophone audiences for playing villain Le Chiffre in James Bond film Casino Royale), for his slow burn of a performance as a man falsely accused of child molestation in Thomas Vinterberg's The Hunt".
It was a rather conservative set of prizes, with all of the filmmakers chosen (Haneke, Garrone, Loach, Reygadas, and Mungiu) having already won big Cannes awards in past years. Many journalists left the auditorium where the ceremony was projected on a big screen grumbling about the omission of Carax, as well as Jacques Audiard, whose strongly acted melodrama Rust and Bone was a favorite among French critics, and Wes Anderson, whose lovely Moonrise Kingdom opened the festival to mainly glowing reviews.
The mood was somewhat glum as the festival officially ended, with journalists darting off into the rain (again) to file their last stories and partygoers searching for one last hurrah on a largely deserted Croisette. Aside from the unusually awful weather this year (almost half the festival was spent under drenching downpours or steady drizzles), what looked on paper to be a dazzling competition line-up turned out to be rather underwhelming: a bunch of interesting, but deeply flawed entries, almost as many middling ones, and a few rather conspicuous duds (David Cronenberg and Yousry Nasrallah, I'm looking at you).
Of course, the bar is set unreasonably high for Cannes, and even a rather lackluster edition is still a joy to attend when all is said and done. Going to movies for 12 days, talking, thinking, and writing about them, and occasionally venturing outside the bubble to dabble in the silly, techno-thumping, cocktail-downing side of the festival, is a highlight of the year for critics, industry professionals, and film lovers of all kinds. As people here sometimes say to each other when their expectations aren't met: "It's still Cannes!"